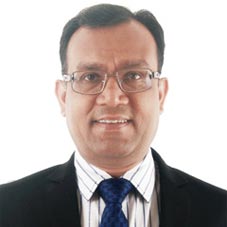 The electrical appliances industry has been a booming market segment with various old and new companies thriving in the sector. With more and more companies entering the industry, the competition is steadily on the rise. In this ultra-competitive market environment, Kenstar is able to thrive owing to their expertise and industry experience. Unlike most other companies that are finding it hard to increase their market share, Kenstar is able to not only lead the industry but also develop into a pioneering name in the market. Mr. Sunil Jain, CEO of the company has been a major driving factor that has been guiding Kenstar to newer heights. His leadership and managerial skills have been an intangible asset that has been the catalysts behind Kenstar's recent success.
In an exclusive interview with CEO Insights, Sunil Jain talks in-depth about the company's operation and what has helped them to achieve sustained success in the industry.
Tell us about Kenstar and its operations? Also, how are you able to ensure that you stand apart from the rest of the competition?
Kenstar brand was launched in the year 1996 with Air Cooler and Kitchen appliances products including Mixer Grinders and Microwave ovens. Soon we are entering into the 25th year of our launch. We have defined our core values in Kenstar and these are Customer First, Trust, Transparency, Integrity, and Speed. Kenstar is one of the pioneer brands in launching plastic body coolers in India and today Kenstar enjoys leadership position in the air cooler industry and amongst top 2 brands in India. We export our products to more than 25 countries.
We are a mass premium brand, while our products are designed with the international benchmark, yet gives value for money to the consumer. Our products are designed & customised keeping in mind our consumers aspirations, therefore the core pillars of our products are Aesthetics, Performance, Safety & Environment friendly.
Over a period of time, we expanded to new products in the air cooler, Kitchen appliances and Water Heater. Now, this year beginning we launched fan category also under our product basket and we are happy to share that in year one itself we are targeting 1 Million Fans which is a sign of brand acceptance. This winter season, we have launched one more category i.e room heaters which is a growing category in India.

With the introduction of new business verticals and range augmentation in existing verticals, we are now addressing 20,000 crore industry from earlier 8000 cr. Industry. Our mission statement is to reach 1000 crore during the business year 2021-22 and with increasing range and reach, our team is fully determined to achieve this magical number.

Give us a brief detail about your educational and professional background, and throw some light on the journey with Kenstar so far?
I am basically a finance professional and qualified Cost & Management accountant, company secretary and an alumni of IIM-Ahmedabad. During my 27 years of professional experience, I have worked with leading names like CIMMCO Birla, Ultratech Cement, Videocon d2h, Videocon industries and now since last almost 2 years enjoying the responsibility of Kenstar. My journey with Kenstar is short but full of happenings, and I am enjoying every moment. It gives a sense of achievement when your efforts are recognized by trade partners be it Distributors, retailers, service partners or SCM partners. Both organic and un-organic way Kenstar is on a continuous growth path. Our approach is completely consumer-centric be its product, quality or after-sales service.

How well your electronic products & appliances are designed to fulfill various industries need? Throw some light on their specifications and pricing range along with industries they serve?
Kenstar is a mass premium aspirational Indian brand with a global presence. We design our products keeping in mind our consumer's aspirations and to delight them. Our latest innovation is the IOT enabled range of water heaters and air coolers, controlled by a mobile app, or voice-controlled through Siri, Google Home and Alexa. Our category wise product specifications include:

• Our room coolers Range is available from 12 liters to 105 liters. In coolers we have IoT enabled coolers too.

• In the fans category, we have a
complete range of Ceiling, Table, Pedestal, Wall and Exhaust Fans with more than 60 SKU. In the premium range we have 6-LED inbuilt lights- remote operated fan.
• In Water Heaters we have Glass line technology storage water heaters, Instant water heater and Gas water heaters in 1 liter to 50-liter range. In the premium range, we have IOT enabled water heaters.
• Room heater is the new category and the market has very well accepted this category from Kenstar
• In Appliances we are available in almost every category of Kitchen appliances, from Mixer Grinder to Juicer, Microwave, OTG, Hand Blender, Oxyfryer, and Iron, Kenstar is there for your every need.

Enumerate the various technologies & methodologies (existing/upcoming) leveraged while manufacturing the electronic products & appliances?

Kenstar is completing 25 years, next year. Consumers and trade trust us with our international quality, after-sales service and global standards. We are the first in the industry to provide 12 years motor warranty in our Mixer Grinders. Kenstar is always ready to evolve with new trends & technology. We have 300+ products that are designed by keeping our customers in mind. Our R&D team not only monitors the markets latest trends & technology but also make sure that Kenstar is a part of it.

Today we are geared to take our business to the next level, with new initiatives in product, service and partnerships. Our broad range of products is designed to delight with high standards of quality, style and durability. Kenstar serves almost all the requirements of today's generation with one-stop solution for all your needs. We are present in Coolers, Fans, Water Heaters, Heating solutions and a vast range of appliances like food preparation, health and wellness, precision cooking, quick and easy breakfast products and last but not the least in fabric care too. Each Kenstar product is tested to stringent international standards and carry mandatory certifications like ISO, BEE, and BIS, to assure the highest quality. I must mention here that we do not compromise when it comes to quality and have zero-tolerance policy for the same.

Sunil Jain, CEO
Sunil has got vast experience in the corporate realm and his industry knowledge and wisdom has helped Sunil to develop into a unique personality in the industry. Evolving with the changing times, he has always strived to achieve consistent improvement in the industry and lead his company towards business excellence.