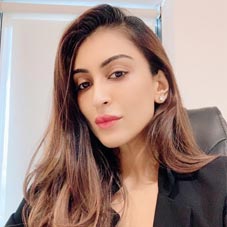 They say every brainstorming idea comes from experiences. Similarly, the birth of Skin Project, India's first consumable skincare brand emerged from a few hard experiences of Meghna Ghodawat's life.
While the enthusiastic girl was working in London, she dealt with skin concerns and the effects of excessive dryness. Just like any other girl, Meghna tried many best-selling products from reputed brands. During these experiments for better skin, she encountered consumable skincare in Europe. It was a brand new concept, but reflected the fact that 'what we consume from the inside, reflects on the outside'. Being an Indian, she thoroughly understood the problems Indian girls face. And, she was enkindled to bring such products to the Indian skincare industry and revolutionize the way beauty products are consumed. With a fascinating goal of not only making skin better but also promoting the overall health & immunity of people, she sketched a single solution and named it Skin Project.
This shift in Meghna's life from an ordinary woman to an entrepreneur took place when she became a mom. With the 2-month-old in her arms, the young lady decided to create her own identity. She coined a brand new segment in the history of the Indian skincare industry. From research to development, deployment, and educating people on the benefits, she proved the brand's mettle, and today, she one of the youngest listed among the Top Women CEOs in India.
To know more about Meghna's ideas & inspirational journey, peruse the following snippets of an exclusive conversation between the Mompreneur and CEO Insights.
Tell us about your brainchild. How is your brand disrupting the skincare market?
Softer, hydrated, and younger-looking skin is everyone's dream. My idea was to make this dream come true without having to buy falsely advertised expensive creams, face masks, and whatnot. Our skin is the reflection of what we consume and Skin Project is committed to manufacturing consumable skincare products that are rich with ingredients that we need.
Skin Project is not a business, it is an extension of myself, my baby I would say. It is revolutionary as it helps to renew and revitalize your skin from within
Skin Project is not a business, it is an extension of myself! my baby I would say. It is revolutionary as it helps to renew and revitalize your skin from within. It is an honest beauty-tech company with innovative & sustainable techniques to protect, replenish, and nourish the skin. After three years of R&D, with a global patent, we rolled out this disruptive innovation. We focus on bringing real-time solutions to preserve and protect the skin while keeping luxury a prime element and also encompassing a social cause with every doll out. We are disrupting the market with completely natural and effective ingredients. For example, we derive calcium from corals and Vitamin C from cherry & rosehip and not from ascorbic acid. Our quality and uniqueness define it all. In a way, our products are wholesome packages because they benefit not only in skin health but also hair and overall body health.
Highlight your one-of-a-kind offerings and emphasize on your flagship product.
Skilixir – Marine Collagen was our first product. The products are derived from ancient Japanese tradition and the ingredients are imported from several countries, thereby making the products pricy. As a solution, we introduced the powdered version of the same product that is affordable.
Among the range of offerings, the first of its kind in the entire Asian market is the Beauty Sleep. People underplay the importance of sleep. Lack of sleep affects immunity, accelerates aging, and leads to depression or anxiety. This product is a breakthrough in the science of beauty and wellness. It has elements of ancient Ayurveda with the latest in cellular bioactive absorption. That with herbal adaptogens helps you calm and sleep well while the collagen, glycine & proline helps to repair the skin while sleeping.

Walk us through your personal and professional journey
I am a business development professional with a Master's degree focused on advanced management practice from the University of Bath. I belong to a well-educated family. Education and women doing something has always been in our blood. With the sheer support of my family; especially my mom who is my pillar of support, I could build my brand of luxury fashion & skincare. Initially, it was tough to make people understand that the products are natural and do not have any side-effects. However, we received overwhelming acceptance for our innovation.

Share your thoughts on being a Mom & a CEO.
We, women, are capable of handling multiple responsibilities on our plates. We are often CEOs of the family, but we can be CEOs of our brands too. I cannot deny the fact that my mother stood as a pillar in taking care of my little ones.

In my opinion, success is not about money but about how empowered you feel. The more empowered you are, the happier you would be as an individual. Most importantly, contributing to society in some way and creating something unique bestows satisfaction. What you are as an individual relates to the kind of mother & wife you are. The moment you perceive your passion, you will not lack anything and become a wholesome daughter, mom & wife.

Hobbies: Reading, Meditation
Interests: Spirituality, Vedic Scripts
Favourites Cuisine: Japanese Vegetarian
Travel Destination: Saint Tropez- South France, London