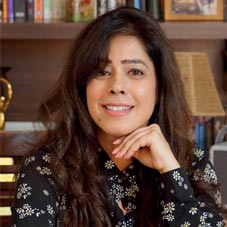 As training services and systems industry is still at its nascent stage in India, it is still not a very organized sector, as compared with the west. There are very few formal train the trainer programs delivered by Indian coaches and speakers. And, the hiccup comes in when the values and culture of the western training methods don't fit or fail to drive the Indian culture and training mindset. Hence, Indian led coaching and trainer certification programs is what will be the greatest contributor and driver of the industry.
Speaking of which, Priya Kumar persona perfectly befits this situation. She is an globally acclaimed motivational speaker, bestselling author and now a screenwriter. She has written 12 Inspirational Books that have won 42 international Awards. Furthermore, she has worked with over 2000 multi-national corporates across 47 countries and has touched over 3 million people through her workshops and books. Also, Priya has written over 700 columns for national and international publications. Her work has been extensively featured by the media in India and abroad and has also been invited as a celebrity guest on several business, entertainment and reality shows.
If we talk about the company, Priya Kumar Training Systems was formed as a robust vehicle to fulfill her purpose of inspiring excellence and greatness through self-discovery and peak performance. "While having a great purpose is good, it is even better to build a business model around it, so the work is a karmic service to all involved," she stated. With 25 years of experience, Priya has been leveraging every ounce of it to aid people in self-improvement. "Since I was always inclined towards self-improvement, getting better as a person and as a professional, I began to share what I had learned and what had worked for me. As humans, we are a part of a larger life purpose. Like any other species, what works for one, works for every other. So, if I could see change and progress in my life, I knew that the formula would work for everyone," she signifies.
Priya, at just 22 years old started her professional career with the drive to become a better person while also helping others in the same. She has been always maintaining the belief that knowledge is power and knowledge is the true wealth. "When you load yourself with knowledge and constant improvement, people will seek your company and value you professionally. The core of my business is value addition, and to do that, I constantly have to improve and expand my own knowledge base," she adds. She did graduation in Economic Honors from Mumbai University, while apart from academic courses such as diplomas in Marketing and Sales and Finance. Furthermore, she has
done countless other courses on self-development. So as a standard life rule, she spends at least one to two months every year learning a new skill. So from playing music, to painting, to writing to indulging in spiritual activities, health, and nutrition, Priya has expanded her knowledge base so wide that she is at that perfect level in bringing the best out of the people irrespective of whichever walks of life they belong to.
While the fact that Priya is currently working as a CEO at Priya Training System, she has been helping other owners to achieve the same results that she as a business owner would be aiming for. She believes that for all the level of the senior leadership, walking the talk and putting your values, principles, and culture in action is what helps keep the team together and inspired.
If one keeps walking the path of persona growth, then sharing those insights and experiences with people will become natural and one would feel duty-bound in doing so
"The core of my work revolves around experiential learning, where I use personal breakthrough activities such as walking on fire barefoot, bending iron re-bars with your neck, breaking karate boards with your bare hands, and walking on broken pieces of glass, unharmed obviously. I use experiences and activities such as these to drive home the point that impossible is nothing, and if you really put your mind to it, you can do and achieve things you didn't believe you could do. It is about not letting the past or negative inputs deterring you from your purpose and your mission," highlights Priya.
Walking the Talk Yourself
Priya has also said that the best form of inspiration is one that is set through one's own example, wherein mere words don't have lasting impact until someone walk the talk themselves. The commitment to her work with larger than life lifestyle is what inspires people to be like Priya and do what she does. Hence, without making the effort, once can make his/her work and their personality appealing in righteousness.
"I believe that every job has the potential for such results. If you make an effort to constantly improve at your work, improve your attitude, beliefs and skill sets and you seek to make a difference with your daily job, you will have all that you wish. It's not difficult at all. The focus has to be trifold. Just doing a good job may not bring you the holistic success. You need to also become a good person and participate in the larger good with all that you do," affirms Priya. "Every time I go out to seek to contribute to the world. I have consciously walked the path of my principles, values and what I believe to be right. I have delivered results that have not just benefitted others but also my family," she adds.
So to speak, Priya has been playing a significant role of a catalyst and facilitator who leads people to make choices and decisions that will best serve them and their purpose.
Motivating Teams to look beyond Challenges
Currently, Priya Kumar Training System is the sole providers of corporate training for its clients. Most of their clients are multinational corporates, spread over 47 countries. Their clients ranges from all sectors, to name a few, Google, Microsoft, IBM, Dell, HSBC, Accenture, SAP, JCB, Mahindra, Infosys, ICICI, HDFC, Aditya Birla, Reliance, SBI, RBI, Tata Motors, General Motors, BMW, and Mercedes.

Priya's approach has always centered around motivating the teams to look beyond challenges and setbacks and keep a fresh vision of the future. She states that playing small won't get people far, wherein, under delivering is not an option. "If every employee can be driven with that belief that they have come in to become better and also get paid to discover and develop themselves through learning and performance, then winning teams becomes a natural outcome of my workshops," she explains. And as a keynote speaker, Priya constantly engages in lot of seminars based on leadership, team building and peak performance.

"I believe that every job has the potential for such results. If you make an effort to constantly improve at your work, improve your attitude, beliefs and skill sets and you seek to make a difference with your daily job, you will have all that you wish"

Looking at the Future
Priya has also spread the blankets across the digital platform where she has built a platform to train the trainers. She also said that alone she cannot fulfill the promise of a better world. Hence, more hands and minds and hearts are needed for the purpose, thus generating the need of qualified trainers. The platform will launched in June 2021 and currently all her efforts are dedicated in that direction.

"I believe that trust should never be blind. One must earn it. Passion needs proof and it must be evident in your lifestyle, choices and your daily actions. Once gained, the support that you will gain from your family will take you a long way to success, forming the wind under your wings lifting you higher than you could have ever asked for," says Priya.

An Advice from the Best
Priya's suggestion for people who want to enter the world of motivational speaking and coaching is that one should always get their purpose sorted out and keep a long term vision. She further advices that unlike other professions, when someone takes a back step or don't bring out their best to expand one's purpose, he/she will definitely fail at making a better world, which, practically speaking is in our own hands - delivering one person at a time, to a better life. If one keeps walking the path of persona growth, then sharing those insights and experiences with people will become natural and one would feel duty-bound in doing so. "It's like having a solution and not being able to hold yourself back when you see some suffer. Your work then would become a relief and fulfilling your purpose will be the highest form of duty. Either way, the journey is amazing because you will land up being the biggest beneficiary, wherein while walking the path, one will discover the source of wisdom within," Priya concludes.