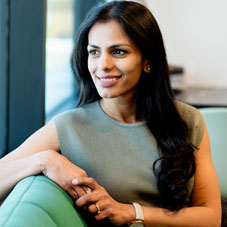 Being an immigrant Indian, Miral Mehta was not afraid to take on big challenges as she set out to venture into the healthcare domain. By the virtue of her adroitness and her Indian roots which gave her resilience and grit, not only she overcame her hurdles to thrive on constant tests offered by life but has efficaciously managed to craft her identity across the niche arena of the global healthcare domain. Owing to her exposure to Indian culture and growing up in the competition as well as assorted Indian background, Miral believes her values, cultures, ethics to be her biggest assets. What shaped her as a physician is her nature of looking towards a patient as a whole, and treating a person taking a holistic approach instead of just addressing their symptoms. She proudly admits that, without these early life lessons in terms of her education and experience in India, the US and Canada, she would not have been able to reach the summit of success. Embedded by these core values lies the foundations of her organization Atom Health, where she leads and empowers a diverse team spread across three continents.
Engaging in an exclusive interaction with CEO Insights, Miral shares the nuances of her journey as one of the prolific Indian leaders in Canada across the healthcare segment.
Share with us about the inception story of Atom Health. How does your vast experience in business help you to chalk out business operations for Atom Health?
Out of the strong sense of responsibility towards my parents and my grandparents, Atom Health was conceived, as I was living abroad and did not want to miss out on taking care of their health. Although technology allowed me to arrange for their medical tests and review their results with their doctors remotely, some immediate lacunas were visible and needed to be addressed. Along with it came the security issues around medical records and jurisdictions, and I felt a gap in the continuity of care for patients and keeping the family/loved ones in the loop.
Venturing into this domain, I remember my father saying, "Solve a real problem for real people, profit is just a by-product". This has helped me keep my focus on the value that I create for my customers, and keep my team engaged and inspired. My experience with my father's business ventures taught me a lot
about operational efficiency and being resourceful while providing opportunities to those in need. The second thing that I learned was that all humans aspire for growth, and if you give the right tools to the right people, you will see them exceeding your expectations. That's what I have been doing through Atom Health.
Tell us about the journey so far at Atom Health. What are the major challenges faced by you in your professional journey so far and how did overcome those to evolve as a business leader?
Being a young company, we try to create value for our customers, while identifying the challenges they would face right from the start. One of the biggest challenges we have been facing till now is the fence that we have created around the privacy of health information. Advances in technology have created new risks, and we are very mindful of this fence that protects an individual's health information and privacy. But somewhere along the way, we as a society have forgotten the core reason this information exists in the first place! And that is patient well-being. So, navigating this siloed system that we are a part of while maintaining the balance between access vs.'minimum required information' is the biggest challenge at different levels. We are solving this problem by separating 'Time-critical' health information, from the details of the medical records.
All humans aspire for growth, and if you give right tools to right people, you will see them exceeding beyond your expectations
Other challenges such as me being another woman in a man's worldor even bureaucracy- exists everywhere in the world. The only difference is that in India or other developing countries, they get labeled that way, while across other developed countries, the stigma is much more silent. But these kinds of problems are trivial as they teach you resilience and show you your core strengths as a leader that you can amplify.
Kindly throw some light on various services provided by Atom Health. What amongst these would you regard as your flagship offering?
The core product of Atom Health is a decentralized digital health wallet, where any individual can create a health information account that stores their time-critical health information. They can share this information securely with anyone in the world, anytime. Like a passport which carries the critical information of which country you were in but does not your itinerary, Atom health is a window into your health highlights, without getting into the details of each encounter with the doctor. It is the first step towards personalized health.
The secondary product is COVID A COVID information sharing portal about your immunity status. Whether it is a test or a recent infection or a vaccination, it is a passport that does not discriminate and yet allows the most important information about the immunity state of the individual against COVID19.

How are you adapting new tool/ technologies to revolutionize your services to be at par with current industry standards?
We are already building with the future in mind. Implementing decentralization and progressive webapp was just the beginning, but now we are also working on predictive AI algorithms that help in reviewing the health information and suggest personalized health advice in accordance with your doctor's advice. We are building tools that empower each individual to take charge of their own health.We are ensuring regulatory compliances as per the industry standards and going beyond what is required for our stage or type of company.

b>In your journey so far, which are the milestones that bestowed you with utmost satisfaction both as an individual and a CEO?
I guess the most satisfying thing in any business is happy, satisfied and recurring customers. The most important milestone would be the creation of an equitable COV:ID ID that we are currently talking to the Canadian government authorities about. The other milestone is that I recently built my own multi specialty eye care center in Edmonton, Canada

What are innovations and upgradation currently happening in your company? What is the future roadmap of your company?
We are currently working on the decentralization of encrypted data and making our software adaptable to each industry based on their needs. Predictive AI algorithms are in the works to serve the patient as the point of care and for personalized health. The future roadmap includes building a digital health hub, that brings together the research, the caregiver or physician and the patient/ individual on the same platform to optimize the process of healthcare delivery and health maintenance.

Miral Mehta, Co-Founder& CEO, Atom Health
Miral did her schooling in Mumbai, and completed her medical education from Sir JJ Hospital and Grant Medical College before immigrating abroad as a skilled physician. A super-enthusiastic mom of two very independent little kids, she is raising them with Indian and Canadian blend of culture. Close to her family, she is a grounded person who always has her eyes in the sky. She believes in freedom and empowering those who are not that fortunate. An adherent reader, she loves to read Bhagvadgeeta, Deepak Chopra, Eric Ries, Peter Thiel and Paul Graham.