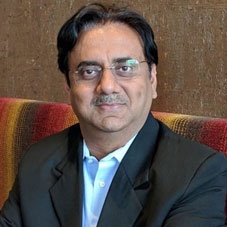 As a leader who channeled his inner strength to redesign the F&B sector of India, Mukund Purohit remains a top-notch leader and inspiration for many. Witnessing the lack of adequate opportunities in this domain, Mukund Purohit not only visualized making international food like pizza available to the middle-class people of India but also made a successful venture into the domain with the establishment of the Neopolitan Pizza in 2012. Creating a family-oriented restaurant that serves hot and fresh pizza on an unlimited buffet format, the Indo Canadian Entrepreneur has been able to start the fastest-growing Pizzeria Chain in the western parts of India. A family-oriented and kidfriendly brand, Neopolitan Pizza specializes in take-out and delivery of pizza made from the freshest and top-quality ingredients and pushes the limits of the regular restaurant experience by offering a variety of Soup, Exotic Salads, freshly baked Bread, Pasta, Hand Tossed Pizza and Dessert including such popular items as flatbread pizzas and many more.
Engaging in an exclusive interaction with CEO Insights,Mukund highlights his journey as one of the phenomenal leaders across the global F&B podium.
Tell us about your unique skill sets and strengths that differentiate you from your peers in the industry.
Having diverse experience across the commercial, non-profit, and public sectors with a strong track record in supporting international organizations with growth and expansion and streamlining communications and reporting. This work has included management consulting to streamline operations programs; spearheading a business development strategy for a major firm's trade enforcement and export promotion services for federal clients; diversifying the funding portfolio for an NGO directing rural development projects. He served several multinational companies and organizations in the field of Technology transfer, Business Process Outsourcing and Information Technology Enabled Services. Enhancing bilateral relationship to the next level between Canada and India. Actively engaged in bringing Canadian technology to India in Education, Oil
& Gas, Waste to fertilizer production, Water technology, Agriculture and more, he is diligently working on the trade activities between India and Canada as well.
I believe we have a lot of existing opportunities in the Indian market and the turnover is going to go up in the future
In your journey so far, which are the milestones that bestowed you with utmost satisfaction both as an individual and a founder?
I have been bestowed and recognized in the different fields of my work. In 2017, I was awarded the 'Pravasi Bhartiya Samman Award' (PBSA); The highest honor bestowed on non-resident Indians by the govt. of India. I received this highest honor for excellent work in the field business for promoting Canada India bilateral commercial ties and philanthropic. I have also received the 'Queen Elizabeth II Diamond Jubilee Medal 2012' from the Government of Canada in recognition of my achievements and work in the community. Apart from being awarded 'Canada-India Friendship Medal 2012' from the House of Commons and Canada India Parliamentary Friendship Group, Indo Canadian Business Chamber recognize my contribution by awarding me as a 'Son of Gujarat.' I am also the winner of the 'Gauravanto Gujarati Award 2010' as a prominent social activist organized by a prominent NGO. I am over whelmed to receive these numerous recognitions that not only boosted my spirit and encourage me but also acted as a catalyst to proceed further towards my goal.
How do you align your organization with your vision and mission and as the founder of Neopolitan Pizza, what are the key drivers that you deploy to ensure that the company's services are used appropriately to meet its short/long-term needs?
The beauty of the model which I have implemented across the Neopolitan Pizza is the buffet concept rather than the thali ideology which is enormously popular across almost every Indian food joint. Acing our menu with mostly Italian cuisines we offer unlimited dishes starting from soups, garlic bread to dessert under the nominal charge of Rs.299. Since we have more than 9000 small and large cities in India, I consider it to be a huge market if we can milk the market aptly with our pocket-friendly products. While the other co-players in the market are offering a pizza ranging from Rs.300- 400, I am offering a range of unlimited pizzas along with pasta, garlic bread, salads, Cokes, ice creams with brownies and many more. Just under Rs.299. My target is the
middle-class customer who can visit our stores with their family to enjoy an exclusive range of Italian food with good ambiance and proper service, without worrying about their bills. Till today, we have served almost 11 million people as per our database, and with this model, I believe we have a lot of existing opportunities in the Indian market and the turnover is going to go up in the future.

What are innovations and upgradation currently happening in your company? What is the future roadmap of Neopolitan Pizza?
With the vision of providing quality food with quick and efficient service at a very affordable price, we as a group of Indo-Canadian Entrepreneurs plans to open a 'Neopolitan Pizza' outlet at Multiple locations across India. The choice of the menu and the needed supply chain has already been built for an easy multi-locations/city to scale-up in the form of Company stores and the franchisee network.

We also have a plan to knock the door of the Bombay Stock Exchange down the line and intend to launch our frozen pizza range in Canada and the US, apart from India. Contrary to every western food brand which came to India from abroad, I think we will be the first food brand to explore the international market after conquering the Indian F&B sector. If the COVID situation gets better in the next five years, we are determined to have our presence across 200 more locations including the US, Canada, and Dubai. As the owner of the Neopolitan Pizza, I am quite excited about this reverse journey we are about to take. Apart from a restaurant franchise, I am also planning to have my own frozen pizza manufacturing brand. By 2023, we do have a plan to start a small Hotel and Restaurant Management Institute where we can bring the educated yet unemployed candidates to provide training and give them a 100 percent job guarantee under our roof.

Mukund Purohit, Founder, Neopolitan Pizza
Mukund is a Canadian entrepreneur and businessmen, experienced in business consulting and a specialist in International Trade. Currently he is holding many positions of various businesses, boards and involved in philanthropic activities. He is holding position of Senior mentor for Innovators and Startups and institute, SSIP committee member of the Maharaja Sayajirao University of Vadodara and angle investor in many startups in India as well as in Canada. He is the founder & CEO of Neopolitan Pizza Limited (Second largest growing pizzeria Chain in India), President Vcare Project Management Consultant Inc(Canada), International Commissioner (Scouts).