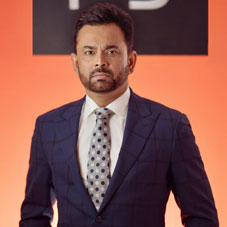 canada is a land full of opportunities not just for the citizens but also for the millions who are looking for career growth in the country. Ranked amongst top countries, Canada allows the necessary ease of doing business with excellent infrastructure, a relatively stable outlook on country risks, and a very attractive standpoint for investments. It happens to be one of the leading countries in the world that provides an ideal platform for aspiring entrepreneurs to start and grow their businesses. And over the years, the contribution of Indian business leaders in the region has been tremendous significantly contributing to the economic scale.
It is indeed a bliss of pride to see Indians rocking the Canadian business market. In the quest of featuring Indian-origin founders and CEOs who are disrupting the business scenario in Canada, CEO Insights observed that Niraj Sinha is ruling with his unique multi cultural marketing and advertising strategies.
His venture, MapleDiversity Communications is an award-winning and one of the fastest-growing multicultural advertising agencies in North America. While celebrating Canada's multiculturalism and diversity, the company recently designed an inclusivity-led program connecting brands with diverse segments to build inclusiveness and trust with LGBTQ+, People with Disabilities, Indigenous Peoples, and more. It leverages unique brand preferences, shopping behavior, and media habits, with insightful advertising, marketing, and research solutions.
In an exclusive conversation with CEO Insights, Niraj shares details on his expedition of being one of the successful Indian business leaders in Canada. Below are the excerpts.
Brief us on your educational back ground. What basic learning prompted your entrepreneurial skills?
Apart from having a Master's degree in History, I completed a post-grad diploma in journalism and worked with Indian Express.
Pursuing International Business Management from Seneca College of Applied Arts and Technology,
of Applied Arts and Technology, Canada helped me understand the finer aspects of starting and running a business. I recently got an opportunity to enroll myself in a few executive programs at Harvard Business School. From history to journalism and business, it has been a mixed yet rewarding journey.
Niraj Sinha has spent over 25 years in varied fields ranging from academics to journalism and from multicultural marketing to advertising
Highlight unique skillsets and strengths that differentiate you from your peers in the industry.
With the varied educational experience, multifaceted work experience, and exposure to the global market,I have gained a diversified and multicultural outlook. These aspects helped me to conceptualize a multicultural marketing and advertising brand that works with globally reputed clients.
I have been a student as well as a teacher of international relations and taught at Rau's IAS Academy, New Delhi for seven years and authored a book called 'Beyond Borders' on foreign policy and global affairs.Understanding of the multicultural markets and immigrants has given me an edge over the peer leaders.
The learning curve and adaptability set me apart. We might not have all the strengths and skillsets to start a business or run it successfully, therefore, we have to consistently learn and adapt ourselves to the market trends.
Take us through your journey with Maple Diversity Communications so far.
While working for one of Canada's largest telecom companies, I gained comprehensive knowledge of the multicultural market in Canada and observed that there were untapped areas in multicultural marketing and advertising domain. This made me take the plunge with Maple Diversity to identify touch-points and offer meaningful outreach to the clients.
The journey began in 2010. Today, Maple Diversity is recognized as the first-ever Canadian multicultural agency to be ranked as one of Canada's Fastest-Growing Companies by PROFIT 500 and Canadian Business. In 2018, Maple Diversity ranked #79 nationwide. In 2019, the company was enlisted on the EMMA 'Wall of Distinction' as one of the five most awarded agencies in multicultural marketing in North America. In 2020, Maple
Diversity Communications ranked among Canada's Fastest- Growing Companies according to the Growth List released by Maclean's/Canadians Business.

It has been a decade of a fabulous journey with clients viz., Cadbury, HSBC, Hershey's, Nestle Canada, American Express, Fruit of the Loom, Glentel Inc, Royal Ontario Museum, Sony Canada, MEC, Humber College, Zee TV, PayPal, Brookfield Residential, Shoppers Drug Mart, Johnson & Johnson, Corby, and others.

What do you think is going to be your USPwhile going deeper into the competition and combating other legacy ad agencies in the Canadian Market?
Multicultural marketing is a niche area that requires a special skill set as it deals with different nationalities, different languages, and different cultural nuances. Growing up in India, I understood how diversified the nation is in terms of food, culture, music, and more. Here, in multicultural marketing, we deal with similar diversity, but at a global level.

Our structured team that understands global diversity is our USP. Besides the in-house talents, we have a huge network of cultural and language consultants who would help us during the campaigns.

We focus on the gaps in the existing market and target those gaps through our services. For example, we recently launched a program called Diversity Beyond Ethnicity (DBE) that expands our diversity marketing services to include the LGBTQ+ community, disabled people, and indigenous population. Our research HQ program focuses on generating insights related to multicultural and immigrant markets.

What is the roadmap ahead of Maple Diversity Communications?
Soon after the borders are open for immigrants, we would like to be at the forefront of helping brands attract new immigrants. While surviving and sustaining through the pandemic, we will be focusing on expanding the diversity marketing in Canada and restarting our growth journey in the US. In the long term, we envision taking diversity marketing to all countries that have diverse societies.

Niraj Sinha, Chairman & CEO, Maple Diversity Communications
Niraj has led Maple Diversity to become one of the fastest-growing companies in Canada according to the Growth500 List of Canadian Business and Maclean's. He has also won various Marketing Magazine Awards, CASSIES, Summit International Awards, and Excellence in Multicultural Marketing Awards (EMMA).