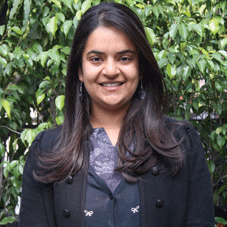 "As a part of my regular day-to-day practice of cooking at home, I came up with an idea of preparing petite gourmet cookies, since I was tired of the ordinary sweets like mithais and laddoos available in the market. For a close wedding, I decided to bake these small treats as giveaways and the cookies were immediately liked by my friends and family. I fulfilled a couple of big orders from home but then I realized I couldn't function at the increasing scale from home, and that was when the idea of taking it to a commercial scale came about." This is what Mohita Mathur, Founder & CEO of Mo's Bakery stated recalling her first memory of a journey that changed her life. Today, Mohita's bakery has a PAN India presence where she creates gourmet petite cookies, healthy bakes and a range of delicious goodies to delight her patrons.
The recipe for success is interest, idea and hard work, and the entrepreneurial journey of Mohita personifies this fact. Giving up on her lucrative job as a Product & Automation Strategist at Google, Mohita's passion stopped at no bounds and her inspiring journey echoes the dedication that she possessed to make her mark in the world of food & beverages. As one among the committed contributors to India's booming FMCG industry on a mission to offer the best quality of cookies, Mohita's 2016-incepted Mo's Bakery is a gourmet hand-crafted cookies manufacturing company that specializes in a wide range of handcrafted cookies, which she supplies PAN India. Mohita in an exclusive interview with CEO Insights reminisces about her journey and delineates her bakery's activities.
Tell us more about Mo's Bakery, its unique facets and the products that you offer.
Mo's Bakery is a first-of-its-kind home bakery in New Delhi and we are renowned for our petite cookies with unique flavours & natural
ingredients to surprise our customers. At Mo's, our mission is to incorporate unusual yet delightful natural flavours into our cookies. Hence, we take special care in selecting the best raw ingredients that we use. For instance, we use natural rock salt from The Himalayas, fresh lemons and rosemary from our little Kitchen Garden and more.
Mo's Bakery is a first-of-its-kind home bakery in New Delhi and we are renowned for our petite cookies with unique flavours & natural ingredients to surprise our customers
As of today, we offer a range of 30 different products across 15,000+ pin codes in India. Our products are available at Amazon, Bio Roots, and Mo's official website. The array of products that we offer comprises of 12 unique flavours of gourmet cookies with vegan and healthy options; a range of healthy Keto crackers; curated natural teas and several gifts pack options.
Moreover, our aim is to create the most delicious and premium product, and for this reason, our products are prepared in small batches and are hand piped carefully to ensure we provide the most satisfying experience to our consumers.
Share the inception story of Mo's Bakery. Also explain, how are you leveraging the best elements of your educational and professional background across your bakery's operations?
My educational and professional background has played an important role in my personal as well as professional life and I have learned many things from each of the parts. I studied in DPS and it helped me to become the jovial, optimistic and fierce person that I am today. During my B.Com graduation from Sri Ram College of Commerce, Delhi University, I learned most of my organizing and business management skills. Then I started my professional journey in 2011 when I joined Google Inc. and I worked there for almost three years which helped me to learn a great deal about mass operations, people management, how products are developed & launched, how
feedback & communication needs to be precise and timely, among many other things. All these learning & experiences are now helping me to operate Mo's smoothly.

Apart from gaining professional experiences, one major aspect or I can say the realization that I had while working at Google is that I had a passion for cooking and wanted to be a part of the industry and that was the biggest turning point in my career. After Google, I started my own seafood business immediately and learned a great deal about B2B sales, brand building, product differentiation, profitability and more. Taking my passion further, I started Mo's Bakery in 2016.

How do you update yourself with the latest technologies and trends in the food industry of India?
The food industry is an interesting space growing at a very fast pace, it's important to stay updated with the new techniques. New innovations such as Ruby Chocolate, plant-based meats and more are coming to the forefront. Hence, in order to stay updated, I stay tuned to Maste chef Australia, Chefs Table, and food culture shows like Food Safari, Ugly Delicious and more.

I also take part in exhibitions and conferences to stay tuned with what's happening locally.

What are the future plans for Mo's Bakery?
We want to expand not only our product line but also penetrate a little deeper in the industry. Our main goal right now is to provide healthy products that can be accessible by each and every person in the community regardless of spending power and consuming capacity.

Key Management:
Mohita Mathur, Founder & CEO
An ex-Google employee, she is a dedicated professional who is focused on making a positive impact on people's health,adding clean and modern technologies in food manufacturing, and improving the business environment for startups, leveraging her experiences of the industry.

Favourite:
•Hobbies: Swimming & cooking
•Cuisines:Japanese Vietnamese and French
•Foods: South Indian food especially from Coorg and Andhra
•Travel Destinations: Ladakh, Hampi, Lakshadweep, South Africa, the Swiss countryside and Bali