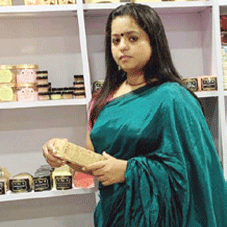 Setbacks and challenges don't faze Nandhini Priya N. The passionate entrepreneur and founder of AEKA Herbal Cosmetics, a provider of natural cosmetics, has constantly showcased grit, perseverance and problem solving abilities at various stages of life. Be it her not being able to crack the Indian Civil Services examinations or the uphill battle she faced while trying to get her products on the shelves, Nandhini stayed motivated in every situation and eventually turned it around in her favor. She believes that in the wake of adversities, she might change her path but never let go of her ambition.
Driven by her desire to become a change agent in the society and her inclination towards selfcare & skincare products, Nandhini founded AEKA Herbal Cosmetics, a manufacturer of natural and affordable line of cosmetics under the BRAND YEKA. Established in 2017, the Brand Yeka provides users with herbal hair and skin care products. Run by a motivated team of women, the frugal firm is a great example of a contemporary workplace that leverages every form of technology and communication to function efficiently. The CEO Insights team spoke to the architect of this unique firm, Nandhini, to get a glimpse of how a smartphone driven organization is run successfully and to get her take on entrepreneurship.
Can you take us through the various milestones that led you to found Aeka? Also, what was your primary motivation behind founding a herbal cosmetics' company?
I am an advocate by profession and have always wanted to become a change maker in the society, which drew me towards preparing for Indian Civil Services. I devoted ten years to the prep, however missed it each time by very few marks. Not getting deterred, I realized that the preparation had inculcated within me confidence, ability to think beyond the limits and lateral thinking to counter challenges which motivated me to found Aeka.
Since a young age, I have had a personal inclination towards
selfcare and skin care. But despite buying expensive cosmetics, I could not find a proper solution for my pimples/acne until I resorted to natural home remedy. This led me to realize that commercial cosmetics had become a twin word for chemicals and the few natural products available in the market were not affordable. This motivated me to promote natural cosmetics using our own unexplored traditional Indian herbs and provide the best natural solution to all beauty needs at affordable prices.
Aeka is an all women run organization and we have shaped our business model & operations to support every woman who has taken a career break
Tell us about the various unique aspects that make Aeka Herbal Cosmetics a one–of-a-kind organization to work for. How does your team leverage technology to its advantage?
Aeka is an all women run organization and we have shaped our business model & operations to support every woman who has taken a career break. Our Co-Founder & CTO, Poorani is a new mother and has been leading her entire team remotely with the help of technology and virtual software. Similarly, we currently have 10-12 women at different designations working remotely from various parts of the country who are all new mothers. Technology is our biggest strength and we use applications such as WhatsApp, Instagram, Team Viewer, Asana among others to stay connected. These factors have helped us increase employee retention and satisfaction. The team had no hang-ups and is extremely enthusiastic about our future.
Also,we are a smartphone run organization; apart from manufacturing, over 90 percent of our business is run on our smart phones. Right from product photography, video making, poster design, marketing, running SMS campaigns, managing sales report to recording expenses and our team co-ordination is taken care of through smart phones.
Your products are completely herbal & natural. Can you throw some light on the various ingredients that your hair & skin products are made up of?
Most soaps and cosmetics in the industry use chemical ingredients or ingredients which aren't native to our land and have to be imported.
We realized the immense benefits of our own native herbs such as Avarampoo, Liquorice, Moringa, Lotus, Hibiscus, Virgin Coconut Oil and so on. Therefore, we curate every product using these magical herbs and natural handmade soaps are in R&D.

We blend organic virgin coconut oil and fresh Damascus rose petals to make our Yeka Golden Glow Skin Oil, which has often been called as a Miracle Oil by our customer. This multipurpose oil can be used to care for face, lips, foot, stretch marks removal, tan removal and antipigmentation.

We also use Moringa, highly effective leaves, along with five other fresh greens in our YEKA Moringa & Green Magic Herbal Hair Oil that promotes hair regrowth.

How have you channeled your passion for entrepreneurship and empowering women into action? Also, what advice would you give to aspiring entrepreneurs?
I feel strongly about empowering micro, small and medium women entrepreneurs and propelled by this motto,we initiated 'PeN Passionates', a Women Entrepreneur Association that gathers homepreneurs and women folks who are interested in doing something on their own. In the past, we have organized trade fairs, facilitated exclusive WhatsApp groups for networking and also conducted digital marketing workshops to empower them and their business.

My advice to budding entrepreneurs would be to 'Do Business on Paper First'. Speaking to entrepreneurs about their challenges & journey and thinking from different aspects can be helpful. A successful entrepreneur must also understand finances, accounting, people management, logistics and administration other than product development.

Above all, an entrepreneur must never get demotivated by failures and should treat them as learning opportunities.

KEY MANAGEMENT
Nandhini Priya N, Founder & CEO
A fireball of passion and motivation, Nandhini is a self-confessed connoisseur of cosmetics. With a law degree from Madurai University to her credit and ten years of tough civil examination prep behind her, Nandhini has constantly showcased immense drive and ambition, even in the face of adversity.

OFFICES: Chennai
Offerings: Yeka Kumkumathi Glow Serum, Yeka Golden Glow Skin Oil, and Yeka Moringa & Green Magic Herbal Hair Oil