Mansi Chowdhary: Revolutionizing Indian Cosmetics Market through her Bespoke & Beneficial Beauty Products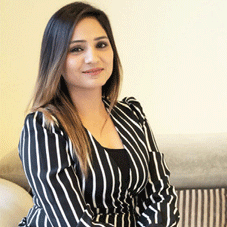 With the rise in the number of beauty conscious population who are quite alert & sensitive about the products they apply, the beauty & personal care market in India is at all time high. The ever-increasing focus on implementing chemical free natural solutions has led to the creation of a skin care industry worth $8081.1 million in our country, which is growing at a phenomenal CAGR of 6.7 percent. Gradually, people are experimenting & turning to indigenous firms delivering 'affordable luxury' products, as foreign brands are not only overpriced but inaccessible as well.
Bridging this gap between customers & their needs, Mansi Chowdhary came up with the idea of setting up a 'boutique' personal care & beauty product enterprise, rendering pure & safe products crafted from natural ingredients at much affordable prices than its foreign counterparts. Body Cupid is thus the result of her passionate entrepreneurial spirit & continuous effort towards understanding the beauty aspirations of Indian customers.
The following are the snippets from an exclusive interview with CEO Insights, wherein Mansi takes us through the various facets of her entrepreneurial journey.
Kindly take us through the major milestones of your professional journey. Also enlighten us about your educational & professional background that helps you efficiently handle the day–to-day operations at Body Cupid.
Although a CA Inter by education, I started my professional journey with the establishment of my own bakery business, patisserie. A passionate & thorough entrepreneur at heart, I enjoy the challenges that it brings to the table. Besides, the creative
freedom & thought process that these ventures offer is inconceivable in any other profession. My educational background has helped me understand the finance part of the business, and my prior experience in setting up & running a high consumer connect business has aided in developing Body Cupid from scratch & directing it towards the correct pathway. I am very hands-on in working on the formulations, packaging & aesthetics of the brand ergo, I oversee operations ranging from designing & packaging to conceiving ideas & formulating them in my company.
Have faith in yourself & your ideas; with this positive reassurance you will find that everything is possible
Can you tell us about the initial challenges faced by you during the establishment of your company? Also, tell us where you see Body Cupid in the current FMCG market in India?
Body Cupid is a bootstrapped start-up, started with our own investments. Although the initial growth & brand recognition was slow, it was patience & belief in our products that provided us strength to keep up our efforts & continue marching forward. It was challenging yet exciting to develop the products & create a niche for the brand. With the first year of our entrepreneurial journey spent in perfecting formulation & sampling, it was only in our second year that we could launch our products online. Thanks to our digital marketing efforts & positive customer reviews, sales soon experienced an upsurge & our customer base expanded.
As far as the FMCG market in India is concerned, it is an exciting place to be in since consumers are open to trying new things, love nature-based products, and are following international beauty trends in a big way. I am sure they would love Body Cupid, whose sole aim is to deliver 'affordable luxury'beauty care products at sound prices to them.
Brief us about the range of products offered by Body Cupid. Also, tell us
about your target audience & the unique benefits it renders them.
Our extensive product range includes body care essentials like body washes, body lotions and rich body butters hair care through innovative keratin shampoos and conditioners & fragrance for both men and women. We have worked relentlessly to formulate healthy luxury products that feel & smell good, thus evoking a sense of luxury through exotic formulation. Our products not only work wonders but also add to the sensory pleasure of the user. Apart from being free from sulphates & parabens, we ensure adding extra nourishment & pure essential oils to our products, which is something unique to the brand. After all, Body Cupid is all about luxury, ultimate pampering and pleasure.

Would you like to give any suggestions to the budding entrepreneurs in the same segment?
Never give up! If your hard-work & ideas are not bearing fruits initially, hold on. Keep feeding your entrepreneurial spirit & keep going. Have faith in yourself & your ideas; with this positive reassurance you will find that everything is possible. I would also like to encourage budding entrepreneurs to attend industry events & conferences since it provides a platform for discussions & exchange of ideas, meeting different people, and learning new trends. I have personally learned a lot from a lot of exhibitions in India and abroad & even explored new ingredients and developed great products out of them.

Key Management:
Mansi Chowdhary, Co-Founder & Director
Although a CA Inter by education, Mansi is a passionate & thorough entrepreneur at heart. Continuously analyzing the Indian cosmetic market & updating herself with the latest happenings, she has developed an extensive range of effective products aimed at catering to the beauty & personal care needs of Indian customers.

Favourites:
•Travel Destinations:Tropical Destinations like Maldives
•Hobbies:Cooking & Baking
•Cuisines:South-East Asian cuisines