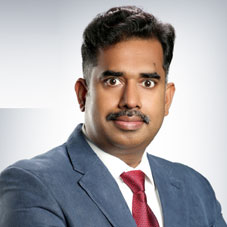 Saudi Arabia has always been proven to be the land of opportunities for Indian entre preneurs and business leaders. Emerging as a big player owing to its globalized economy, favorable environment and business climate, Saudi Arabia is gradually emerging as a prominent business hub for new-age leaders, especially Indians. Today, numerous professionals belonging to Indian ethnicity have dominated across numerous sectors such as healthcare, construction, retail, manufacturing, financial services, hospitality, transport, service sector and have left a significant mark across all of them. They are the leading contributors to the economy of Saudi Arabia and have occupied a place of prominence across all spheres of business. Carving his name into this elite list of business tycoons, Rajasekaran Gnanamoorthy (Co-Founder, Codify Group) has emerged as a prominent persona and impeccable business leader having an Indian background across Saudi Arabia and the wider Middle East market.
Starting his career in durables, Raja sekaran progressed through a series of challenges and performed as one of the best employees in most of the companies throughout his career, where he played a pivotal role in scaling the businesses.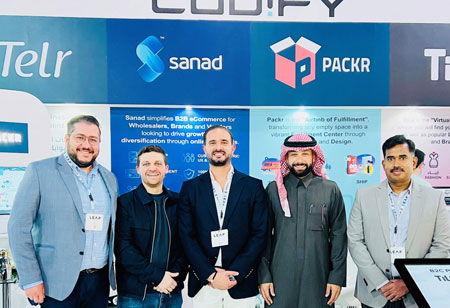 From Right to Left: Rajasekaran Gnanamoorthy, Abdullah Alghamdi and Raef Elhassan, Co-Founders of Codify Group. Ahmed Abu Alasal, Co-Founder, Sanad and Moe Ramahi, Co-Founder, Packr.
Taking his first professional step with the Retail Industry by doing channel management for various consumer brands in India, Rajasekaran acquired a great understanding of the basics of commerce and the challenges faced by manufacturer, distributors and retailers across the supply chain. As the years passed by, Rajasekaran became frustrated with the inherent limitations of traditional retail and his focus and passion completely turned into the naissant Global e-Commerce industry and its disruptive effects on the traditional commerce channels. His decision to move into e-Commerce was completely driven by the ambition to grow, try new challenges and build a legacy of his own but what matters the most is that, Rajasekaran has played a pragmatic role in Co-Founding Codify, a Saudi Technology Group that dissects the e-Commerce cycle into an integrated ecosystem of companies operating an asset light model through technology across platforms, fulfillment, payments and last mile solutions.
Rajasekaran engages in an exclusive interaction with CEO Insights.
Define Codify Group as an organization and its current position in the market? How is it different from other market players?
A Saudi homegrown technology group, Codify Group provides 360-
degree solutions across the e-Commerce space. Any traditional business in B2C or B2B can leverage Codify ecosystem to avail their digital footprint and Omnichannel offering in the most efficient way. Providing an innovative platform for e-payments, e-fulfilment and courier market place solutions, we follow a 'pay as you grow model' and it suits every merchant's needs. We seek to democratize e-Commerce and make the best technologies in the industry more available to merchants as we guide them through their digital trans formation while leveraging our talents and expertise across all the e-Commerce cycle from platforms, payments, fulfillment and last mile delivery.
We seek to democratize e-Commerce and make the best technologies in the industry more available to merchants as we guide them through their digital transformation
Under codify we have some exclusive verticals which include TiLa, Sanad, Packr, DOOS, and Telr. Let me briefly explain those verticals. TiLa is a B2C Marketplace which is the 'Virtual Mall of Saudi' where one can find their favorite stores, local boutiques & Brands across multiple categories. Sanad is a B2B Marketplace for Groceries which connects Grocery Shops, Home Based Business and HORECA with FMCG Distributors & Brands. It also takes care of the supply chain. Packr is the 'Airbnb of the Warehouses' which converts any empty warehouse into vibrant e-Commerce fulfilment centre and DOOS is an end to end e-Commerce supply chain courier solution that crowd sourced vehicles and drivers. Telr is award winning online payment gateway solution operating a fully owned propriety software and it offers all kind of online payment solution including 'Buy Now Pay later' options as well as wallet payments.
Reflect on some of the major challenges you have experienced in your journey so far? What did you learn from them?
We have often come across a myth in Saudi Arabia that a multi category e-Commerce platform needs Billions of dollars to sustain in this competitive scenario. With Codify Group, we have completely shattered the myth by creating an asset light e-Commerce business model that thrives on partnerships, and is very scalable and require very minimal investment compared to the conventional way of doing eCommerce business. and above all a faster path to profitability.
As an industry leader, what keeps you motivated? What is your success mantra?
The same passion for growth and curiosity that drove me in the early days, still drives me today. The strive for Innovation and problem solving by implementing disruptive technologies have become a way of life for myself and the rest of the Codify team. I am surrounded by equally talented team focused on execution and innovation. Our success has never been based on one person contribution rather a team approach to problem solving. My success Mantra is Innovation and persistence until we get it right.
How do you maintain the perfect balance between your personal and professional life?
Being into e-Commerce business which runs 24x7, it is difficult to maintain perfect personal and professional life balance. We have offices in three countries with different time zones and weekends. From the personal front, I eat heal
thy and stay active with my fitness routine. I manage my time well to stay connected with friends and family members on a regular basis. I put in constant efforts to ensure that everything is running parallelly and smoothly.
Going forward, what are the changes in market behaviour that you anticipate and what are the opportunities that you foresee?
Every traditional business needs to offer digital solution as their omnichannel extension to stay relevant to the consumer. Codify group offers an end-to-end e-Commerce solution to help the traditional business to digitize them selves and evolve into incremental business. We believe that when our partners grow, we grow along with them.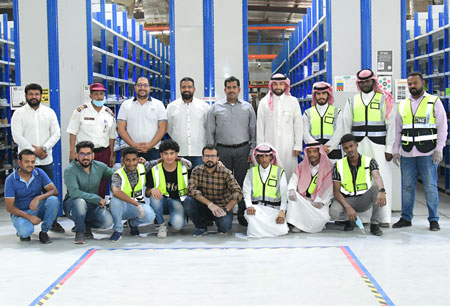 TiLa Operations & Logistics Team Riyadh
In the light of your strong experience across e-commerce and retail industry, share your views on the present market scenario.
Since almost 85 percent of online shoppers in KSA are shopping through Mobile Apps, having simple e-Commerce website will not help. It is important to be present over iOS, Android, Huawei AppGallery and PWA to reach out to the customers. Hence, quick commerce is gaining momentum and leading e-Commerce companies are delivering groceries under 30 mins, customer are also expecting similar delivery option for other products as well. In my opinion, Direct to consumer (D2C) model will gain more momentum in the coming days.
What advice would you give to the budding industry leaders?
The new age entrepreneurs should create more original and engaging content via more use of online platforms such as Snapchat, TikTok, and so on to reach out to the younger audiences. They should keep experimenting and innovating to meet the needs of the customers. Many retailers continue to make significant investments in traditional channels and in the mean time, they also don't have a dedicated team to manage their e-Commerce business. The need of the hour is that if the budding industry leaders don't take some serious actions now, their past success may not give guarantee for the future.
Rajasekaran Gnanamoorthy, Co-Founder, Codify Group
Rajasekaran decided to move into e-Commerce Industry in 2006 which was witnessing rapid growth at the point in time. After his successful stint with eBay and Souq.com, where he got the required international exposure enabling him to work with multibrands, multi seller at a pan India level, Rajasekaran decided to pursue his dream of having own eCommerce startup to provide one of the best customer experiences via Codify for KSA.
Hobbies:
Running & HIIT
Favorite Cuisine:
Lebanese. It is healthy and goes well with my Intermittent fasting and Keto.
Favorite Book:
'Atomic Habits' by James Clear & 'Tools of Titans' by Tim Ferriss
Favorite Travel Destination:
Italy, Netherlands & US
Awards & Recognition:
All India highest in Sales for Wester International in 1997 All India Best in Sales Award in 2000 & 2001 in TI Cycles Awarded as Best Employee under 'APAC Club Excellence' in 2010 at eBay Won 'Best eCommerce Retailer Award' in 2014,2015 for Souq.com from Distree Events