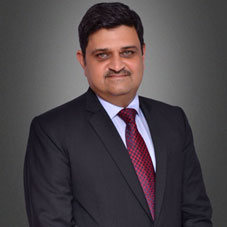 A Senior Executive Leader dedicated to excellence, Rajeev Sharma is often lauded for his Visionary and Strategic capabilities which have been honed over 30 glorious years of experience while working with leading global organizations at the executive and board levels. His leadership and people-oriented style have not only helped him lead these organizations to superior performance and accelerated growth but also assisted him to evolve as a passionate organization builder. His work experience across various global cultures of the America, Europe, Middle Eastern region, Indian Subcontinent and the Asia Pacific region have abetted him to build a healthy appreciation for the varied business practices. The Mustafa Sultan Group has interests in diverse consumer and technology sectors. Rajeev is using his business acumen to craft benevolent results for the organization and assisting it fulfill its mission of bringing best-in-class global technologies and services to build a stronger Oman. Engaging in an exclusive interaction with CEO Insights, Rajeev highlights the distinctive shades of his successful corporate career which have put him on the list of one of the most promising Indian leaders in Oman.
What are the challenges you faced during your professional journey and how did you overcome it? What are the lessons you learnt and how did you achieve the ladder of success?
I learned my first lessons quite early in my leadership journey. Upon taking a P&L Leadership assignment for the first time in a traditional multinational organization, I was viewed as a 'new kid on the block', by my peers in the divisional board who were themselves very seasoned leaders. Initially, I had to make a huge effort to be even heard and the experience was nerve-wrecking for me. It took me a few months of navigating and assertive consensus building to make a place for myself. I eventually learnt the art of patience and resilience. As I kept growing up as a leader, I embraced Diversity and Inclusion which helped me imbibe newer perspectives and a wider range of ideas. My leadership experiences have been quite enriching for me personally and professionally.
How has your journey been at this organization so far?
I took up the role of Group CEO at Mustafa Sultan Group nearly three years now. At that time, Oman was in the process of publishing its' Vision 2040 under the able leadership of the current Sultan, HM Haitham bin Tariq. His vision is to unleash a fresh wave of sustainable economic growth by diversifying into strategic and social sectors like logistics, tourism, healthcare and education. As I was getting into the new role, my primary focus was on aligning the Group's Corporate Strategy to Oman's Vision 2040 and building an organization that can succeed in the ever-changing business landscape.
With an extensive experience of 30 years across varied sectors and reputation of being a Strategic Leader with a People Oriented leadership style how do you align your organization with your vision and mission?
Throughout my journey of 30 years in leadership roles with varied organizations, I have found success by aligning my personal goals to the Vision and Mission of these organizations. It is also extremely critical to percolate the values and culture down to the last foot soldier through a process of consultative consensus building so that each member of the organization understands his or her contribution and works enthusiastically towards the common organization goal. It is therefore important that these be stated in the simplest of words so that the larger picture is understood by one-and-all in a consistent manner. Towards this, I invest a lot of my time conducting new employee induction programs and one-over-one skip-level meetings with team members to set the pace. This also helps me gauge the pulse of the organization and make course corrections wherever required.
As I grew up as a leader, I embraced Diversity and Inclusion which helped me imbibe newer perspectives and a wider range of ideas
Aa an illustration of my leadership philosophy, I would like to share an example from one of my previous organizations. The leadership team had just kicked off the 3-year Strategic Planning process as I was being on-boarded to lead two of their business divisions with a seat on the board of the South Asia entity. The launch of the Strategic Process also coincided with an annual Leadership Summit where the top 100 leaders of the company came together for three days to introspect on the successes and failures of the year gone by and finalize the Annual Operating plan for the upcoming financial year. We decided to use this forum for a 'Future Search' workshop. The entire team was divided into several focused groups each given their specific growth area to brainstorm over one whole day. Each focused group defined its growth agenda and detailed action plan through a well-designed moderation process. Each team and presented its strategy and action plan to the larger audience. These outputs were then woven into the Strategic Vision for the South Asia Region. This generated tremendous energy and ownership within the teams, each team member gave it their best shot and the result was a resounding success.
As the CEO of Mustafa Sultan Group, what are the key drivers that you deploy to ensure that the company's business operations are used appropriately to meet its short/long-term needs?
Mustafa Sultan Group has a long history of keeping pace with the changes in the external environment. I used the pandemic as a trigger for re-aligning the Group's strategy to the realities of the 'new market place. Rationalizing our business portfolio based on the core competencies and winning chances in each of our business areas, we decided to defocus some sectors and enhanced our presence
in newer and more relevant areas with stronger and more innovative offerings.

Technological advancements have blurred the boundaries between many domains of the yester years and given birth to a large 'Convergence Space'. Our ambition is to develop competencies to play in the Convergence Space more strongly. Most of our customers are defining their Digital Transformation strategies. We see this as a very interesting growth opportunity. Our group companies are now combining their strengths in these areas to deliver superior value to our customers. Thirdly, we aspire to fulfill our mission by becoming a worthy partner for our customers and enabling them to succeed in their businesses by offering best-in class products and services. We are constantly simplifying our business models to make it easier for our customers to do business with us.

What strategies do you follow to overcome various challenges of customers and meet their requirements and how did you make space for yourself in the industry?
Challenging times require business get down to the basics. It is most critical to remain as close to the customer as possible and make it simpler for them to do business with us. Since the onset of the pandemic, we have digitally enabled all our consumer oriented businesses. We have put together a strong Digital Marketing strategy to exploit the prowess of social media to get our promotions and marketing messages to consumer communities much more strongly than before.

Apart from this, we have forayed into the Industrial IoT space through a series of partnerships, where we aim to help our customers stay connected with their assets and manage them more productively to help enhance their profitability. We recently launched a new line of products for the Connected Home segment under the Smart ON brand. In the Information Technology space, we have increased our presence in the Managed Cloud Services arena. Offering cutting-edge technologies to our customers in Oman, our innovation pipeline is strong and one can expect a string of innovative solutions in the coming months and years.

Rajeev Sharma, Group CEO, Mustafa Sultan Enterprises
A graduate in Electronics and Communication Engineering from Birla Institute of Technology, Ranchi (India) and an Executive MBA from Indian Institute of Management, Bangalore, Rajiv commenced his professional journey in 1992 as graduate trainee engineer at Siemens India. With a prolific experience of working for some of the finest global organizations like General Electric, Alstom and Thermofisher Scientific, he is currently based out of Muscat, Oman and is Group CEO at Mustafa Sultan Enterprises for nearly the last three years. After becoming the youngest ever business leader in that organization, he went on to transform the business from a near zero market share to market leadership position in the next five years. Rajiv has been an elected member on the Executive Committee of the Indian Machine Tool Manufacturers Association (IMTMA) under the aegis of the Confederation of Indian Industry for three terms.