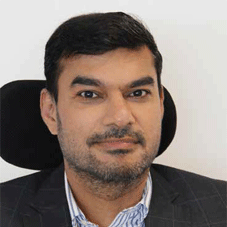 Today, risk is everywhere. While the company wants you to spot every risk, doing so is impossible. In order to make it manageable, you need to know what types of risks are most important to the company and where to look to get information about those risks. This is just one of the plethora of facets that a General Counsel (GC) of an organization should take care of, and this shows why being a GC is not for everyone. One GC that has been able to strive for consistent success in the corporate realm is Rohit Dave, who works for SRS Investment Advisors.
In an exclusive interview with CEO INSIGHTS, Rohit talks more about his professional journey and how he has been able to build a successful career as a GC.
1. Can you talk more about your educational and professional background?
I am a Corporate Commercial Lawyer with an MBA from Kellogg. I serve as General Counsel of SRS Investment Advisors, which is a large PE fund specializing in Private Equity and Real Estate investments in India. I am proud to say that I am one of the few lawyers in the country who have seen the entire life cycle of an investment right from conception, due diligence, structuring, execution, operation, arbitration, litigation, negotiation with multi parties and successful exits, i.e. I have dealt with every aspect of deal making right from the very beginning to exit.
After a bachelor's degree in commerce, I was engaged by law firms in Mumbai (Mulla & Mulla and AZB) and gained my LLB at the Government Law College, Mumbai in 1998. I moved to London in 2002 and helped Picton & Howell set-up their Indian desk, building relations for them with large Indian corporates as well as handling some M&A business in the UK. I then joined a boutique Indian firm which specialized in capital markets and M&A in 2004, rapidly becoming their highest fee earner and successfully completing a large number of M&A, IPO, acquisition and funding deals.
I moved to SRS in 2007 and have supervised well over $500 million worth of fund investments, debt agreements with banks, and construction contracts given-out by investee companies. I manage all aspects of private equity investment by combining extensive commercial, litigation, arbitration and financial knowledge with particular expertise in negotiation and deal leadership. I
lead the litigation strategy at the Fund and advise all investee companies in legal and contractual matters. In the last couple of years, I have moved-on to a management role, wherein I sit as Board Member and am responsible for the overall management of portfolio companies.
2. Please share the various nuances of your journey as a General Counsel. What are the challenges you encountered during your professional journey?
During my days with law firms, the greatest challenge that I faced as a lawyer, was that my role was very limited and almost never a part of the decision-making process on the business side. So, while I enjoyed the intellectual challenge and excitement of leading, structuring, negotiating and concluding a deal, there was a void within me, a desire to learn and gain first-hand experience of the business side of a deal.
In-house counsel should position themselves as proactive legal risk management as opposed to playing a reactive advisory role
Crystallized out of this frustration and a deep desire to learn and garner first-hand experience of the commercial aspects of a deal such as understanding the process from inception to its financial diligence, execution, incubation and exit strategies, I decided to changeover from the role of a corporate lawyer to an in-house legal counsel. This would give me the best of both worlds ­ an opportunity to become intimately involved with business affairs of an organization while continuing to pursue the field that was my strength. To complete the process from being a business facilitator to being a business decision-maker, I earned a master degree from Kellogg with Finance as my core module.
Due to my synergies and experience over the years, I can now deal with issues ranging from IBC, Loan Documents, Shareholder Agreements, Tax, Exit Structures, Constructions Contracts, RERA, IT, ED, FEMA, Litigation, arbitration, and many others.
3. As the General Counsel of SRS Investment Advisors, how are you identifying and preventing litigation & regulatory risks?
In-house counsel should position themselves as proactive legal risk management as opposed to playing a reactive advisory role. One therefore needs to identify and assess all legal risks that exist and/or develop within company processes and operations and communicate this assessment (i.e., the probability that something will occur and/or the impact if it should) to decision-makers while providing them with a list of actions geared to mitigate risk that may consist of a
variety of options for achieving the same results.

4. In your journey over the past, which are the milestones that bestowed you with utmost satisfaction ­ both as an individual and a General Counsel?
One of our Fund's largest co-investments ($150 million) went into dispute which emanated as a result of the largest corporate fraud in the history of India. I led the legal initiative for the Fund. When news of the fraud broke, the Fund risked losing its entire investment and there was sheer panic, as there was a risk of the Fund being held negligent in managing its investment.

In the face of such uncertainty and within a few days, I came-up with the legal strategy and helped the team understand the likely implementation and the difficulties that the Fund could encounter in pursuing this legal strategy. I enlisted support of external law firms and senior counsel to implement the strategy while setting-up weekly calls with the co-investors and financial institutions to give them regular updates. Over a period of time, the Fund Investors began to appreciate and realize that the investment failed not due to mismanagement or negligence but rather fraud which no one could have predicted.

I have managed to salvage the Fund's investment by getting an arbitration awarded in its favor of approximately $275 million. The Fund has recouped almost half of its investment. Whilst the litigation is going on for the balance, simultaneously, I have been leading the initiative to reach-out to the company/promoters/new promoters/prospective buyers to build a consensus to work an out-of-court settlement. Above all, because of the scale of the fraud, our Fund was investigated by all the investigating agencies and regulatory bodies like SEBI, CBI, CID, IT, and ED. However, we were successful in representing ourselves before these investigating agencies and regulatory bodies as our compliances were well in place.

I led a transaction for the acquisition of a telecom operator company, for approximately $1.2 billion in 2004. That was greatly satisfying, as I had the opportunity to work on the one of the largest deals in India in the M&A space early on in my career.

Rohit Dave, GC, SRS Investment Advisors
Rohit is involved in all aspects of transactions from investment structure to exit, oversee due diligence, negotiate terms and conditions with portfolio companies on behalf of executive management, and ensures compliance with statutory and regulatory requirements. He also builds the strategy in all litigation-dispute resolution settlement and appoints appropriate counsel from specialized firms. He now also oversees the management of all portfolio companies.