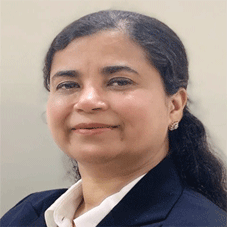 Assisting in the development of the company's policies and procedures, a General Counsel is expected to ensure risk mitigation and compliances in the business in accordance with the applicable laws and regulations. With more than 20 years of experience in diverse sectors like infra, power, cement, chemical, logistics, supply and hospitality, Ranju Goyal's proficiency is fuelled by her in-depth knowledge of corporate laws, electricity laws, telegraphy laws, mining laws, employment & labour laws, laws on land acquisition, transfer of property and other related acts. As General Counsel at Stanza Living, Ranju overlooks land & property due diligence, dispute resolution & litigation management, advising on various legal, statutory, and regulatory laws & acts. Her expertise in handling tender documents and understanding of various commercial contracts such as project financing agreements, EPC contracts, technology & collaboration agreements, service agreements, sale deeds and lease deeds have enabled her to effectively support business outcomes.
Engaging in an exclusive interaction with CEO Insights, Ranju shares her story as a business enabler who has garnered appreciation from various CEOs and senior management stakeholders who she has worked with during her corporate journey.
1. Please tell us about your journey as General Counsel. What are the challenges you encountered during your professional journey?
I started my corporate journey in the year 2000 as a management trainee with the Housing and Urban Development Company, followed by a role with Bhandari Builders, where I had the opportunity to work on domestic and overseas projects in housing, building of road, bridges, dams, pipelines and others. After this stint, I worked for about 10 years with corporates like DLF, Moser Baer, Indiabulls and Inox Wind contributing to renewable and non-renewal energy projects in thermal, hydro, solar and wind power generation. In 2015, I lead the IPO of Inox Wind as their Head Legal and Company Secretary, getting them listed at BSE and NSE. After registering a successful IPO, I was up for a more challenging role with Rivigo Services, a startup in the logistics sector, where I completed a series of Private Equity rounds leading the company into the league of Unicorns. My journey with Stanza Living began in 2019, where as the General Counsel of the company, I've been partnering with the business heads to deliver sustainable growth through faster contracting, better data management and by transforming risk management. I have thus had an eclectic and exciting career journey. I've also faced some challenges on the way which became opportunities to gather enriching experiences.
During my stint at Moser Baer, the company was planning to develop a 2000 MW power project requiring huge land acquisition in Annupur, Madhya Pradesh. But we were faced with a Public Interest Litigation that would've affected the launch of the project. With proper strategy and timely actions, we were able to get the order in our favour and launch as per our projected timelines. While doing Wind Power projects, at Inox Wind, we faced a massive labour union dispute at one of our wind turbine manufacturing plants, which we were able to manage amicably and without any adverse impact on the business.
At Stanza Living, while I faced the occasional challenge of navigating through the complexity of a new industry, the pandemic in particular, demanded greater adaptability and agility from me and my team. As legal professionals we found the interpretation and application of Force Majeure clauses in contracts a key challenge since an event as unforeseen as the pandemic wasn't accounted for.
My team and I engaged extensively with our business partners to find mutually agreeable solutions that could support our collective business interests. I also had the opportunity to support the Stanza Living business teams in maintaining uninterrupted service delivery during this time. Considering our vast footprint across 15 cities, and the thousands of residents we service, it was critical to effectively manage diverse stakeholders so we could mitigate any on-ground challenges in operations.
At Stanza Living, we are completely focused on being compliant with both statutory as well as regulatory laws, while continuing to grow as India's top managed accommodation brand with global aspirations
2. Can you describe how you identify, assess, and determine the management of resources across your organization to deliver favorable outcomes?
When I joined Stanza Living, I was happy to see that the company which had been operating for just over two years, was much ahead of many other startups in terms of technology deployment and operating processes. So, my role was essentially about augmenting the existing legal processes and identifying any gap areas that could be addressed. I was also happy to see that the Founders value legal processes and compliances, which is found rarely not only in startups, but also in many established corporates. With their support, I have been able to build a strong legal team of over 20 lawyers and Company Secretaries who are experts in contracting, compliance and litigation. At the same time, we've established a robust regional team which comprises crisis management experts.
Apart from creating a team of strong professionals, I have also focused on setting-up operating models that optimise my functional deliverables. We adopted a technology driven approach (as opposed to the conventional paper driven one) to maintain uninterrupted delivery of business solutions in every sphere, be it contracting, litigation management or compliance and risk management. We also worked on identifying business problems and understanding how the legal function can support in their resolution.
For example, a key aspect of Stanza Living's business competitiveness lies in maintaining adequate supply of compliant properties near Universities and colleges. However, with the rental accommodation sector being largely unorganized and unregulated, it requires comprehensive analysis and thorough diligence. So, we've built an extremely robust process for onboarding properties with maximum risk mitigation. Besides this, acting as a catalyst to the business, we have evolved hybrid contracts such as an Accommodation Facility Agreement, which is customized to the specific operating environment of the managed accommodation asset class. But most importantly, we've carried out in-depth research and evaluated laws, rules, and regulations applicable to our business to build a compliance framework for operating at optimum cost, without compromising our scalability.
3. What are the key drivers that you deploy to ensure that the company's regulatory compliances are used appropriately to meet its short/long-term needs?
Despite the entry of private players who are attempting to bring a high-quality product to consumers, a majority of the managed accommodation and rental housing sector continues to be an unorganized one, suffering from lack of standardization and quality control. So, compliance has become a casualty in the sector. However, at Stanza Living, we are very particular about being compliant with both statutory and regulatory requirements. We have deployed a continuous evaluation process for every business initiative to lay down its compliance framework of operation, as well as timely procure
requisite licenses and approvals that we may need. The team also analyzes the cost-effectiveness of compliance requirements for each project, so that short and long-term needs are met without interrupting business growth.

4. As a General Counsel, how do you manage risk and uncertainty in general? Are you using a recognized risk standard or framework?
One important way to manage contractual risk is to build adequate protections in the contracts. I advise my team to diligently read between the lines of every contract to identify risks and mitigate them suitably. We also factor in scope of work for all parties and adequate guarantee so there are no ambiguities at any stage. We have put together a set of well-drafted contract templates which are used for various kinds of agreements, enabling us to expedite contract execution. We also have a well-defined process to highlight deviations from these standard templates. Any deviation sought is aggressively negotiated by the team to minimize the risk. Also, acceptance of such deviations has to go through a pre-defined approval matrix.

Next, considering compliance is an important aspect at Stanza Living, we actively ensure it by gathering appropriate licenses for the business. Unlike, traditional players in the sector who ignore compliances to avoid cost, we prioritize it as much as any other business need of the company. We have a strong central compliance team as well as regional officers who carry out regular audits to ensure that we take all corrective measures in a timely manner.

5. In your journey over the past, which are the milestones that bestowed you with utmost satisfaction - both as an individual and a General Counsel?
One of the biggest milestones of my career journey was to lead the IPO team as the Legal Head at Inox Wind Limited. From kickstarting the IPO preparedness meeting to getting the shares listed at the stock exchanges, it was a very exciting and enriching journey. Listing a Company needs simultaneous interaction and real-time information flow between various stakeholders such as the Legal Counsels, Banks, Registrar, Stock Exchanges, SEBI, ROC, media agencies, and more and it was exhilarating to pull that off with my talented and passionate team. I also count my growth as Company Secretary of India Bulls as one of the high points of my career.

Ranju Goyal, General Counsel
Ranju is a graduate of the Sriram College of Commerce and received her Bachelor of Law from the Campus Law Centre, Delhi University. Being a Lawyer as well as a fellow member of the Institute of Company Secretaries of India gave her the opportunity to work closely with the Boards and management of various large-scale businesses and startups in the capacity of a legal and business advisor. The dual qualification also gave Ranju better insights into business, legal and compliance risks, enabling her to guide diverse businesses in risk mitigation. Over the course of her career, Ranju led the Initial Public Offer of Rs.1000 Crore at Inox Wind Limited. She also closed a series of Private Equity Funding at Rivigo Services Private Limited, taking the company to unicorn status. Currently, Ranju is the General Counsel at Stanza Living.

Hobby: Exploring new places and reading about history and mythology
Favourite Cuisine: Italian and Chinese; loves any mushroom-based preparation
Favourite Book: English Classics, The Fountain head by Ayn Rand
Travel Destination: Japan and Egypt
Awards and Recognitions :
· Recognized as one of the Top most influential Corporate Counsel in 2019 by Alliance of Corporate Counsels and Company Secretaries
· Awarded with `TIPS Award', for Teamwork, Integrity, Passion and Speed at Moser Baer in the year 2018
· Recognized and honored by Inox management for successfully leading their IPO in 2015
· Held the position of Woman Director in sister concerns of Inox Wind
· Member of Indian Chambers of Commerce 2018-2019
· Erstwhile Chairperson of POSH Committee at Inox Wind Limited and Rivigo Services and currently at Stanza Living