Vipin Choudhary: A Legal & Compliance Professional With Wide Experience In Contentious & Non-Contentious Matters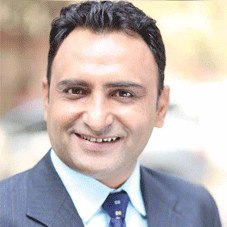 Many people believe that leadership and judgment are inborn qualities. Companies, on the other hand, aim for a combination of instinctual and taught traits in general counsel, and qualities that people consider innate may often be developed with practice. General Counsel provides prompt advice to both small and large businesses, and with in-house legal counsel, a company's chances of growth and development are increased.
Vipin is a 17-year legal and compliance veteran with experience in both contentious and non-contentious cases. He has worked in prominent companies like OYO, Metro Cash & Carry, and Accenture at the country level. CEO Insights interviewed Vipin Choudhary (General Counsel) of Table Space, wherein he spoke about his legal career and the policies & practices he has built for the companies.
Please tell us about your path as General Counsel and the challenges you had during your professional journey, as you have over 16 years of rich expertise in several sectors of industry.
A litigator is a lawyer for a judge, and there is no redress until the court is satisfied with the case's merits. A lawyer's lawyer is a law firm attorney, and a business's lawyer is an in-house counsel. While a lawyer's skill set remains the same, the expectations and application of that skill set differ depending on whether you're a litigator, a law firm attorney, or an in-house lawyer. The shift from litigation/law firm to in-house is difficult, and one must be aware of this before accepting an in-house position and preparing for the adjustment. This was my first in-house role at Accenture, and it was a steep learning curve. An in-house lawyer should behave as if he/ she were a business professional with legal expertise.
What are the roles and responsibilities you have been undertaking at Table Space?
The general counsel and legal team serve as both a Business Enabler
and a Shield for the company. What I mean by shield is that while working as a business facilitator, the GC must ensure that no act or omission will jeopardize the brand's reputation or result in criminal charges. The GC must exercise solution-driven advocacy and encourage his/ her staff to do so. To take the firm to the next level, the GC must collaborate closely with the Board of Directors, Management, and the company's Strategy Officer on M&A, collaboration, and alliances. To properly perform his tasks, the GC must be aligned with the company's vision and short-and long-term goals.
In managing key litigations, I have worked with top-tier legal firms and had conferences with the designated Senior Counsel of several High Courts and Supreme Courts
Can you describe how you identify, assess, and decide how to manage uncertainties in terms of the lawsuit and regulatory risk?
When it comes to filing lawsuits, a firm should never be too quick to act. It is essential to conduct pre-litigation research. If the company decides to proceed, it is critical to developing a litigation plan before notifying the other party. For the majority of disputes/causes of action, the law allows remedies under both civil and criminal law. Many times, lawsuits are filed without first determining whether civil or criminal action or both, is the best course of action. It is critical not to lose sight of the reality that litigation is not a means of proving a point; it should only be utilized by the corporation as a last resort. GC must always make an effort to reach a mutually beneficial agreement.
What are the key drivers that you deploy to ensure that the company's regulatory compliances are used appropriately to meet its short/long-term needs?
For all of our company demands, we've structured policies and processes, and we have developed unique technologies in-house. We've included regulatory compliance into our business processes, and compliance execution is shared equally between the businessperson and the legal team. According to this method, a business deliverable isn't complete until the regulatory compliance need is met. The rationale is that dealing with non-
compliance takes at least five times as much time, money, and effort. As a result, we take proactive steps to ensure regulatory compliance.

In your journey over the past, which are the milestones that bestowed you with utmost satisfaction - both as an individual and a General Counsel? What are the steps that you take to stay industry-ready?
I have worked in Legal, Regulatory, and Compliance (both statutory and internal) Dispute Resolution, as well as Risk Management. Contracts, real estate, litigation & arbitration, compliance, employment, risk management, and regulatory issues management, dealing with global stakeholders/teams, understanding business problems, and finding solutions are among my main competencies. I built a three-tier structure of external counsels for cost-effective and fast help and implemented digital solutions for contract monitoring and management, compliance, knowledge base, and litigation portfolios.

In managing key litigations, I have worked with top-tier legal firms and had conferences with the designated Senior Counsel of several High Courts and Supreme Courts. I have also put in place approval matrixes that define the criteria and variables that go into initiating or defending lawsuits.

What advice would you give to young lawyers?
After 8-10 years, a lawyer without litigation experience, in my opinion, becomes stationary. When you first start your career, you should have at least 3-5 years of litigation experience. Don't give-up this opportunity for a lucrative corporate CTC. This will help you advance in your career; instead of focusing on employment, you should focus on building a career.

Vipin Choudhary, General Counsel, Table Space
Vipin is a 17-year legal and compliance veteran with experience in both contentious and non-contentious matters. He has undertaken in-house roles at Table Space Technologies Private Limited, OYO, Metro Cash & Carry, and Accenture at the country level. Levi, Expedia, Volvo, Proptiger, Macmillan Publishers, Ingersoll Rand, Eicher, and Sasken Technologies were among the notable clients served during his Private Practice. Vipin stands-out as a litigator who has worked in-house, as a law firm attorney, and as a private practice manager.

Location: Bengaluru