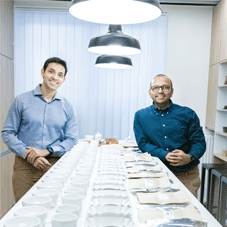 Back in the 6th century, during the Song Dynasty, the ancient tea horse route, a commercial passage for transporting tea from China to Tibet, helped spread the custom of tea drinking beyond China. Drawing inspiration from this history nugget, Bhuman Dani, a self-professed tea aficionado and Co-Founder of TGL Co, the fastest growing hot beverages startup in India, has designed his company's logo. After all, his company is also aiding the proliferation of unique tea and coffee blends to reach a large audience. Reimagining tea as no longer being a legacy drink, TGL is endeavoring to make real tea with real coffee at affordable price.
Amalgamating his management consulting experience with his love for tea, Bhuman with Shariq Ashraf, co-founder, has led the young company into the big league. Shariq is a well-experienced business leader with phenomenal expertise in areas such as Strategy, Operating Model, Organizational Redesign, Branding, Corporate Finance, Project Management, Portfolio Optimization and Supply Chain Optimization. Having received prestigious accolades such as 'Most Admired Food Start-up of the Year' at Coca-Cola Golden Spoon Award 2019, ET-NOW's Global Award for Retail Excellence, 2018 for 'Food & Grocery Brand of the Year(Hot Beverages)' and 'Top 100 Startups to Watch Out for in 2019' by Sutra HR, and Bronze Medal in Global Tea Championship, among others, TGL Co is certainly a company to watch out for in the years to come. The CEO Insights team caught up with Bhuman and Shariq to hear from the horse's mouth about TGL Co's dream run in the industry so far.
How did TGL Co come into being?
Bhuman: One fine day in London, I walked into the East India Company store and fell in love with the world of specialty tea. It opened my mind to brews, blends and blades. I soon began my apprenticeship with Jane Pettigrew, one of the most renowned master blenders of tea in the world and learnt all that I could about teas, origins and influence of botanicals in creating the perfect blend. As luck would have it, in another corner of the world, Shariq, a self-professed tea aficionado, came across 'Tealosophy', a tea company while travelling through Argentina, and found inspiration in Inés Berton, the company's founder. He gradually began to work towards bringing this spectacular range of speciality teas to India.
I met Shariq in Mumbai during a BCG alumni event where we bonded
over our shared love for tea and a passion to bring inspired brews to millions in India. And this is how the seed for founding TGL Co was sown.
While your love for tea propelled the wheels in motion for the inception of TGL, how did you approach the idea from a business perspective?
Shariq: Bhuman and I are both management graduates from INSEAD and Oxford University respectively and have been management consultants at BCG. Owing to our prior experience, we took the analytical route and began analysing multiple data points on the Indian consumer trends and preferences, especially data on income profiles and how they would change over the next five years. This led us to realise that the 'Aspirational' segment which constitutes of individuals that are more value conscious than price conscious was slated to grow exponentially in the next five years. This propelled us to create a premium aspirational brand with high quality products sourced from the finest botanicals in the world.
At TGL, we believe that the world's finest teas and blends should be an everyday luxury for the average urban Indian
We also studied consumption patterns which suggested that young India valued healthy products with focus on fresh, natural and clean ingredients without any artificial elements. This motivated us to launch products with 100 percent natural, toxic free ingredients and no artificial elements. We also created innovations by mimicking dessert, cocktail and candy profiles in our teas.
How are your products bringing about a disruption in a consumer's consumption? Also, what is it that makes a TGL Brew better than its other counterparts in the market?
Bhuman: At TGL, we believe that the world's finest teas and blends should be an everyday indulgence for the average urban Indian. We are thus facilitating an articulate revival to the known tea experience by sourcing the best teas in the world and masterfully blending them with innovative flavours and botanicals. We have also forayed into specialty coffee segment and offer a variety of coffees under one roof.
We go beyond the Indian sub-continent and source the finest quality leaves from China, Taiwan, Japan and Sri Lanka. Our tightly curated collection of coffee is soured from the best plantations across the world such as Ethiopian Yirgachaffe, Colombian Excelso, El Salvador Santa Cristina, Peruvian Organic Coffee, Brazilian Santos and award-winning coffee estates in India.
We ship the sourced teas to Europe to our contract manufactured blending facility where they are mixed with dehydrated fruits,
flowers and natural flavours in controlled supervision of European botanists and culinary experts who ensure quality and optimal taste. Additionally, TGL renders more complex and unique variants such as our Green Sencha Tea, which is mixed with mango, banana, melon, guava, sunflowers, cornflowers and Passion flower leaves.

In order to ensure crisp, bright and intense flavour and a long lasting product, TGL's Indian coffees are roasted once every two weeks and in small lots. We prefer grinding freshly roasted beans to-order and to the drinker's preferred way of brewing.

How has TGL's journey been so far? Tell us about the company's growth trajectory?
Shariq: The past 24 months have witnessed exponential growth and our products are now available at more than 600 point of sales across nine cities. Be it high end hotels such as The Lalit, Westin,Taj or restaurant chains such as Smoke House Deli, Yauatcha, and The Fatty Bao, our brews have reached everywhere. Additionally, our products are retailing at over 400 popular modern trade stores including Godrej Natures Basket, Foodhall, Modern Bazaar, Spencer's and Le Marche among various others.

We have recently launched an experiential flagship tea salon at Sofitel Mumbai. Our ever expanding roster of products received 10 new additions in May 2019 including our current best seller, the Mogo Mogo. We have also given an update to the quintessential 'South-Indian' Filter coffee in an instant format packing it into single portion stick sachets.

Having conquered the Indian market, TGL has made way into the International market as we launched our products in UAE with a local distributor. We believe that the Middle East will be the biggest revenue generator from exports over the next years and our next phase of growth will be focused on that region.

Key Management
Shariq Ashraf, Co-Founder
An MBA Graduate from University of Oxford, Shariq is a proficient problem solver, fixer upper and team player with emphasis on delivering results. He has held various prestigious roles at companies such as Pearl Hospitality,Seavus Group, BCG, and others.

Bhuman Dani, Co-Founder& Director
A self-professed tea aficionado, Bhuman has graduated from INSEAD and holds rich experience in the consumer goods industry. He leverages skills such as Business Process, Negotiation, Operations Management, Market Entry and Corporate Finance to power TGL's growth trajectory in the hot beverages industry.

Offerings: Green Tea, Black Tea, Yellow Tea, White Tea, Oolong Tea, Macha, Tisane, CTC, International Coffee, Indian Coffee, Instant Coffee, Flavored Coffee

Offices: Mumbai, Delhi NCR & Bangalore