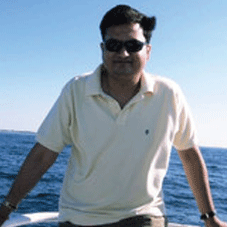 There is something unique about every piece of jewellery. And if it is a handcrafted one, then it transforms to a pure & precious love of our life. Having ruled the jewellery industry for long, the machine made ornaments are becoming a thing of the past. Due to the uniqueness in each piece of handmade jewellery, buyers and makers are going back to the traditional roots of handcrafted jewelleries, which provide nothing less than a 'royal' feel. On the other hand, these handcrafted pieces can be customized the way we want, which the machine made ornaments fail to do.
'The V Collection', a brainchild of Vivek Nathany and an ISO 9001 certified company & member of Trade Organizations, has been defining who you are since its inception nine years ago. Formed with the motive to offer creative and stone-based jewellery from India, Vivek has transformed his company into a Fashion House of Contemporary Jewellery & Accessories with an ethnic twist by using the Indian skill of Indian artisans and various kinds of beautiful & fascinating semiprecious gem stones.
The V Collection today is a designer, manufacturer, wholesaler, and exporter of Gold, Silver 925, and Brass Alloy Jewellery, plain and studded with diamonds, natural gemstones and beads. Vivek describes his journey as fulfilling, creative and full of learning. He divulges about his offerings, uniqueness and future plans to CEO Insights in an exclusive conversation.
Q. Tell us more about yourself, Vivek.
A. I have spent most of my life in the US, and designing & making jewellery has been my passion ever since childhood. My life is all about handmade jewellery and I have been doing this for the last 25 years. I like to combine lots of different gemstones, colour variations and shapes an essential part of my jewellery designs. It's a great
satisfaction when some one asks me to make jewellery and I can see the happiness on his/her face. This fills me with pride and makes me look for better jewellery deigns and craft better pieces day after day.
Q. How do you keep yourself inspired to craft such beautiful designs every time?
A. I travel extensively across the globe, and most of my creative ideas and inspiration comes from such journey to places like the US, France, Spain, Italy, Greece, Egypt, Japan, Brazil and India. Most importantly, it comes from watching what women are wearing, and then visualizing what colours of stones would look good on them and how can I enhance their beauty further! It is of utmost importance to me to relate the jewellery with their personality, their face structure, clothing, and others, so that my jewellery speaks to you. To say it in less, my designs are an expression of art!
The very special thing about my jewelleries is that they are all handmade with semi-precious & precious stones & beads
Q. Tell us more about the uniqueness of your designs and craftsmen.
A. I am proud to say that the thousands of jewellery at my fashion jewellery design house are all handmade by 80 in-house craftsmen besides having ancillary units working for us. Our artisans are well trained and have been doing this for generations. Their forefathers used to make jewellery for Royalty of Jaipur.
I bring mytwo decades of experience, knowledge, design sense and exposure, which helps better understand the markets, buyers and their customer needs. Together we craft some of the most beautiful jewellery pieces of the world. And being a backward integration company, from sourcing of rough to cutting of stones(all materials hand picked by the company itself), to designing and making of jewellery, provides us an edge over other players as we are assured of the quality, competitive and factory direct prices.
The very special thing about my jewelleries is that they are all handmade with semiprecious & precious stones & beads. I like to make contemporary designs with a little ethnic look which could be
western, Indian, Egyptian, Bohemian, Mesopotamian and others. We make handcrafted jewellery with textures like hammered, brushed and different finished like 22K gold plating, silver, rose gold vermeil, oxidized, and black rhodium. This makes even a small piece of jewellery look simple but unique. We call it 'The Jewellery that Speaks to You'.

Today we have a collection of earrings, necklaces, bracelets, and rings in silver, gold and brass metals. I design and combine lots of beads work with semi precious stones to use in jewellery, which mostly is vermeil and hand textured. I love doing colour variations, wire wrapping and sometimes even combine them with different findings or textured Charms. Different gemstones, shapes, and colours are also used and set in collet with different hand textured shaped designs. To make my designs more alive and precious, I even source gemstones from Beads Shows and Tuscon shows.

Q. Where all can we buy your beautiful products from?
A. We are known for our designs and workmanship. Using our 20 years of experience, knowledge, design sense, and international exposure in understanding the markets, buyer's needs, and efficient delivery models, we are able to export our products to different countries like the US, Spain, France, Japan, Australia and many more. They are even sold to catalogues like Sundance, to better stores like Neiman Marcus, Saks, FairFax to chain stores and boutiques.

Q. What have you planned for your future?
A. We at 'The V Collection' believe that we owe a lot to our society and hence in return we contribute a small part of our sales to various social causes through charity work.

To our customers, I would say that we are always there for you and believe in longterm business relationships. We look forward to grow our business together. I am looking forward to being onboard with you and tofulfil your requirements.

Key Management:
Vivek Nathany, CEO
A passionate jewellery designer, Vivek has been bringing alive the traditional handmade jewellery era with his unique designs and combinations.

Quick Facts:
•Founded in: 2011
•Location: Jaipur
•Offerings: Earrings, Necklaces, Bracelets, & Rings