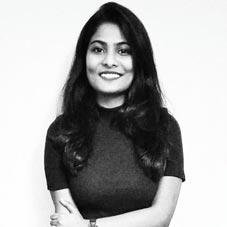 Ideated by Tunisha Mehta, altARQ collaborative is a consultancy practice rooted in architecture and urbanism for The Global South. The brand comprises the altARQ design studio and altARQ r-urban lab as the two investigating arms. Since the inception in 2019, it works with crossovers of multiple disciplines to system think and design for problem-solving with r-urban resilience, inclusion, and spatial equity as the core concepts. Tunisha studied architecture at Birla Institute of Technology, Mesra in Ranchi. She had her professional training from Design Atelier, Bangalore, Junya.ishigami+associates, Tokyo and Mangera Yvars Architects, Barcelona. She works with the state government, spearheading an international collaboration of volunteers from multiple disciplines for new urban studies' exploration and implementation. With her expertise and experience, she firmly believes a deep contextual understanding is a key to any veritable set-up. Her practice is anchored in the r-urban development of Bihar.
Kindly peruse the following snippet of conversation between CEO Insights and Tunisha Mehta, to know more about her brainchild and her entrepreneurial journey.
Tell us about the factors that incited you to choose this niche domain to venture into.
My hunt for having a telling impact on society led me to choose architecture as my profession. The idea germinated very early on during the final year of university as "alternative architecture." In those days, I was a huge fan of alt-rock and prog-rock music; these genres are quite distinct from mainstream and commercial music. Inspired by this and hence, altARQ does not recognize itself as only an architecture studio, it'd rather be a testbed for ideas and innovations. The practice intends to break the
boundaries of mainstream architecture practice and go beyond disciplinary silos. Gradually, I hope to shift the practice of altARQ to international development with architecture and urbanism feeding insights to it.
What were the major challenges faced by you while establishing altARQ Collaborative has your journey been so far?
Having had my professional training in Japan and Spain, and then coming back to set up a firm in India had its fair share of hurdles. Bringing in new insights to suit an Indian context was difficult but not impossible. It's a more creative approach to practicing. Establishing credibility as a young professional in the AEC industry has been certainly the biggest challenge thus far. But the creativity that young minds bring in along with strong collaborations across various disciplines is unparalleled. When clients realize the value we bring to the table, they are more than happy to hire us.
altARQ's practice intends to break the boundaries of mainstream architecture practice and go beyond disciplinary silos
How you are currently placed in the market and what are your strategies to leverage the vast opportunities?
The idea behind having the main office in Patna, a tier II city, is to make quality design service more inclusive and accessible to all sections of society. Design is perceived to be affordable only by a certain economic section of society. I want to position altARQ in a way to question this status-quo. We are on our way to leverage the needs of a vast and growing middle-class population of India across all domains and typologies- education, residential, healthcare, hospitality.
Sketch out in detail the various architect consultancy solution you offer under altARQ Collaborative. What factors does it keep in mind while crafting the finest and up-to-date facilities?
We do comprehensive project programming and designing across architecture, urbanism, interiors, and landscape. We are keen on building energy conservation. We try to create sustainable ecosystems- ecologically and economically. Every project has its own nuances and is
dealt with accordingly, design and execution teams are custom made for each project. We do away with the generally prevalent "artists' ego" and we believe a collaborative approach to developmental projects brings phenomenal value to our projects.

How has your family supported you in your career journey so far?
My family has been very supportive of whatever I have set in my mind. I am the third generation working female in my family, so there hasn't been anyone holding me back. I take inspiration from my professionally fierce mother, who has lived away from her family for 18 years now, to fulfill her professional duties. And my father is the wind beneath my wings, giving me the confidence to achieve everything in life. Managing personal and professional life has been certainly delicate. It's a tough rope to walk. We all do our best.

Tell us about your hobbies, favorite cuisines, and travel destinations. How do you update yourself with the latest technologies and trends in the online tutoring/education space of India?
I am fond of all kinds of food, Indian, Italian, and Chinese top the charts. I read a lot and also listen to audiobooks. I am an avid reader, it's not difficult in the age of the internet to keep yourself updated with the latest trends and technologies.

Illustrate the growth of the company and highlight the achievements it has procured so far.
It's been an adventurous ride until now. We have grown from a one-person institution to a ten persons' institution. We have seen a multifold increase in revenue. We are reaching more and more people, and our voice is getting stronger across East India. We have several projects in Patna, Muzzaffarpur, Ranchi, Kishenganj, and Delhi.

Tunisha Mehta Founder, altARQ Collaborative
Wise Words
My message for everyone willing to start their career in AEC will be to understand the Indian context in depth. For any technology and innovation to fly off in India needs a special understanding of the behavioural barriers of stakeholders. For women, I'll just say, don't treat yourselves differently from your male counterparts. Glass ceilings are being gently slid all across the world these days. Women are only set for growth if they fiercely set their minds to it.