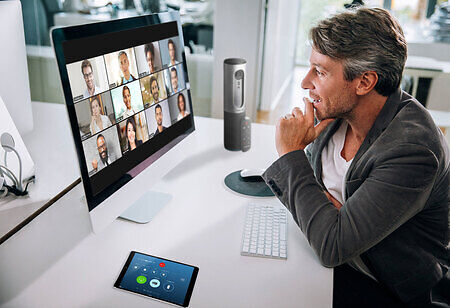 The AI prowess of Zoom Docs portrays a capability of positioning the company on a competitive front with that of Google and Microsoft. Zoom Docs, the highlight of the annual event Zoomtopia 2023, speaks about Zoom's take on the AI-enhanced modular workspace, designed to provide users with state-of-the-art AI tools to design, edit, summarize, and incorporate insights directly from meetings.
'Modular workspace' means a configuration that allows you to create a flexible and efficient home office or workspace for virtual meetings on the Zoom platform.
In an age where remote work and virtual collaboration have become the norm, tools like Zoom Docs offer users a seamless and efficient way to work together on documents and projects. Thanks to the integration of artificial intelligence functions, users can expect increased productivity and better collaboration within the Zoom platform.
When you dive deeper into Zoom Docs, you can discover it's not just another document processor. It combines traditional editing capabilities with advanced features such as wikis and a very intuitive drag-and-drop interface for graphs, tables, and images. In addition, Zoom Docs' artificial intelligence allows users to automatically populate documents with Zoom Meetings content. It helps initiate and enrich document creation with quick summaries, simple document search, or content creation with the Zoom AI Companion. Its mass release is expected in 2024.
Bouncing Back into the Ring with Google Docs and Microsoft 365
Zoom Docs is a collaborative digital workspace similar to a Google Docs or Microsoft Word collaboration solution. At Zoomtopia 2023, Zoom said the tool is designed to solve the challenges businesses face in hybrid work.
Like many of today's leading content creation and collaboration tools, Docs has AI technology built into it. With Zoom AI Companion, users can quickly create content, projects, and plans with their smart assistant.
Similar to Microsoft's Copilot, Zoom AI Companion can extract information from other conversations and documents in a company's database. This makes it easy to create contextual content and collaborate on enterprise-wide projects.
In particular, Zoom says, Docs not only allows teams to quickly create documents. Users can also create wikis, seamlessly manage workflows, and collaborate with colleagues in real time. Zoom Docs integrates with Zoom meeting tools, other features, and third-party apps. In addition, it offers the same smooth and intuitive user interface that users have come to expect from the Zoom portfolio.
Google Workspace and Microsoft 365 have long been the dominant players in the office suite market, offering a variety of productivity and collaboration tools. With the introduction of Zoom Docs, Zoom aims to provide a functional alternative for users looking for a complete office solution.
Both Google Workspace and Microsoft 365 have already integrated AI-based tools into their offerings. Google's Duet AI and Microsoft's Copilot provide users with AI assistance for tasks such as grammar suggestions, content creation, and data analysis. Zoom's Zoom AI Companion integration with Zoom Docs suggests the company is taking a similar approach to improving productivity and collaboration on its platform.
Features of Zoom Docs
Embedded AI: Zoom AI Companion includes the Docs experience. Users can edit or change the tone of a document, reflect, summarize, or query content, and consolidate information from meetings and discussions into documents.
Tight integrations: Zoom Docs is natively embedded in Zoom and integrated with third-party applications to improve collaboration. This ensures that you can access all the tools you need for collaboration in one place.
Easy to use: The documents are designed for different user needs and promise an easy experience without learning. Users can instantly access insights, delegate tasks, and improve productivity without training.
Enhanced documents: Users can use content blocks to pull data into customizable workflows and layouts. With spreadsheets, you can organize information, track tasks, and manage projects or schedules.
Instant collaboration: Documents allow users to bring teams together outside of meetings. You can mention your colleagues to participate in discussions, add comments and threads, assign tasks, and share files.
Wikis and folders: Zoom Docs allows users to create wikis that link multiple pages in a visual tree. You can also group pages into hierarchies and organize documents using folders.
Work directly anywhere: Seamless integration with the Zoom platform allows users to create, edit, and search Docs content on the web, desktop, and mobile apps for Chat, Meetings, and Zoom.
To maintain its status as a quality offering, Zoom uses some interesting features, as evidenced by recent patent applications. One such patent granted this year shows Zoom's efforts to energize meetings with interactive virtual entities targeting arenas such as product promotion and educational initiatives.
Another intriguing patent relates to a tool that interprets participants' 'nonverbal cues' and potentially prompts someone who seems eager to participate as a host.
Last September, Zoom introduced AI-based features, notably the ability to summarize calls and compose messages. These state-of-the-art tools are seamlessly integrated into its premium packages at no additional cost.
The introduction of Zoom Docs follows the launch of Mail and Calendar offerings during last year's Zoomtopia event. These new additions reflect Zoom's efforts to compete with Google Workspace and Microsoft 365, which have integrated their own AI-powered tools like Duet AI and Copilot.
Zoom will release Zoom Docs to the public in 2024. Users can also learn more about upcoming features by watching videos from this year's Zoomtopia event. While Zoom AI Companion is free with Zoom subscription plans, Zoom Docs may come with an additional charge. In particular, Zoom already offers a year of access to essential apps with certain Zoom One paid subscription plans.