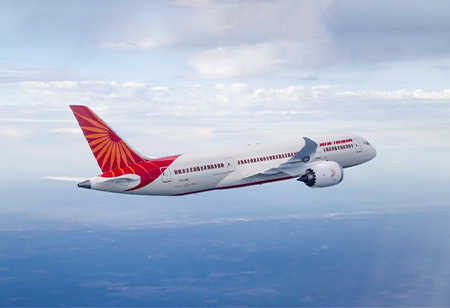 The Tata Group-owned airline Air India Express unveiled a new brand identity in its Vihaan AI plan and new aircraft livery. It perfectly represents the spirit of a daring new India, capturing the iconic Indian window shape that symbolizes a 'Window of Possibilities.'
The airline expressed its desire to stand out by fostering links between various locations, individuals, and cultural groups. They intend to design seamless, technologically advanced travel experiences. Additionally, they aim to deliver top-notch value and service with a distinct Indian warmth. The airline advertised itself as allowing customers to "Fly As You Are" and presented itself with a modern aesthetic, vibrant hues, and aircraft livery.
Tata Group has implemented a number of initiatives to turn around the fortunes of the loss-making carrier since assuming control of Air India from the government in January last year, including placing the largest order for 470 planes and increasing foreign operations.
Vihaan.AI: A Window of Possibilities
Air India unveiled its ambitious Vihaan five-year transformative program last year. AI, also known as Vihaan, signifies the beginning of a new era. The carrier intends to concentrate on expanding both its network and fleet as part of the plan, redesigning its customer proposition, improving dependability and on-time performance, playing a leadership role in technology, sustainability, and innovation, and making aggressive investments in the best talent in the sector.
The decision was made in response to feedback from the staff regarding "their aspirations and hopes for the growth of Air India."
The airline finished the first phase of Vihaan.AI this year and declared that the second phase of its transformation would focus on creating the platforms, procedures, and systems required to progress toward excellence.
Air India signed the largest-ever order for 470 aircraft in the industry during Phase 1 of Vihaan.AI, committed over $400 million to aircraft refurbishments, expanded its fleet with 36 leased aircraft, including 11 widebodies that will be finished this year, introduced premium economy seats for the first time on some long-haul flights, and redesigned menus for both international and domestic routes.
The second phase will see the consolidation of the group airlines, AirAsia India and Air India Express, as well as a focus on creating the best platforms. After receiving regulatory approval, Vistara will also merge with Air India. The creation of a top-notch training facility will progress along with the future planning and organization of the airline's base and line maintenance.
To prevent internal competition amongst the four owned airlines, the Tata Group is also reorganizing its route network. Three airports - Bhubaneswar, Bagdogra, and Surat - will now be served by Air Asia India, according to a February announcement by Air India. This was a move to improve network optimization after Air Asia India's full subsidiarization in November 2022.
The plan is to concentrate full-service airlines on metro-metro markets and highly connected routes, while low-cost airlines target markets that are more focused on leisure or pricing. For an exemption from the merger laws for Air India Express and AirAsia India, Air India has applied to the DGCA, the regulator of civil aviation. Before the NCLT approves the merger process, the company wants permission to cross-utilize pilots and cabin personnel and sell tickets under a single brand. With such clearance, the two airlines will be able to plan routes more efficiently, promote more effectively, and sell tickets as a single company. By utilizing each other's crews, it will also result in cost savings for operations.
Forging A Collaboration with Microsoft
Microsoft and Air India worked together in December of last year to increase efficiency and cut costs. Employees across the organization of Air India will be able to work more productively and securely thanks to the adoption of Microsoft 365 tools and its security solutions, according to the airline. Every airline employee will be able to interact, communicate, and cooperate with other staff members anywhere in the world, thanks to the enterprise-wide use of Microsoft technologies.
Next Level of Customer Experience
In April, Air India updated its in-flight food and beverage offerings across all cabins on all international flights departing from India, as part of its ongoing commitment to enhancing the traveler experience.
The company said that the menu updates were made in response to customer input and are intended to provide tourists with various gourmet meals, appetizers, and delicious desserts, which will show India's locally derived culinary influence while adhering to the healthy eating trend. A variety of premium spirits are now available on the airline's bar menu, along with a carefully curated wine list that includes top French and Italian wines.
The airline has extended NPS during the past three months to include every aspect of the physical customer journey, including check-in, lounges, the flight experience, and the arrival procedure. It will also be extended to the internet and call center interactions.
The Fleet
Last month, Air India finalized an order for 220 brand-new Boeing jets and 250 Airbus planes totaling $70 billion at list prices. The orders are for 70 widebody aircraft, including 20 787 Dreamliners and 10 777Xs from Boeing, 34 A350-1000s, and six A350-900s from Airbus. Additionally, it has 190 Boeing 737 MAX narrowbody aircraft, 140 Airbus A320neo, 70 Airbus A321neo, and 70 Airbus A321neo.
Additionally, the airline has signed options to purchase from Boeing an additional 70 aircraft, including 20 787 Dreamliners and 50 737 MAXs. Later this year, the Airbus A350 will take the lead in delivering the new aircraft, with the majority of the order arriving starting in mid-2025.
To speed up the expansion of its fleet and network, Air India has already begun taking charge of 25 leased A320 and 11 leased B777 aircraft. Within five years, according to CEO Wilson, the airline will fly the most cutting-edge and fuel-efficient aircraft across its route network thanks to an aggressive program for fleet renewal and expansion.