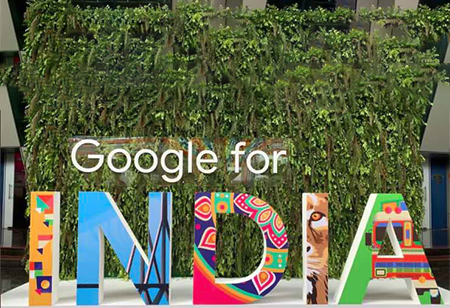 Google reinstates its digital strategy by sowing the seeds for its Made in India Pixel phones as of next year, making it the third major global phone manufacturer after Apple and Samsung to do so. According to reports, through Google's Digital India strategy, the technology giant is eager to help the Make in India project. It aims to manufacture all its products in India and eventually export them. A Digital Transformation Strategy will probably be made over the next few months as the corporation is already in negotiations to select a contract manufacturer.
Rick Osterloh, Google's Senior Vice President and head of devices and services, says, "We have a diverse manufacturing base that we are growing into India, and we manufacture all over the world. Starting with the Pixel 8 line, we hope to eventually manufacture the entirety of our product line in India. Nowadays, smartphones encompass more than one gadget. We intend to make everything about an ecosystem available here."
Google's Make in India Project
The company's primary goal is to produce goods locally for the domestic market, but it is also considering growing that by exporting from this area. India is a sizable market for smartphones as well, so the company is aiming to make sure it is as competitive as possible by producing phones here. Additionally, this is a chance for us to further diversify the company's supplier chain. The move is positive for the Make in India project, but gaining market share will be difficult if gadget prices do not decrease, despite the benefits of domestic production and avoiding import levies of 20 percent.
Prabhu Ram, head of the Industry Intelligence Group at CMR, says, "Google's Make in India program for the Pixel is a calculated move to forge a significant position in the cutthroat smartphone industry. For Google to continue growing in India, aggressive marketing, competitive price, and strong post-sale support are essential."
Google had a 0.3 percent market share of smartphones in India as of August, a slight increase from 0.1 percent in 2022. Ram pointed out that reasonable pricing might aid Pixel's entry into the Indian market. At a time when the premium segment of its smartphone market, defined as devices priced above Rs. 30,000 had grown from being the eighth largest in the world to the third largest in a year, Google would commit its advertising and marketing clout to mainstreaming Pixel phones and expanding the business in India. As more Pixel devices are produced locally, he predicted that local component sourcing would also increase, and Google intended to support the ecosystem in furthering this trend.
Expansion of India's Component Ecosystem Supply Chain
Ashwini Vaishnaw, a minister for communications and IT, applauded Google's announcement. And he claims that India is where the Tensor chip is being created. Within three years, Google must start producing Tensor chips in an Indian factory, per our request. Additionally, we requested that the expensive Pixel Fold phones be produced in India. Additionally, lend your support to the expansion of India's component ecosystem supply chain.
For micro, small, and medium-sized enterprises (MSMEs) and consumers who want to take out small loans but the current banking system is unable to service them due to high transaction costs, Google's other initiative to provide microcredit of amounts up to 15,000 through GPay bodes well. The credit facility offered by GPay will enable banks and other financial institutions to offer loans to a wider range of clients by lowering the costs associated with determining the creditworthiness of such borrowers.
Google's Other Initiative
Credit in the digital age is a tremendously potent tool. Many MSMEs will find it easier to acquire working capital as a result, and soon, banks will be vying with one another to offer these types of loans. By October 2025, the company is planning to discuss digital credit in the same terms we do today when we talk about digital payments.
Artificial intelligence (AI) will be used for microcredit through GPay, according to Google. The search engine giant also unveiled DigiKavach, an early threat detection and warning system that will be tested in India before being introduced to markets like Thailand and Indonesia. DigiKavach is intended to discover and research emerging financial fraud tendencies before they do significant harm.
Google is working with banks and the Reserve Bank of India to restrict predatory digital lending apps on the Play Store in India, according to Saikat Mitra, vice president and head of trust and safety for Google in Asia-Pacific. He continued by saying that over 100,000 suspicious transactions were rejected daily by Google, which avoided scams worth 12,000 crore on GPay in the previous year.
A bilingual citizen-centric super-app named 'a' that intends to increase people's awareness, accessibility, and utilization of government social welfare programs, employment possibilities, and healthcare benefits was also unveiled as a result of cooperation between Google Cloud and Axis My India.
Google Cloud and ONDC
In order to open up more revenue streams for farmers, Google Cloud also strengthened its collaboration with the Open Network for Digital Commerce (ONDC). This will allow farmer-producer organizations to sell their produce online.
Google.org, the company's charitable arm, announced contributions totaling more than $7 million, including $4 million for the CyberPeace Foundation, a cybersecurity advocacy group, to fight false information. Additionally, Wadhwani AI received a grant of $3.3 million to help it in its collaboration with the agriculture ministry to apply AI-powered pest management technologies to 10 major food crops and enhance agricultural outcomes.
Sanjay Gupta, Country Manager and Vice President, Google India, says, "In addition to working with the government to promote innovation, boost economic growth, improve national security, and safeguard the privacy and safety of the millions of Indians who choose to use our products and services, we at Google are steadfastly committed to being a trusted, responsible, and valued partner in India's digital transformation journey."
Google also disclosed the addition of Search Generative Experience, a generative AI search platform with visual and local search capabilities, in India. In the upcoming weeks, the tool will assist users in navigating and gaining access to crucial data regarding more than 100 government initiatives. As search returns more visual options to browse and shop rather than just pages or links, AI will also be responsible for enhancing the shopping experiences for customers and small businesses on search.
Separately, YouTube revealed that it would launch a watch page for news in 11 languages during the third quarter of October to December. This page will offer more visual news sources, including content from video on demand, live streams, podcasts, and shorts, as well as more dependable news sources, thanks to closer collaboration with news organizations.