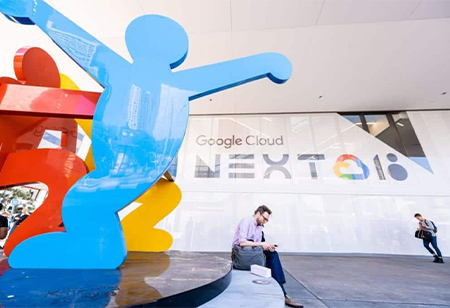 Google unveiled Bard approximately three months after OpenAI's ChatGPT made a splash. Since then, Google has been implementing new features in a variety of fields, such as Vertex AI, Model Garden, and others, to ride the wave of generative AI. Anthropic, AI21 Labs, and Character are just a few of the companies that use Google Cloud infrastructure, which accounts for almost 70 percent of AI unicorns. AI collaborations for international service delivery.
The major tech is returning with Google Cloud Next, which started on August 29, 2023 in San Francisco, following Google I/O Connect. The conference was kicked off by Thomas Kurian, CEO of Google Cloud, who made a number of significant announcements that might help the tech giant compete with Amazon and Microsoft in the still-evolving cloud market.
Given that many of the most recent developments and features are powered by artificial intelligence, generative AI was the main focus of the Cloud Next 2023 conference. As competition from rivals heats up, Google has been under pressure to expand its artificial intelligence products. Let's look at the significant updates and announcements made at the event.
The New Vertex AI
Vertex AI, a core set of generative AI technologies for Google, received updates at Next after being introduced at Google I/O 2021. Their in-house LLM PaLM now comes in 38 languages and has input token lengths that are four times longer. The new version of Codey, an AI-powered coding bot, boasts up to a 25 percent quality boost in code generation. Model for text-to-image diffusion Additionally, Imagen has received improvements that improve image quality and add a new function called Style Tuning. Customers can use reference photos to align created images with their brand requirements.
Additionally, Model Garden now features models from TII's Falcon, Meta's Llama 2, and Anthropic's Claude 2. Vertex AI Extensions facilitate model-data connectivity, Vertex AI Search extends Google Search to corporate data, Vertex AI Conversation provides simple chatbot deployment, and Data Connectors provide read-only access to Google and third-party data. Colab Enterprise also combines user-friendly Colab notebooks with high-level security. Vertex AI Search is currently widely accessible.
Duet AI For Google Workspace
Google revealed 'Duet AI' as the name for the generative AI elements in Workspace during I/O 2023. It was only accessible at that time via invitation to trusted testers. But as of right now, Google is offering a free trial of Duet AI for Google Workspace to all users. On the platform of Google Cloud, Duet AI is a development interface driven by AI that offers chat and code support for developers. Google's productivity products, such as Gmail, Drive, Slides, Docs, and others, are covered by a variety of generative AI tools under the Duet AI umbrella. In essence, Google is competing with Microsoft's Copilot.
With the aid of generative AI, Google intends to make Gmail, Docs, Sheets, Slides, and Meet more useful. At I/O, Google introduced the "Help me write" feature for Gmail, which enables users to send auto-replies to emails and customize them to best suit their needs. The 'Help me organize' function in Sheets allows users to request that information be organized for them in the sheet with just a few basic word prompts. Similar to this, Google Slides now has a 'Help me visualize' box that allows users to enter instructions to receive AI-generated visuals.
Google unveiled additional Workspace AI integration with Google's other flagship apps, like Meet and Chat, at Cloud Next. The ability to take notes in real-time is one of Google's new AI features in Meet. Simply click "take notes for me," and the app will record a summary and action items as the meeting is taking place. You can catch up on the meeting's events by seeing a recap provided by Google at the halfway point. Duet can 'attend' a meeting on your behalf thanks to another new Meet feature. Simply click the "attend for me" option on the meeting invitation, and Google will automatically generate some text about what you might want to discuss.
In addition, Google is announcing Cloud Spanner Data Boost for effective operational data processing and AlloyDB AI, which makes it simple to build enterprise AI applications.
There is a growing availability of developer tools like Jump Start Solutions and Application Integration, as well as an expanded cooperation with GitLab for safe DevOps solutions. The addition of Cloud Workstations and Application Integration functionality is part of the extended Duet AI toolkit.
Improvised Supercomputing and Cloud Services
Supercomputers are once again in the spotlight when Google announced that the Cloud A3 Supercomputer, built on the NVIDIA H100 and intended for demanding generative AI tasks and LLMs, will be generally accessible starting in the next month. The unique feature of A3 is that it uses Google infrastructure processing units, which the company claims will enable three times faster networking and training than prior generations. In addition, a new platform called the Cross-Cloud Network is introduced, which guarantees safe inter-cloud application connectivity.
Furthermore, using Google Distributed Cloud (GDC), clients may now deploy Al and data workloads using select Vertex Al services and AlloyDB Omni. In addition, the premium GKE Enterprise edition provides multi-cluster horizontal scaling to accommodate the demanding AI and ML workloads of today.
Focus on Sustainability
Google Maps is providing three Environment APIs - Solar, Air Quality, and Pollen - as part of upgrades that emphasize generative AI. These APIs are meant to help businesses cut emissions and adapt to environmental changes. It provides localized pollen count statistics, heatmap graphics, in-depth plant allergen insights, and useful methods for reducing pollen exposure. It was created to meet the needs of different health needs.
The API calculates daily pollen grain levels for three plant types and fifteen species on a 1 km2 grid in more than 65 countries. The model produces accurate forecasts of local pollen levels and associated dangers by incorporating elements such as land cover, climatic information, and pollen generation.