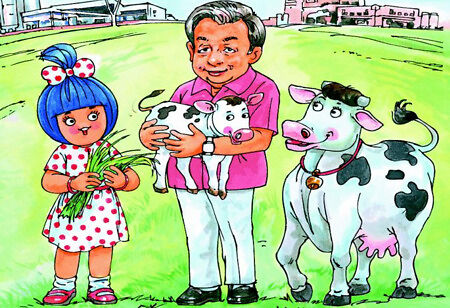 From being 'Utterly Butterly Delicious' to celebrating 75 years on its foundation, dairy food and major Amul, is now on a quest to help market the products of many cooperative sectors. As many farmers from other cooperative sectors have shifted to organic products, but lack a platform to market them. Since India's organic food market is projected to have a promising growth in about five years from now. In statistical point of view, PR Newswire has stated that, by 2026, the Indian organic food market is expected to reach $ 553.87 million, growing at a CAGR of 21.00 percent, given how governmental policies and initiatives support its growth.
As online availability of organic food as well as people's preference shifting towards a healthy lifestyle through the consumption of these foods, are also factors promising its growth. Yet the many farmers who are seeking to sell their produce in the market, lack a platform for marketing their produce in the first place. Hence, Amul responded to that by stating that it would not limit itself to 3.6 million milk producing farmers but look beyond.
The brand stressed on the fact that agricultural farming, animal husbandry and milk processing must be viewed in a new light. Additionally, it also took note that big cooperatives should create an online platform to globally market the produce of non-binary farmers, especially organic farmers.
It may be an admirable mission, but in a way throws light on how Amul went from 200 liters per day to reaching about 300 million liters today. Although it initially aimed at chocolates it switched gears to dairy after realizing the importance of the latter being helpful to make it reach new heights in the market, which it precisely did.
The Chocolate Melts as Milk Rises
Nearly three decades in the past, Amul chose to lose chocolate to win the dairy war and it did not fail. It grew beyond the odds and established itself as a successful brand in this space. The protagonist behind the story of its dairy success is the nation's 'Father of White Revolution', Verghese Kurien.
Back in the 1950s, Amul had witnessed Dr.Kurien's magic of drawing milk powder from Buffalo milk and it was also a time when condensed milk was immensely popular among households as milk was in short supply and there were not many refrigerators.
The story follows as, Dr.Kurien accepted an invitation from Nestle to visit their headquarters in Vevey, Switzerland, along with a letter from then-Commerce and Industry Minister Manubhai Shah, urging Nestle to make condensed milk in India from Indian milk rather than importing milk powder and sugar in 1956. But this was turned down due to reasons pertaining that the making of condensed milk is delicate and natives were not trusted on being hired for the task. Dr.Kurien stormed out in anger and kept his fires high in making condensed milk at Amul.
Precisely two years after that incident, Amul initiated a Research and Development (R&D) and made condensed milk on its own. Sadly, the government had imposed a ban on condensed milk imports and Nestle had to seek government's permission to set up a plant for condensed milk in India. As a result, Amul was able to continue its condensed milk dream, which now continues to delight the nation with its Amul Mithai Mate.
However, during the 1950s, Nestle and the Anglo-Swiss Condensed Milk Company which were competitors in the infant food and condensed milk industries began venturing into milk chocolates to their existing product lines.
The Unfinished Chocolate Dream
During World War I, condensed milk was used as an army ration, while chocolates and Nescafe were utilized as rations during World War II, which not only gave Nestle bulk orders but also popularized the products over the world. There was a surge in birth rates following World War II (the Baby Boomer generation). As a result, the consumption of newborn milk food increased even more. Nestle was already an international powerhouse when Kreeber and Kurien met in 1958.
In 1973, Amul introduced 40 gms and 80 gms packets of Amul Milk Chocolate. It had a lot of troubles at first since the Swiss milk chocolate recipe ensured that chocolate melts at 35 degrees Celsius, which is the temperature of a human mouth. Given the national average temperature, the product would melt before it could be consumed. Amul tried to get around it by wrapping the chocolate in silver/golden foil, which was a first for the industry, but it didn't work out.
In the liberalized 1990s, Amul management decided that if it wanted to be serious about chocolates, it needed to split it out as a distinct company and hire a young and vibrant CEO who could work independently. It was realized that the skill sets necessary in the chocolate industry are vastly different from those required in the dairy industry. They also planned to form a joint venture with an international partner to expand on the marketing DNA and give farmers input support.
Amul approached Hershey's in 1993 after assessing the various overseas players, as their sensibilities were comparable. Milton Hershey not only invented milk chocolate in the US, but he also offered it at a low price so that children might enjoy it. Aside from marketing and branding, the joint venture aimed to assist farmers in increasing yields and provide innovative chocolate production technologies to the corporation.
However, Amul's primary milk business now faces a larger existential challenge as a result of liberalisation. Could a farmers' cooperative take on the dairy industry's behemoths as they enter India? Could it engage in a marketing war with multinational chocolate behemoths at the same time? While dairy is an important and significant part of Indian agricultural income, Amul's management believed that cocoa was not.
Amul made the strategic decision to focus its resources and management on the dairy industry rather than the chocolate industry. Thus, Amul not only expanded beyond Gujarat's geography to introduce milk in India's metros and big towns, but also introduced value-added products such as ice cream, curd, flavoured milk, cream, and so on.
Amul, in a way, chose to lose the chocolate war in order to win the dairy war.
However, there are chances that chocolate consumption in India may increase dramatically during the next decade. It is unknown whether or not Amul may pick up the chocolate of where it left.