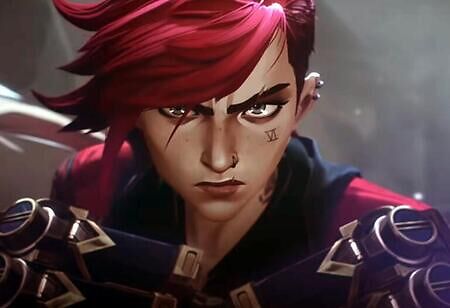 Amidst the growing bad blood between the advanced, utopian city of Piltover and the squalid, the tyrannized under city of Zaun, follows the story of pursuit to reunion of two sisters on opposing sides of a war embroiled in twisted ideologies and arcane technology. The sisters are the popular league champions' Jinx and Vi, and in their possession lies an artefact of immeasurable power. But should this great power be the source to their separation? Is an answer worth the shot in Krafton's newly updated 1.7 version of BattleGrounds Mobile India. The South Korean game developer joined hands with Riot Games, a US-based video game developer, to bring the world of Arcane into BGMI in celebration of the new 'League of Legends' anime.
Google Play Store and iOS App Store are the two most common lands for every game and of course, Krafton's latest updates can be accessed through these two platforms. A background check on the anime was released this year and Rotten Tomatoes reported a 100 percent approval rating with an average rating of nine out 10. Most critics on the website were observed saying how the anime makes an arresting first impression, combining a mix of 2D and 3D animation with an emotionally compelling story delivering a video game adaptation that could become legendary. Well they were right in a way when checking its ranking on Netflix.
Arcane Ranked Number One on Netflix
Set in the 'League of Legends' universe, the anime ranked number one on Netflix's Top 10 charts across 52 countries and ranked second in the US. Brought to the world by the Riot Games and Fortiche, a French animation studio, the anime serves as a prequel to the game portraying the stories of Piltover and Zaun.
Both series as well as the story was seen to be in the good books of critics who applauded the series' mix of hand-drawn and CGI animation, as well as the story, world-building, characters, and voice acting. It is true that most animation tends to fall out of place when the 2D characters end up looking obviously disconnected from the 3D environment or 3D characters. But that is not the case with Arcane, as every element of the anime appears to have wonderfully worked its way through the blend of hand-drawn and CGI animation. Thereby appearing visually tasteful.
Arcane is geared for a 16+ audience, just like the game it's based on. Many media outlets have also noticed that the show appeals to both casual viewers who have never played League and lifelong League fans.
Although the anime may appear to be a promotion for the game to develop a franchise and increase brand awareness. However, the fact that its first episode was visually stunning and had a solid tale to follow suggests that it's more than just a promotional piece.
The anime was seen to appeal to many who felt that it is a sort of a massive world unfolding before the eyes which is a simple story projected in a unique world. By bringing this anime's 'Mirror World' to BGMI, gamers are certainly in for a deal that's more than just bringing the anime's characters, items and game modes.
What Lies in the Land of Arcane
Only the Erangel, Livik, and Sanhok maps will have the Mirror World Theme, which will include a magical upside-down island in the sky. Gamers will then be transported into the Mirror World through a wind wall to accomplish a series of Arcane-based activities to acquire emotes and skins.
Here, players will be converted into one of the show's main characters namely Vi, Jynx, Jayce, or Caitlyn and each with their own set of weapons and abilities. Each gamer will have their own unique assortment of weapons and special skills. Gamers can change their character or characters if necessary by using the island's Transform Device.
On the island, gamers will encounter a variety of monsters who, when killed, will release a set of Hextech Crystals. The Dynahex Supply Shop can then be used to purchase unique supplies with these shards.
A new Piggyback feature will be included in the update. Meaning, gamers will be able to carry wounded teammates or adversaries, but at the penalty of reduced movement speed and HP depletion. On-screen, the all-new grenade indicator will also be visible (HUD).
"Through partnerships with significant entertainment properties in movies and games, as well as collaborations with musicians, celebrities, and more, BGMI provides new, fascinating, and engaging material to its gamers in each game update", claimed the company.
"This is BGMI's first relationship with Riot Games, and it will also introduce new game regions and gameplay types inspired by Arcane to the BGMI world", it continued.
On the other hand, Krafton is bringing another surprise and this one goes out to the football fans and gamers. That's right, it's collaborating with the English footballing giant, Liverpool FC striving to score a new event based on the club's slogan, 'You'll Never Walk Alone'.
Krafton is Bringing Liverpool FC to BGMI
After delivering the 1.7 update for the gamers, BGMI revealed on social media that they are working with Liverpool FC, a prominent football team housed in Liverpool, England. It was also stated that from November 20th, additional awards and activities will be available in the game.
The event has already set off and gamers must complete a series of missions to receive a free permanent Liverpool FC bag and time-limited parachute.
To those who enjoy both football and battle royales, the collaboration with Liverpool FC is a sure thrill. Fans expected similar prizes in BGMI when Tencent announced a PUBG Mobile deal with Liverpool FC a few days ago.
Players may unlock limited edition Liverpool FC branded outfits and gain free in-game gear and stuff, such as parachutes and bags, by playing a series of classic mode games.
"In an increasingly digital world, we pride ourselves on being able to innovate and communicate with our fans on the huge diversity of digital platforms they prefer", said Drew Crisp, Liverpool FC's senior vice-president of digital.
However, the BGMI and Liverpool FC collaboration event went live in the game and gamers have already started claiming exclusive benefits as a result of the relationship.
The event will last till December 12th in the game. To collect the prize, gamers must complete the missions before the event finishes. Aside from the BGMI x Liverpool partnership event, users may earn further rewards by participating in the coupon exchange event and updating their login rewards.