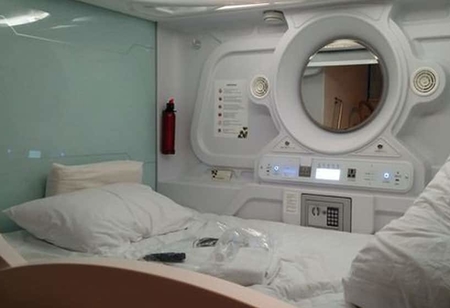 Train tours in India are often the definition of what it means to be cramped up in compact spaces with other passengers, luggage, and the brief walks of people selling snacks and meals. Even the shortest of trips end up making one wonder whether the heavens have assigned them to the test of endurance, since these trips are not only about dealing with less spaces, but about being aware of thine luggage. Pushing through people to make it to the toilet and back and bam! A bag or two goes missing. It ups those anxiety levels of solo travellers who have no choice but to attend nature's call, a call that cannot be missed.
But now these trips will become not only comfortable to have each one's space to oneself, but are also becoming safe to travel. As Indian Railways have introduced pod rooms in Mumbai's Central Railway station.
Japan is the first and has been having these pod rooms or popularly known as capsule hotels at cheaper prices for budget friendly travellers. Hence, the Indian railways thought why not and decided to give travellers a way of travelling safe with basic amenities and best, at a pocket friendly range as well. This cuts down those risky toilet trips as that is included in these rooms as well. The facilities of these rooms are quite close to what Japan's capsule hotels have been offering their visitors over the years.
Most people on the globe envision capsule hotels to be a smart use of space, technology and of course those futuristic vibes which Japan strives to offer in most of its products and services. Japan's capsule hotels are not meant for the travellers alone, but anyone who missed the last train could book a stay at these hotels as well. With that here's a peek into the Indian railways' pod rooms.
Free Wi-Fi
Be it at a restaurant, cafe or a companion's house, free Wi-Fi is a treat for anyone but especially those travelling with a purpose, as there's no telling how much the internet bill could cost whether it's prepaid or post when it comes to frequent travel. These rooms also come with other facilities such as TVs, small locker, mirror, adjustable air conditioner and air filter vents, reading lights, interior light, mobile charging, smoke detectors, DND Indicators and more. Although the toiletries, shower rooms and washrooms are fixed at a common area.
Pod hotels give customers who do not require or cannot afford the larger, more expensive rooms offered by traditional hotels an economical, basic overnight stay.
Another fact is, these rooms are intrinsically designed, even painted with beige or light colours that are often known for inducing relaxation to the senses. The soothing colours of white and beige have been painted to ensure a pleasant night's sleep for exhausted travellers. It may be a small and barely noticeable detail but colours do play a vital role when building homes, and others that are meant for staying.
In the words of IRCTC (The Indian Railway Catering and Tourism Corporation), "this facility will be a game changer for travellers travelling by rail in India, especially those on business travels".
48 Pod Rooms
Currently, the Indian railways decided to have about 48 of these pod rooms and are each classified to accommodate different types of people seeking comfort at their convenience.
There are 30 classic pods, seven for the ladies, 10 private pods and one for the physically impaired.
While the Classic Pods and Ladies Only Pods comfortably suit one visitor, the Private Pod also has a private space within the room, and the Room for the physically impaired comfortably fits two guests with space for free wheelchair movement.
M/s Urban Pod Pvt Ltd was granted the contract by IRCTC to Set-up, Operate, and Manage the POD concept Retiring Rooms for nine years on an open tender basis. The site is stationed on the first floor of the Mumbai Central Railway Station's Station Building. The POD rooms will be around 3000 sq. ft. in size, with a mezzanine floor. Despite the complications suffered by the second wave of COVID-19 Pandemic, the site was handed over to the Developer on February 21, 2021.
Pricing
This one-of-a-kind facility will revolutionize the way travellers travel by rail in India, particularly for business travellers. Frequent travellers, backpackers, single travellers, corporate executives, and study groups, among others, will benefit from the concept. The pricing for this property will vary depending on the requirements, but it will start at Rs.999 per person for 12 hours and go up to Rs.1999 for 24 hours and more.
Other Innovative Ideas: Restaurant on Wheels
On the other hand, Central Railway established a 'Restaurant on Wheels' at Mumbai's Chhatrapati Shivaji Maharaj Terminus (CSMT). The restaurant, which is fashioned out of an abandoned rail carriage and mounted on tracks, is located in Heritage Gully, just across from CSMT platform number 18. Narrow gauge locomotives, parts of an ancient printing machine, and other rail antiques can be found in Heritage Gully. The location provides plenty of space as well as quick access to the suburbs through the Freeway.
Inside the coach, the restaurant, which will be a fine dining establishment, can seat 40 people at ten tables. The restaurant's interiors have been designed so that both passengers and the general public can enjoy the experience of dining in a rail-themed atmosphere.
Narrow gauge locomotives, parts of an ancient printing machine, and other rail antiques can be found in Heritage Gully. The location provides plenty of space as well as quick access to the suburbs through the Freeway.
Earlier, the first Restaurant on Wheels was inaugurated in 2020 by the Indian Railways Asansol Division, which converted obsolete train coaches into eating establishments. Two over-the-road Mainline Electric Multiple Unit (MEMU) coaches have been converted into restaurants. The railway eateries, which serve lunch, dinner, and diner, are expected to produce Rs.50 lakh in non-fare revenue over the next four years, according to Eastern Railways.
This one-of-a-kind initiative would not only improve the station's facilities, but will also produce non-fare money of almost Rs.50 lakh over the next five years. Babul Supriyo, a Union Minister and Asansol Member of Parliament, officially opened the restaurant. At Asansol station, he also unveiled two new air-conditioned Retiring Rooms, an Electronic Reservation Chart Display System, and a battery-operated automobile.