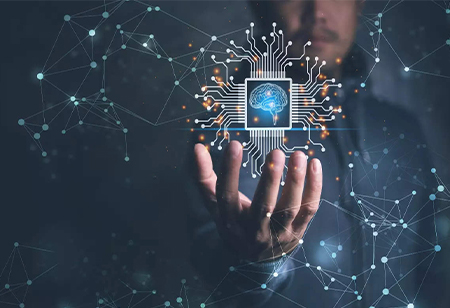 Artificial Intelligence (AI) continues to disrupt the high-tech industry in a variety of ways, opening up new avenues for firms to innovate, grow, and remain ahead of their competition. AI's potential is only just beginning to be realized, from automation and predictive analytics to personalized experiences and improved supply chain operations. High-tech companies that embrace change and invest in AI technology will be best positioned to reap the benefits in the coming years. Companies that embrace change and invest in AI technology stand to benefit greatly, while those that do not adapt risk slipping behind their competition. The high-tech industry is at an exciting juncture, and the potential of AI is only just beginning to be exploited. The top tech companies in India are investing in AI to boost their business. Let's look at some heavy AI investments and how.
Paytm
One97 Communications Limited, the parent company of the Paytm brand, is investing in AI with the goal of developing an artificial general intelligence software stack. The stock exchanges received India's biggest payments and financial services company, as well as the pioneer of QR and mobile payments, in its annual report for 2022-23, in which it highlighted its desire to expand on AI capabilities and other technologies. Vijay Shekhar Sharma, the company's founder, and CEO, has also sent a letter to shareholders. Paytm, he claims, pioneered mobile payments in India and led broad acceptance with innovations such as QR Codes and Soundbox.
In India, the business anticipates 500 million payment consumers and 100 million merchants in the not-too-distant future. Sharma stated that, following mobile payments, Paytm's next contribution to India's digital revolution will be small mobile loans with excellent credit quality and full compliance with regulators' rules.
Vijay Shekhar Sharma, founder and CEO, Paytm, says, "Expectedly, this requires sophisticated capabilities in AI and other technologies. I am very proud of our Advanced AI capabilities in use and how we are expanding. We are building an India-scale AI system which will help various financial institutes in capturing possible risks and frauds while also protecting them from new kinds of risks due to advancement in AI."
Paytm reported its April-June quarter results for fiscal 2023-24 (Q1FY24) last month, reporting a consolidated net loss of Rs.357 crore, a dramatic decrease from the similar period last year's loss of Rs.6,444 crore. However, the net loss has increased from Rs.168 crore in the preceding March quarter of fiscal 2022-23. Revenue from operations increased 39.4 percent to Rs.2,341 crore in the first quarter of the current fiscal, up from Rs.1,679 crore the previous year.
Paytm's credit distribution business grew 167 percent year on year in the June quarter, with loans totaling Rs.14,845 crore disbursed. According to a regulatory statement to the stock exchanges by One97 Communications, Paytm's parent company, the total number of loans facilitated on the payments platform increased by 51 percent to 1.28 crore.
Infosys
India's second-largest software services provider has secured a five-year agreement with an existing client to supply artificial intelligence (AI) and automation services worth $2 billion.
According to reports, the Nifty IT companies have lagged the blue-chip indexes for much of the year due to concerns that clients would curtail spending, particularly in the important US market following the collapse of Silicon Valley Bank and as the Federal Reserve showed no signs of slowing rate hikes. However, US inflation figures boosted hopes that the Fed will stop raising interest rates after July. On the same day, Tata Consultancy Services reported a nearly 24 percent increase in its order book, while Wipro reported a nine percent gain in major orders a day later.
TCS
Tata Consultancy Services (TCS) has expanded its partnership with Google Cloud and launched TCS Generative AI. This new offering leverages Google Cloud's generative AI services to design and deploy custom-tailored business solutions that assist clients in harnessing the power of this exciting new technology to accelerate their growth and transformation.
TCS has established a broad portfolio of AI-powered solutions and intellectual property in the areas of AIOps, Algo Retail smart manufacturing, digital twins, and robotics, based on its deep domain knowledge across numerous business verticals and investments in research and innovation. The company is presently collaborating with clients from various industries to investigate how generative AI may be utilized to provide value in their specific business contexts.
This new service is driven by Google Cloud's Generative AI technologies, including Vertex AI, Generative AI Application Builder, and Model Garden, as well as TCS' own solutions. TCS will employ client-specific contextual knowledge, proven design thinking, and agile development techniques to jointly brainstorm solutions with customers, swiftly prototype the most promising ideas, and construct full-fledged transformation solutions with faster time to value.
Wipro Launches Wipro ai360
Wipro ai360, a holistic, AI-first innovation ecosystem, is launched, building on Wipro's decade-long investments in artificial intelligence (AI), with the goal of integrating AI into every platform, tool, and solution utilized internally and supplied to clients. Along with the launch of Wipro ai360, the business announced a $1 billion investment over the next three years in expanding AI capabilities. Wipro ai360, powered by this new investment, will usher in a new era of value, productivity, and commercial potential by leveraging AI and generative AI.
Mindtree
Mindtree intends to spend $40-50 million in the current fiscal year on artificial intelligence (AI) capabilities and offers in order to establish a consistent revenue stream from the new technology.
Nachiket Deshpande, chief operating officer of LTIMindtree, "If you're looking at three to five years (timeframe), this (AI-related spend) will only increase as the monetization opportunities increase. These investments will only be restricted to building capabilities and do not include the capital allocated for picking up investments in AI-focused startups."
Canvas.ai, a platform that will assist organizations in jump-starting generative AI capabilities to help in business innovation and engineering productivity, was recently introduced by L&T Group's IT services and consulting division.