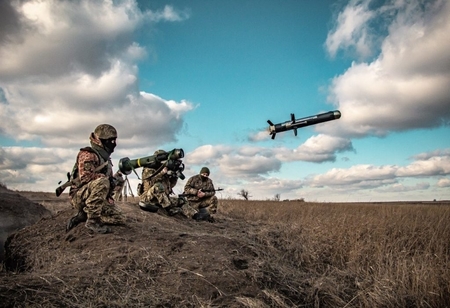 While Russian armed forces haven't fared much in capturing Ukrainian territory, they have however, been successful in causing several casualties against the latter's civilians. Each day bring news about families suffering loss of members, aircraft bombing, children involved in the accidents and animals caught in the rubbles. Or cities being unable to access food, water, or medicine. Despite being under constant chaos, Ukrainians have proven their valour to the world that they would not budge in giving up their identity to the likes of those who have invaded their land. Even the President, Volodymyr Zelensky has been reassuring Ukranians about his presence in Kyiv that he is still in charge and in no way plans to succumb to the attacks, while prompting green T-shirts as a 2022 trend.
Zelenskyy cited Shakespeare's hero, asking the British House of Commons whether Ukraine is "to be or not to be," and he addressed the Canadian Parliament and Prime Minister Justin Trudeau as "Dear Justin." At the start of the war, Zelenskyy urged European Union leaders to do the politically unthinkable and fast-track Ukraine's membership, and he has continued to press for more assistance to safeguard his young democracy than world leaders have so far offered.
"We need you right now," Zelenskyy said, adding, "I call on you to do more."
It's also heartening to witness that the world is uniting to help Ukraine fight back Russia in every creative way possible. From making an Amazon wish list of necessary items, booking AirBnBs for immediate monetary assistance, to two Harvard University students' website helping refugees for accommodation. Taking the 'fight back' literally, the US is also directly contributing to war efforts, including some Americans volunteering to fight together with Ukrainians and President Biden announced $ 800 million in increased military aid for Ukraine, which includes 800 more Stinger anti aircraft missiles, 9,000 anti tank weaponry, 100 tactical drones, and a variety of small armaments such as machine guns and grenade launchers.
WWII's Kamikaze Joins Ukraine's Battle
The Japanese term 'Kamikaze' became well-known during World War II with Japanese Special Attack Units of military flew suicide attacks to defend Japan's Empire against warships. That very concept is implemented into the US' Kamikaze drones that are robotic bombs functioned to near its target.
They don't fire missiles, instead they are the missiles. Call it Suicide Squad of the modern world, these drones have the ability to circling above a target and waiting for the ideal moment to attack with pinpoint accuracy. The Switchblade glides over the battlefield for up to 15 minutes, giving back video allowing the operator to detect, locate, and identify targets up to six miles distant, unlike a standard missile that is launched at a target visible at launch. Switchblade dives in to destroy the target with a small but powerful fragmentation charge that can wipe out a group or roomful of people or a pickup truck if the operator confirms the target. Most forms of cover are rendered worthless as it may loop around defences or dive vertically to defeat targets in trenches or foxholes.
Meet the Suicide Squad of 2022
Switchblade is described as a missile by its inventors, despite the fact that it only travels at around 65 mph and is propelled by an electric propeller. In certain ways, it may be considered a tiny cruise missile. It's also worth noting that the entire system, including the launch tube, weighs less than six pounds.
Switchblade has proven to be a highly effective combat weapon, yet it is one of the US military's best-kept secrets. While there are lots of videos available of Reaper drones firing missiles at targets, there are none of a Switchblade. The Pentagon has also not disclosed any accounts of actions involving Switchblades.
They are, however, thousands of times less expensive than the Hellfire missiles fired by US Reaper drones. According to some estimates, the 300 might cost as little as $ 6,000.
The Switchblade is made by AeroVironment, a Californian business that develops tactical reconnaissance drones for the US military. The beginnings of Switchblade can be traced back to a DARPA programme dubbed Close Combat Lethal Reconnaissance (CCLR) or Confirmatory Hunter Killer, which began in 2004.
However, AeroVironment stated in a history of the Switchblade published in 2020 that the first variant of the loitering munition, known as 'Block 1,' was being manufactured and utilised in battle at the time.
The Switchblade was not made public until 2011, when the US Army expressed interest and ordered a new 'Block 10' variant. The weapon was employed against 'high-value targets' in Afghanistan.
Since then, the Switchblade appears to have been a popular weapon with US Special Forces and other infantry forces, thanks to its capacity to carry out long-range precision hits. It can hit with sniper-like precision from a distance of six miles, and unlike a Javelin or other missile, it does not reveal the location of the operator.
Although the Switchblade is the most advanced of the killer drones, Russia, China, Israel, Iran, and Turkey all have their own versions. The Pentagon claims that Iranian-backed militias have employed tiny drones in ten attacks on US locations in Iraq this year. There have been no injuries or deaths among US forces, but this is simply the beginning.
If the Switchblade is deployed in Ukraine, it will be the weapon's most important combat use to date. The Switchblade was used in limited combat by the US military in Afghanistan and elsewhere, but the information was not disclosed.
Many uncertainties remain regarding the potential deal with Ukraine, including how many missiles the US has on hand, how quickly AeroVironment can produce new ones, and how much training Ukrainians will need to operate the systems.
The UK is the only foreign country that has been granted permission to purchase the Switchblade so far.
We think the United States needs to do more," said Sen. Roger Wicker, R-Miss., returning from a weekend visit with other lawmakers to Poland.
They said Congress "remains unwavering in our commitment to supporting Ukraine as they face Putin's cruel and diabolical aggression."