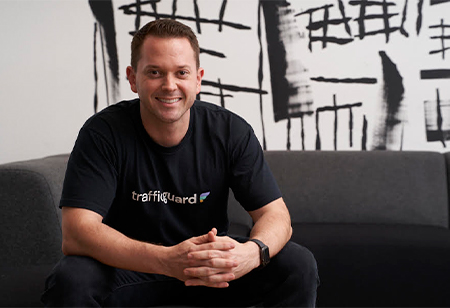 Mathew Ratty, CEO & Co- Founder, TrafficGuard, 0
Mathew Ratty, is the Co-Founder and Chief Executive Officer of TrafficGuard. A corporate executive with expertise in M&A, capital raising, strategy, commercialization, and innovation. Prior to this, Mr. Ratty was a founding partner of MC Management Group Pty Ltd, a venture capital business active in both domestic and international debt and equity markets and significant shareholder in the company. Mr. Ratty was in charge of asset allocation at MC Management as the Head of Investment. He graduated with first class honors in finance from Curtin University, where he also concentrated in property.
The emergence of digital analytics products has revolutionized the way businesses collect, process, and analyze data to gain insights into their online performance. In today's digital age, companies collect vast amounts of data from various sources, such as websites, social media, mobile apps, and advertising platforms. Digital analytics products have become essential tools for businesses to make sense of this data and make data-driven decisions that drive growth and success. It has become increasingly important for organizations to understand their online presence, track performance, and optimize marketing campaigns. These products range from simple website traffic monitoring tools to complex data analysis platforms that offer detailed insights into customer behavior, audience demographics, and sales funnels.
Furthermore, with the proliferation of online platforms and social media, companies now have access to vast amounts of data that can provide insights into customer behavior and preferences. However, organizations may find it difficult to select the best digital analytics product. There are many products in the market, each with unique features and abilities. Therefore, in order to choose the best digital analytics tool, organizations must take into account their specific requirements, goals, and aspirations. And to enhance their marketing strategies and consumer experiences, they must decide what information they want to gather and how they intend to use it.
Additionally, organizations must evaluate the features offered by different products, such as tracking user behavior, website traffic, conversions, and engagement on social media platforms. The cost of the product and ease of use are also important considerations. Thus, by carefully evaluating these factors, organizations can choose a digital analytics product that meets their requirements and helps them achieve their business goals.
Here's a look at some factors organizations must consider while choosing the right digital analytics product-
Assess Your Business Needs
The first step in choosing the right digital analytics product for your organization is to assess your business needs. Consider the size and scope of your business, your online objectives, and the type of data you want to collect. For instance, a primary analytics tool that tracks website traffic and sales conversion may suffice if you run a small online store. However, if you operate a large e-commerce business with multiple marketing channels and complex sales funnels, you may need a more comprehensive analytics platform that provides deeper insights into customer behavior and campaign performance.
Understand the Available Data
When it comes to choosing digital analytics products, understanding the available data is crucial. This involves understanding what data is available, where it comes from, and how it can be used to meet organizational
goals. The type of data collected can vary depending on the product and the organization's needs. Some common types of data collected include website traffic, user behavior, and conversion rates. Hence, understanding the available data is critical to selecting the right digital analytics product to provide valuable insights into customer behavior, website performance, and other key metrics. Moreover, organizations should also consider how the data will be collected, analyzed, and reported, ensuring they get the most value from their digital analytics products.
Organizations must evaluate the features offered by different products, such as tracking user behavior, website traffic, conversions, and engagement on social media platforms.
Look for Ad Fraud Protection
Digital advertising fraud is widespread and costs organizations billions of dollars every year. It occurs when fraudulent individuals generate clicks, impressions, or conversions in order to trick advertisers into paying for unreliable or low-quality traffic. Thus, looking for digital analytics packages that include ad fraud prevention capabilities is crucial if you want to protect your company from fraud. There are features for preventing ad fraud that include anti-bot filters, real-time monitoring, and algorithms for spotting fraudulent traffic. While some companies offer post-bid fraud prevention, where advertisers may examine their campaign data to spot fraudulent behavior, others offer pre-bid fraud prevention, where advertisers can check for suspected fraud before purchasing ad space. Hence, to identify and prevent ad fraud, look for tools that give transparency, visibility into the source of ad traffic, and robust reporting.
Ease of Use
Ease of use is a crucial factor to consider when choosing a digital analytics product for your business. The product should have an intuitive user interface that is easy to navigate, even for non-technical users. A complicated interface can make it challenging to understand and use the data collected, leading to frustration and a lack of adoption. Therefore, in order to assist you in learning how to use a product and troubleshooting any issues that may develop, look for products that include clear documentation, customer assistance, training, etc. Furthermore, you can track your progress, make well-informed decisions, and quickly improve your online performance with the aid of an easy-to-use analytics tool.
Consider the Cost
When choosing a tool for your organization, it is critical to consider the cost of a digital analytics package. Look for items with pricing plans that fit your budget, and keep in mind any potential extra expenditures, such as implementation, training, and ongoing support. It is essential to consider that the price of the product should also reflect its worth to your company. In addition, analyze the tool's potential ROI and its impact on your bottom line. It's also vital to seek products with flexible price plans that may grow with your company's needs over time, so you don't overpay for features you don't need.
Digital Analytics Products: Leveraging Data for Growth
Selecting the best digital analytics product can be difficult. However, you can make an informed choice that aligns with your business objectives by analyzing your business needs, comprehending the available data, taking into account the analytics features, looking for ad fraud protection, evaluating the ease of use, and taking into account the cost. In the current digital advertising world, ad fraud protection is critical for businesses, and establishments should search for technologies that provide effective fraud prevention tools and open reporting. Thus, businesses can improve their marketing strategies, acquire insights into their online performance, and make data-driven decisions that promote growth and success by choosing the correct digital analytics software.