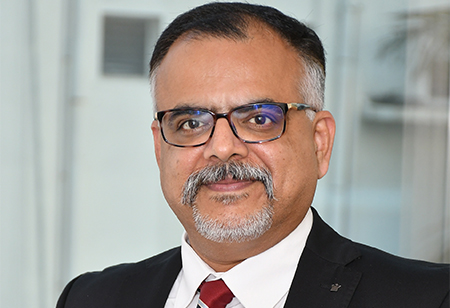 Malay Shankar, CEO, ProConnect Supply Chain Solutions Ltd, 0
Below are key insights shared by Malay Shankar, CEO, ProConnect Supply Chain Solutions Ltd with CEO Insights magazine.
How is the logistics industry coping from the effects of the pandemic and other uncertainties?
The logistics picture is constantly evolving with its demand skyrocketing than ever before. Nothing new has emerged post-pandemic but the existing trends found new avatars, updates and have been accelerated. Receiving your orders at your doorstep is one example. Although, this service existed before the pandemic, B2C / D2C have multiplied its frequency of services due to the lockdowns and social distancing and have intensified on massive levels. The foremost trend that emerged as the strongest post pandemic is the acceleration in e-commerce. Next, the adoption of technology, which sped up our experimentation with geospatial services, tech to increase visibility and more on those line, thanks to the pandemic. The third trend that intensified is sustainability. With major disruptions, companies began focusing on reducing the carbon footprint and concentrating more on health concerns and the safety of their staff.
What are the impacts delivered through digital tools at each stage of the logistics
journey?
The biggest tool which added immense value is electronic data interchange (EDI). By enabling real-time exchange of documentation, including customs, Whether that is customs, transactions, invoices or any paperwork, EDI streamlined the process. Additionally, it led to increased velocity of the logistics industry. Imagine the paperwork involved in receiving a package from a different country. While lot of authorities are involved, besides multiple steps to this process, EDI has got many applications and it is making the world of shipping and freight go online. This is possible with an EDI format that allows customers to interact with service provider in an electronic or digital form directly. Moreover, a variety of tools have been built in and it takes care of the data. These tools also work on eliminating quite a large chunk of errors.
Besides EDI, there is a mix of IoT and Artificial Intelligence technology and they call for training requirements when dealing with large workforce and supply chains. The trainers should be trained properly to become well-versed in these new programs. Today, companies have gone ahead and deployed AI and are even coming up with training programs that have been designed at a self-paced level.
Lastly, is the Transport Management System (TMS) and this complements EDI.
From what I have come across, leading consultancy firms happen to have 10-15 stack of various technologies and these companies were from the transportation and logistics vertical. Digital tools in the logistics industry are complex and it comes as no surprise that companies in this vertical have the most forward-looking new tech packs to tackle a humongous amount of data flow and operations.
How do you perceive the latest budget in contributing to the Indian logistics industry
to be on a competitive edge on the global market?
NLP, national justice policy and PM Gathi Shakti, these programs got a boost
this budget. It's likely that you will see close to about 100 critical transport infrastructure projects, which were either ports, coal, steel, fertilizer related ones, were approved. This is an investment of Rs 75,000 crores. There was a time when logistics not recognized as an industry. We can also see that the government has allocated close to 2.7 lakh crores to the Ministry of Road and Transport. Everyday, we see developmental work
happening on those infrastructures like roads and highways, particularly the Delhi-Mumbai corridor. Another great move by the government in the Budget was the Digilocker serviceFrom my personal experience, the IT is super convenient in storing your car documents, driving licence, PAN id, Aadhaar card and many more, while promising secure online storage and safe sharing of documents. It comes handy in the logistics field as there is a ton of paperwork involved and sometimes physical documents are lost.
Then, the mention of 5G in the Budget piqued my curiosity as well, when it said that labs will be set up for 5G-enabled application development for intelligent transport system. Hence, right from the intent to the actions that the government has been taking, I see a positive move towards ensuring that India becomes extremely competitive and infrastructure plays the core part of it.
Most importantly, the logistics industry should focus more on sustainability to reduce its environmental impact. Besides, customers and regulators are demanding more sustainable practices as well. This will result in the adoption of green, alternative fuels at least for the transport that is road-borne
What are the kinds of impacts delivered through green initiatives in the industry so
Far?
There is a major thrust for EVs in the industry, which are being introduced in their warehouse premises for internal transportations. Also, the industry as a whole is trying to incorporate solar-enabled solutions but the work in still in progress. While the leading logistics players are focused on E-waste management and water recycling, companies are getting new modern offices that are LEED certified. This way, maximum sunlight is utilized while reducing the amount of electricity consumption.
What are your anticipations about future changes in the market?
Two things come to my mind- Greater use of data and analytics. Logistics industry generates humongous amounts of data, which ideally can be used to improve the efficiency, overall optimization, and predict demand. Companies are increasing the use of automation and robotics, as the manpower is getting expensive and things are getting repetitive in nature across supply chains and workforce.
Next is the increased adoption of blockchain. Although it is in its nascent stage, it can revolutionize the entire logistics industry. By ensuring greater transparency, greater security can be achieved which brings in a lot of efficiency in the supply chain. We will be coming across lots of advancements in the blockchain technology in the future. Most importantly, the logistics industry should focus more on sustainability to reduce its environmental impact. Besides, customers and regulators are demanding more sustainable practices as well. This will result in the adoption of green, alternative fuels at least for the transport that is road-borne.
Another anticipation that is set to change the future is demand warehousing, which is set to pace up big time with e-commerce booming and deliveries going big.
What is your advice to upcoming leaders in this position while unlocking new
opportunities?
Stay update with the industry trends. Embrace technology to find solutions to the challenges and problems that are faced due to technology. Your mindset should continue focusing on customer service, and stay connected to the ground. Listen to what your customers say to be aware of the challenges that lay there. This not only helps solve problem statements, but makes a huge humongous impact on your business as well. Building strong teams to capitalize upon new opportunities, since everything else can be replaced but not your team. Show them the way to upskilling, the path to appreciation and work satisfaction.