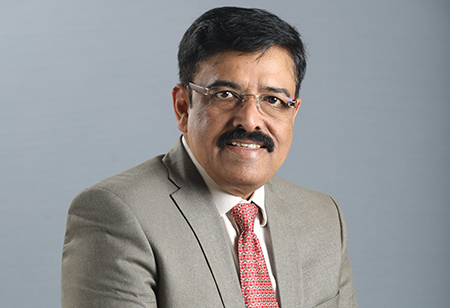 Shashi Amin, Chief Executive Officer (Cable Solution), APAR Industries Limited, 0
Shashi Amin is the Chief Executive Officer (Cable Solutions division) at APAR Industries. In the cable industry, Shashi has more than 30 years of expertise in sales and marketing, business development, plant operations, and P&L management. He formerly served as the association's director for Indian Electrical and Electronics Manufacturers (IEEMA). In 1989, Amin graduated with a bachelor's degree in engineering from Amravati University. At Mumbai's Principal L.N. Welingkar Institute of Management and Research, he earned his master's degree in marketing management in 1995.
The adoption of latest technology, growing economy, population, industrialization and urbanization has led to a steep increase in energy demand in India.This was witnessed on January 2023, as India recorded a double-digit year-on-year growth of nearly 13 percent to 126 billion kWh units (as per government data).
The government is successfully working on delivering this ever-growing electricity need with a massive expansion in renewable energy sources, led by solar and wind energy, to provide quality of life to every Indian.
Sustainable Business Practices & Increasing use of Technology in Manufacturing
In recent years, there has been a growing global focus on environmental, social, and governance (ESG) factors as key drivers of sustainable business practices. At APAR, we have always believed in working in harmony with our environment and take conscious efforts to reduce the impact of our business on the society and environment. Accordingly, we have been addressing Environmental, Social and Governance (ESG) aspects for years. We have also been setting our sustainable development goals in line with the United Nations Sustainable Development Goals (UN-SDGs). Now sustainable business practices are also being increasingly valued by our customers as well as investors.
Alongside this, the advent of Industry 4.0, characterized by the integration of advanced technologies and automation in manufacturing and other sectors, is transforming industries and economies. Industry 4.0 is revolutionizing the way companies manufacture their products. Manufacturers are integrating new technologies to collect real time data which combined with analytics allow for better decision making in the production processes. This will eventually lead to predictive maintenance, self-optimization of process improvements and, above all, a new level of efficiencies and responsiveness to customers not previously possible.
Low Voltage Cables Segment
Amidst extraordinary success in the energy development sector, many challenges still remain at the forefront, as counterfeit or inferior wires and cables cause a growing concern in India. These inferior cables cannot sustain a surge in power and can easily get damaged or compromized due to rodents due to poor polymer quality of outer sheathing, resulting in short circuits.The low-voltage cable segment is the largest with market size of approx 24,000 crores. These cables are most widely used in all kinds of industries, infrastructure projects and a variety of other applications. Major growth drivers for this segment are infrastructure development, industries, data centers, railways, metro rail, power generation etc. Another key market is of house wires and flexible with a market size of about Rs.22,000 crore which grew at 22 percent in FY22. The parallel growth in real estate is the biggest demand driver for this segment. Housing sector is in an uptrend fueled by low interest rate during Covid period and demand in this sector has remained robust and sticky inspite of various rate hikes by the central bank.
As per NCRB data, in the past decade (between 2011-2020), India has witnessed1.1 lakh deaths due to electrocution. This adds up to about 11,000 deaths every year, or 30 fatalities every day! The primary causes of death are electric shocks and smoke inhalation. Yes, smoke! During a fire outbreak (due to short circuits), smoke kills more people than the fire itself.
These cases were noted in both the domestic and public spheres due to poor industry practices, improper or weak installations design, using undersized and inferior quality wires and electrical equipment. These gaps exist primarily due to a lack of understanding and education, consumers continue to buy substandard local brands willfully. The buying behavior is either to save costor due to a lack of awareness.
Currently, buildings consume around 30 percent of India's electricity. Two-thirds of the total buildings which will exist by 2030 are yet to be built. To prevent future fatalities, we can equip buildings with wires with new safety levels, current carrying capacity and energy-saving features, provided the same is included in the design stage.
On the consumer end, during a house re-wiring, one often leaves the choice of wires to the electrician or the contractor. It is important for the customer to question and know what's right for them. It is time for individuals to be their own experts, as an electrician may go in for a cheaper brand and still charge a premium.
Manufacturers are integrating new technologies to collect real time data which combined with analytics allow for better decision making in the production processes. Underground cabling may be a solution to reduce electrocution accidents and death, but it is a costly affair.
Medium Voltage Cables Segment
Another major fatality is seen due to the snapping of overhead lines or loosely hanging electric wires caused due to human negligence or natural calamities like storms, heavy rains, floods or due. These transmission lines are the connectors running between generating stations and distribution stations and range from 5kV to 100kV and are classified based on location, length, and voltage rating. Several incidents have been noted in India where wildlife or humans have been accidentally electrocuted due to overhead bare conductor lines.
Underground cabling may be a solution to reduce electrocution accidents and death, but it is a costly affair. Medium voltage covered conductors (MVCC) are the best economical solutions wherever the safety of humans and wildlife is challenged or compromized by bare conductors.
Additionally, overhead power distribution lines with bare conductors have several technical and environmental limitations, which cause frequent domestic and industrial electric outages. These cause power interruptions and outages and can even spark short circuits and fires. However, MVCC provides a reliable power source in the event of unpredictable power outage situations and power distribution to crowded or forest areas. It gives maintenance-free overhead line reliability and long-lasting solution to such power failures, providing an uninterrupted power supply 24/7 in domestic and industrial power lines.
According to CEA (Central Electricity Authority) guidelines and Central Forest Ministry it is mandatory that medium voltage covered conductors (MVCC) should be used in HT lines which are passing through the forest area for the safety of wildlife and in urban congested areas. MVCC is an ideal solution for distribution line passing through forest areas, densely populated areas, chemical zones and Road/Rail/river crossing.
MVCC is 100 percent safe from Power line tripping and can operate temperature up to 105°C which allows handling high loads. It is also suitable for high wind zones and high sandstorm areas. Fire retardant outer sheath helps avoid forest fire hazard.
As industry leaders, we are responsible for raising awareness among the masses and helping them choose what's right for them. We at APAR Industries are poised to continuously develop new products and solutions for our customers, delivering tomorrow's solutions today.