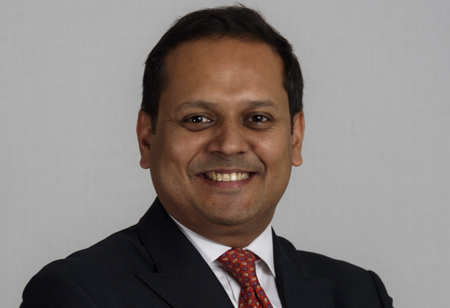 Gautam Saraf, Managing Director, Cushman & Wakefield, 0
Known as a committed, transparent, and dependable professional, Gautam is driving the organization from the front.
The impact of COVID on Indian real estate is now well-documented with a visible disruption to the way we live, work and play. A black swan event of such proportions and our state of readiness or rather non-readiness has inexorably pushed us towards reimagining our environment and surroundings as never before. Social distancing, hygiene, masks and health & safety will be integral to our lives till a vaccine is developed and deployed. Globally, the economic impact has also been unprecedented with no industry left unscathed.
India with its high rate of infection and a lockdown lasting nearly 4 months saw a significant impact on the economy. With economic activity at a virtual standstill, it was no wonder when our GDP fell by nearly 24%. With the unlocking underway but the effects of the pandemic still playing out, there is a considerable distance to travel before we are out of the woods, though good news keeps filtering in as the wheels of the economy have started turning again.
Real estate at a global level has seen deep impacts and the shape, extent and timing of recovery remains unclear.
While the Indian commercial markets have remained in sharp focus in recent times, the value of under-construction real estate in India (~$180 billion) is still being driven by the residential sector to the extent of nearly 80%. The winds of change catalysed by COVID-19 are now in full bloom, across the entire real estate asset lifecycle.
While the office markets have seen an expected blip in leasing activity (leasing activity likely to be down by 30 percent y-o-y for 2020) and the debate around Work From Home is yet to settle, a more flexible workplace strategy accompanied by physical space take-up is taking shape. Across the chorus of Work from Home, all major global corporates have still continued to take up space or committed to ongoing space discussions, highlighting the fact that while the way the office is viewed will undergo a fundamental shift, it will still remain very much a part of the work ecosystem. India with its talent pool and the existing tech ecosystem plus the still very relevant cost advantages remains central to global corporations' plans of outsourcing/offshoring. In fact, the offshoring trend is likely to pick up momentum in a changed environment. A key element of the office sector is also the increasing institutionalisation as global PE and sovereign funds continue to lap up quality office assets. Associated transparency and structured processes in institutional-driven office markets will also see heightened focus on assets that offer not only quality workspaces but also create a healthy and safe environment in the integrated complex. LEED and WELL certifications are likely to become more common as firms also look to offer a safe workplace to their employees even as they want to bring them back to work.
Retail, especially brick-and-mortar remains a work in progress in terms of recovery, but a unique situation is developing in the Indian retail markets as well. We will see quality mall developments will flourish even as those in non-central locations and with tertiary brands will likely bite the dust.
As the online marketplace and new commerce takes a bigger hold of the Indian wallets, most online brands will continue to expand through physical stores as the value accretion of omni-channel retailing works both ways. Short-term pain will give rise to better retailer strategy but also create more sustainable businesses that will last the distance.
The pain in the residential markets is not new. But increased consolidation in the wake of GST, RERA, demonetisation and the liquidity crunch brought about by the NBFC crisis is now gathering momentum with COVID-19 outbreak. While number of active players will reduce, quality brands will survive and that will bode well for customer confidence. Despite COVID, value driven residential markets and products have continued to find buyers. While more momentum is being seen in the ready, unsold inventory and secondary market which offer great bargains, new projects from quality developers have also seen a healthy demand. The support from a 15-year low interest rate regime, RBI relaxing risk weights for higher LTVs in bank loan portfolios, stamp duty cuts in certain states and the attractive payment plans have managed to turn around the buyer sentiment. With RERA ensuring information asymmetries are reduced to a great extent, prices have remained quite stable and ensured that buyers have entered the market with lesser trepidation.
While more momentum is being seen in the ready, unsold inventory and secondary market which offer great bargains, new projects from quality developers have also seen a healthy demand
The change in consumer and buying habits revolving around the new commerce segment, has given a further push to the warehousing segment. In-city warehouses for last mile deliveries, multi-level warehouses driven by AI, robotics and quality facilities as demanded by occupiers of such spaces is pushing the Indian warehousing sector towards acknowledging and creating assets which follow global standards.
Data has always been considered as the 'new oil'. An increased need for data storage as the use of smartphones, smart devices, online content consumption and technology as risen, has brought the data centres asset class into sharp focus as well. Concerns around data privacy, storage of citizens' data on local servers and the draft bill driving local data storage has driven the data centre revolution in India. To put it into context, India's installed colocation capacity of ~547 MW is slated to grow by a factor of 1.5X over the next four-five years.
Technology will continue to play a huge role in driving trends across all major real estate asset classes. Both consumers and creators of space will be the drivers of this change. From Contech (construction technology) to transaction lifecycle utilising VR/AR, immersive tech, 3D visualisation and GIS mapping to moving to predictive maintenance using IoT, AI and ML the speed of adoption will only increase as we move forward. As we move ahead and evolve further into living in an experience economy, the new challenge in the post COVID phase will be shifting from being just 'smart' about our buildings, to become 'smart' about how this can help measure, monitor and improve the human experience within the buildings. The next wave of proptech will also be focused on the experience of the occupier to drive human performance and wellness.
Increasing institutional money coming into the sector will also create an environment where technology will increasingly become the differentiator. We look forward to the next stage of evolution as the changes over the next decade get compressed in a world reshaped by the global pandemic.