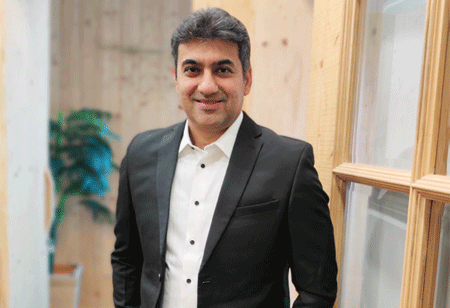 Sameer Bhanushali, Founder, 0
As life around the globe has changed gears to pick-up pace, easy to grab, on the go snacks have increased in popularity. Keeping-up with global trends, the Indian F&B market has also witnessed a bevy of snack options enter the consumer market. However, a large portion of these snacks are unhealthy, and the ones that are not unhealthy, are often expensive. Sameer Bhanushali, an expert at agri-commodity trading of spices and dry fruits, observed this glaring gap in the market. Propelled by his observation, Sameer founded Bazana Foods, an FMCG brand with a wide range of healthy roasted nuts, seeds and trail mixes at an affordable price range.
Founded in 2019, the company intends to redefine the snacking segment and appeal to the increasing health conscious consumer of today. Determined to reach the masses in India, Bazana Foods has taken the route of small mom & pop kirana stores and Pan shops to gain visibility. In a candid conversation with the CEO Insights, Sameer introduces us to the various facets that make Bazana Foods one of the strongest entrants in the Indian F&B market.
Throw some light on the current trends prevailing in the Indian snacks industry. How have these factors affected Bazana Foods' market positioning and strategies?
As product innovation becomes commonplace, the Indian Food & Beverage market has been rapidly changing and adapting to existing global trends. This change is being facilitated by startups who are not scared to take risks. These new age products are being adequately rewarded by an Indian consumer who is more aware and willing to experiment with newer products. Additionally, a new wave of health conscious consumers has emerged in the market.
Having conducted a detailed research & analysis of the existing snack market in India which grossly lacked a healthy snack product in the mass segment, we launched Bazana Foods in 2019. We aim to winover the impulse snacking market with our modern packaging, design and higher value proposition. Our objective is to facilitate a paradigm shift, where the consumer shifts from unhealthy eating to conscious healthy eating.
Give us an insight into the various products that Bazana Foods offers to consumers.
Since we cater to a demographic that lives an active lifestyle and wants healthy on-the-go snack options, all our products are roasted and not fried. Our base products are almonds, cashews, pistachios, cranberries, seeds and others, which are super foods. Known to be protein rich, high fiber, zero cholesterol, aphrodisiacs, and great for a healthy heart, mind and body, these super foods have always existed in consumer psyche since time immemorial. We just added a tasty twist to these healthy foods.
What strategies has Bazana Foods adopted in order to create a strong position for itself in the Indian snack market?
It was during my early days as a HUL Distributor when I noticed that a Pan shop could sell shampoos, hair oil, soaps and more. The idea struck me and inspired me to place Bazana at local Pan shops and small kirana stores even though everyone felt that these were not right points of sale for our products. Nobody had so far thought of selling almonds, cashews, pistachios at a neighborhood mom & pop kirana outlet or a Pan shop. However, our approach was different. We didn't want to be an elite niche brand that was available only at high end format stores, but were looking to hit the very belly of Indian FMCG market, i.e. the Kiranas

Getting the local stores to keep our products was a tough nut to crack initially since they had only so much space to accommodate the products and were more comfortable with a known brand from a big FMCG company. But within the first year of our launch, we successfully placed our products in more than 10,000 such outlets in Mumbai, Pune, and Bangalore, a commendable feat for a young company launching a new brand. Our success lies in winning over their confidence and registering ourselves as a brand they could trust.

AAPL, Bazana Foods's parent company, has vast experience in sourcing and processing almonds. How does the parent company's expertise help Bazana Foods become a category leader and ensure the highest product quality?
Bazana Foods' parent company, Ashapura Agrocomm Pvt. Ltd. (AAPL) is one of the largest almond importers and processors in India. Founded in 2013, the firm handles a volume of over 8,000 metric tonnes per annum. Owing to years of experience in raw commodity trading and processing, we have built the right channels of raw material procurement for our products, which forms a strong foundation for Bazana Foods. Our expertise lies in ensuring the right variety & mix for each product variant, thereby making each product unique for the consumers.

In order to deliver the best quality products, we have built a massive 25,000 sq. ft. facility replete with the latest state-of-the-art machinery. The plant is in the process of receiving BRC (British Retail Consortium) certification which is among the best global food safety standards in the world.

What is Bazana Foods' road map for the near future?
Our R&D team is constantly working on the future line of products, which could be game changers in the years to come. However, at present, we are focused on making the existing range of products successful across all formats. We are working towards becoming a national brand available in over 100 cities of India with more than one lakh point of sales within the next three years. We want to be the category creators and category leaders of nuts, seeds and trail mixes in India.

Sameer Bhanushali, Founder
A passionate entrepreneur with a strong vision for creating successful ventures, Sameer began his career as a finance trainee at HUL in 2002. Goingon to become one of the youngest distributors ever hired by HUL, his current strategies are a synergy of his learnings from HUL distribution days & 14 years in Agri-commodity trading of spices and dry fruits.

Offerings: Roasted salted almonds, cashews, pistachios, pumpkin seeds & sunflower seeds, trailmix cranberry fusion, roasted, unsalted almonds & cashews
Locations: Mumbai