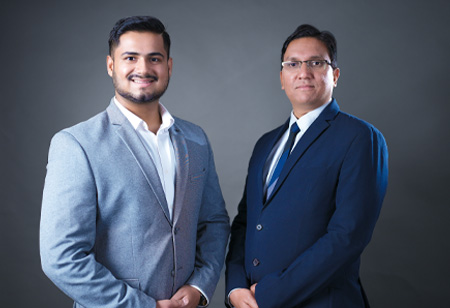 Ashish Narain Agarwal, Founder & CEO, & Tushar Shrivastava, Co-founder & CTO, PropertyPistol, 0
Ashish Narain Agarwal{Right Side} & Tushar Shrivastava {Left Side}
Ashish Narain Agarwal is an alumnus of IIT Kanpur and is a veteran and a thought leader in the real estate space aiming to bring a revolution in the sector. Ashish strongly believes in the positive development that technology can bring and he has inspired the team at PropertyPistol to always be abreast of new technology in real estate that can be relevant in serving the customers better.

Tushar Shrivastava, an IIT Bombay alumnus, has played a pivotal role in making the traditionally-driven real estate industry realize the innate potential of technology. Tushar has further specialized in Ruby on Rails, Product Strategy, Digitizing Businesses, Engineering, and E-Commerce.

In a conversation with Bimlesh Prasad, Correspondent, CEOInsights India, Ashish & Tushar discussed their views on how the real estate industry's digitization may change people's behaviors.They also discussed how to effectively lead in the digital age by striking a balance between technological advancements and moral obligations.
How are digital tools changing the face of the real estate sector?
Ashish: The advent of technology in India proved beneficial for all sectors by disrupting the conventional ways of businesses and offering new shoots of revitalization for the industry. Earlier, real estate in India has only witnessed personal/one-on-one interactions. Technology adoption was restricted only to the construction and infrastructure industry and was gradually making its way into the real estate services industry. It was in 2020 that the need for technology was prominently felt and 'connecting' online became a norm. The digital tools have made it easier for real estate agents and property owners to list their properties online and buyers can seamlessly search for properties on real estate websites or mobile apps, which have replaced the traditional classified ads in newspapers. The period after 2020 saw the boom of technology in real estate in India with Artificial Intelligence helping in diving deeper into understanding various nuances of customer's buying behavior, undertaking accurate representations of properties, automated documentation, analysis, etc. One cannot oversee the relevance of electronic signatures, online payments, and digital contracts which have replaced the need for in-person meetings, reducing the time and cost involved in completing a real estate transaction. Augmented Reality/Virtual Reality has substituted site visits to give exact descriptions of properties, clarifying minute details and information and they offer a virtual experience to the customer that is as good as him/her visiting the site. Big data analytics and machine learning algorithms can provide insights into market trends, property values, and buyer behavior, allowing agents to make more informed decisions.
As digital transformation creates opportunities in the marketplace, how should leaders develop working structures that attract and retain talent to score organizational and people goals?
Tushar: In today's world, digital transformation does play a very crucial role. A successful digital transformation ensures improvement in the organization's performance and helps in sustaining it for a longer period. A leader should focus on developing robust internal tools that will optimize the time taken for completing the work, and help strategize the successful implementation of business plans that ultimately results in improved processes. The success rate of a digital transformation also depends on the employee strength of the company and how quickly it is adopted across the organization. It is the responsibility of the leaders and the top management to be very well-versed and fully convinced of the digital tool being adopted for the transformation before the employees. Next, it is important to sensitize the employees about the relevance of the new platform in crisp and clear communication. Interacting and taking suggestions from other leaders in the organization is a good way to gauge how fruitful a digital transformation can be and whether there are any other means to incorporate a seamless, streamlined and effective digital transformation. A digital transformation is a gradual process and the three key things a leader should be wary of are whether the transformation is incremental, cost-effective and sustainable.
How should leaders stay ahead of booming technological advances to stay ahead of the curve?
Tushar: A modern leader always plans forward. With scores of tech developments almost every day, it becomes challenging to stay updated about each of these. Here are a few ways that leaders can stay abreast of technological advancement –
a. Read enough sourced articles that will help you grasp the latest tech development. Tech newsletters, tech podcasts, research reports, online tech platforms and expert groups on social media are good ways to stay updated on every tech trend.
b. Adopting a culture of letting employees explore and experiment with the latest technology will make them scout for newer developments in technology and in turn create a pool of ideas and suggestions that might be useful to the company.
c. Get a team to stay updated on the latest tech developments and schedule a weekly meeting with them for concrete discussions.
d. Events and gatherings related to technology should be the most efficient way of keeping yourself up-to-date on technological trends. The panel discussions and networking at these events will help give you fresh perspectives and new ideas.
A leader can lead by his example and motivate the employees by encouraging open chats, brainstorming discussions, activities, and exercises that challenge their brains and enhance their thinking capacity.
Despite technology's ability to bolster operations and provide advanced capabilities, how should a leader create a balance between digital advances and ethical responsibilities to lead effectively in the digital age?
Ashish: A leader's main duty is to strike the proper balance. He should be progressive in thinking with the knowledge of the latest advancements, current trends, and technological developments in the sector. He should be a visionary, be adept in selecting the right team for the organization by understanding their caliber and also be cognizant of steps to retain this talent. A leader should create a conducive environment for conducting training sessions for upgrading the skills of the resources and should show as much interest in the holistic development of valuable resources in the organization as he would in proliferating the company's business. It is pertinent to develop a tech-inclined culture in the organization that would inspire the teams to inculcate technology and make it a part of the company's ecosystem effectively. A leader can lead by his example and motivate the employees by encouraging open chats, brainstorming discussions, activities, and exercises that challenge their brains and enhance their thinking capacity.
How the real estate sector would evolve in the future, and what kinds of developments or opportunities may unfold?
Tushar: Advanced construction technology, and application tools have helped drive the evolution of the real estate sector. Technologies like Artificial Intelligence, Augmented Reality, Virtual Reality, and the Internet of Things have been playing a pivotal role in boosting the sector. Apart from enhancement in construction and technology, the real estate industry has been witnessing growing demand for smart homes, luxurious residences, plotted developments, gated communities, sustainable living, and ultra-modern amenities. The demand for all-inclusive and exclusive properties would be due to aspirational lifestyle, dual and extra incomes, millennial interest in buying homes, NRIs looking for homes in their land and foreigners' interest in the Indian market. The Government is positive about the sector, hence the growth of infrastructure, motivation to affordable homes, online approvals, and rebates in taxes for a few segments has been proving beneficial for the buoyancy in the sector.
What is your advice to budding leaders while hacking new avenues in the years to come?
Ashish: There are a lot of young entrepreneurs in the nation who are willing to pursue their dreams and who have new ideas. My advice to them is to stick to their goals, not forget their roots and put in their 100 percent to achieve what they set themselves out for. It is also necessary to be flexible and ready to accept any change or transformation and have complete faith that with patience and perseverance, anything is possible.