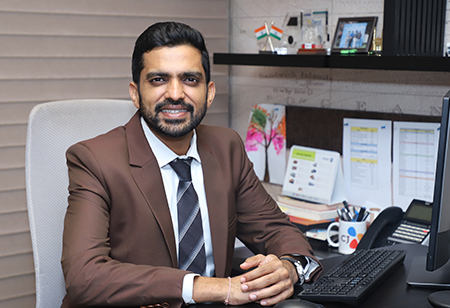 Nikhil Agarwal, President- CJ DARCL Logistics, 0
Nikhil Agarwal is currently the president of CJ Darcl Logistics. Nikhil has expertise in setting up coastal multimodal, as well as full truck multimodal logistics and ODC movements. He is playing a key role in establishing and creating ESG gold standards at CJ Darcl's in order to make the company future-proof. Post-graduating from Nottingham University Business School in Finance and Investments, Mr. Nikhil Agarwal is a second-generation entrepreneur and is playing a key role in changing the landscape of the Indian logistics industry.
The logistics industry plays a significant role in India's economy by ensuring the safe storage and distribution of commodities across the country. However, due to the large size, weight, and sensitivity of the cargo and equipment used to transport them, the industry poses significant safety risks. According to the World Health Organization, road accidents is the major concern in India estimating around one out of every ten people across the world, are from India. According to the recent report of the Ministry of Road Transport and Highways, (2021), 4,12,432 road accidents have been reported in India, claiming 1,53,972 lives, and causing injuries to 3,84,448 persons.
To ensure safe and efficient operations, effective logistics safety measures must be implemented at every step in the supply chain, from the factories with raw materials processed to the plants where finished products are delivered. Logistics companies must identify and mitigate risks beforehand, which involves proper handling and storage of materials, regular maintenance of vehicles and machinery, and thorough training of drivers and operators.
It is essential to imbibe a safety-first culture in the transportation and logistics industry. Regular training and education programs should be implemented for employees at all levels, including complete guidance on the safe handling and storage of hazardous materials. Workers in the logistics industry often face risks such as manual handling, exposure to dangerous materials, and traffic accidents, and such risks can be replaced or operated with the help of forklifts and other equipment, thereby reducing the risk to blue-collar workers.
Inspection and Maintenance
Regular inspection and maintenance of trucks and equipment can prevent malfunctions, breakdowns, and mechanical issues that lead to further accidents. Proper loading and unloading procedures, as well as, secure storage facilities, can prevent damage to goods and reduce the risk of accidents. Logistics companies must ensure compliance with all relevant regulations and laws, including compliance with speed limits and load limits, as well as, ensuring that drivers are properly licensed and qualified. Proactively addressing safety concerns by conducting risk assessments and identifying potential hazards can prevent accidents and injuries that lead to a loss in productivity, increased insurance premiums, and legal liabilities.
Safety Concerns in Multimodal Transportation
Multimodal transportation, including coastal shipping, air logistics, and rail logistics, poses additional safety hazards. Coastal shipping logistics include cargo stability to ensure the ship remains balanced and stable, the threat of fire spreading through the ship, and collisions with other ships or objects in the water due to navigational errors, mechanical failures, or adverse weather conditions. Air logistics include turbulence causing cargo to shift or fall, changes in air pressure and temperature affecting the integrity of sensitive cargo, and the risk of human error, such as pilot error, leading to accidents that result in injury or loss of life.
Rail logistics include derailments that can occur due to mechanical failure, poor track maintenance, or human
error, collisions with other trains or vehicles at rail-road crossings due to human error or poor visibility, and the dangers of hazardous materials if not properly handled and transported.
Implementing and adhering to strict safety protocols and procedures, routine maintenance and inspections, proper training and certification of personnel, appropriate handling and packaging of cargo, and effective communication and coordination at all levels in the logistics process is crucial to ensure safety in the industry.
Improve the Efficiency and Productivity
Effective safety measures in the logistics industry help to improve the efficiency and productivity of operations. Accidents and injuries can cause delays in the supply chain, which can lead to higher costs and lower profits. Implementing the safety at the right time and at the right place can result in more efficient functioning of supply chain, with fewer disruptions and faster delivery times.If goods are damaged during transportation, it can lead to financial losses for the logistics company and its customers.
By prioritizing safety, logistics companies can reduce the risk of accidents, improve efficiency and productivity, and ensuring the growth and development of Indian economy.
Focusing on the safety, CJ DARCL Logistics is equipping tech-devices to all its fleets. The company is also planning to maintain the driver's scorecard and incentivize them on the basis of their driving skills. CJ DARCL Logistics is improving its fleet management and is setting-up new safety standards by adopting cutting-edge technology in their operations.
Way Forward
Edging forward, we can say the government is aware about the Significance of the Road Safety in the industry and the Indian government has taken several steps to improve road safety and reduce the number of accidents on Indian roads by inculcating and revising the several road safety standards. These steps include the enactment of the Motor Vehicles Amendment Act, 2019, which includes strict penalties for traffic violations, an increase in compensation for victims of road accidents, and the promotion of road safety awareness through campaigns and education programs. The government has also launched several initiatives, including the National Road Safety Policy and the National Road Safety Council, to improve road safety across the country.
In addition to the government's efforts, the logistics companies in India must take an active role in promoting safety in their operations. This includes investing in safety measures, providing regular training and education programs for employees, and adhering to all relevant regulations and laws. Companies must also conduct regular risk assessments and identify potential hazards to prevent accidents and injuries.
India's logistics industry has the potential to become one of the safest in the world. CJ DARCL has recently taken Zero Tolerance for Road Accidents, 2025 as with investments in safety measures and training, logistics companies can reduce the risk of accidents and ensuring the safety of their employees, customers, and the public. Companies that prioritize safety can also gain benefit in insurance costs reduction, increase in efficiency, and improve in reputation.
In conclusion, safety must be a top priority in the logistics industry in India. The risks associated with the transportation and storage of goods can have serious consequences for employees, customers, and the general public. Logistics companies must take proactive steps to identify potential hazards and implement effective safety measures at every step in the supply chain. By prioritizing safety, logistics companies can reduce the risk of accidents, improve efficiency and productivity, and ensuring the growth and development of Indian economy.