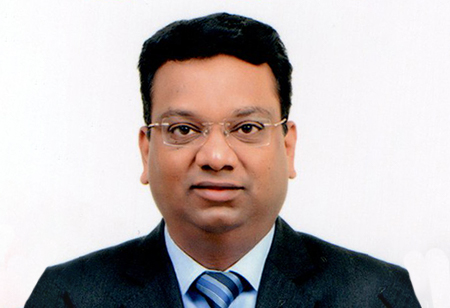 Nitin Gupta, Group Chief Finance Officer, Asian Institute of Medical Sciences, 0
Having completed his B.Com (Hons.) degree from Delhi University and Chartered Accountant from ICAI had undergone Advanced Program in Strategic Management from IIM Lucknow, Nitin is a experienced finance professional with over two decades of experience in the accounting and finance space with astute analytical skills in new edge financial ecosystem. Prior to joining AIMS in 2018, he has worked handled key finance functions across SRL Diagnostics, Vatika Group, DS Group and DT Cinemas.

CEO Insights recently got a chance to interact with Nitin, wherein he shared his insights on the current healthcare industry in India and various financial aspects pertaining to it. Below are the excerpts from the exclusive interview.
Give us a brief overview of the current healthcare industry in India.
Every sector has come across various stages and thus faced diverse set of challenges over the years. Similarly, each of the sub-verticals of the healthcare industry is facing a different challenge. As a result, business across all the sub-segments are required to innovate and maintain a competitive edge to survive in today's dynamic and hyper-competitive business scenario. Additionally, due to reduced margins and increased costs, they are now facing an arduous task of being more cost-efficient while simultaneously not to cut corners on patients' services.
Also, there has been an increase in the number of large private hospital chains entering into the market in recent times, and the venture capitalists too are showing more interest in investing in these businesses. As a result, the regional and small hospitals are facing a lot of difficulties in handling this tough competition and staying afloat in the market. Furthermore, the government has introduced regulations on the DPCO pricing and launched initiatives such as Ayushman Bharath and Gramena Seva Kar to make quality healthcare industry accessible to all classes of the society at affordable price.
Tell us more about the major challenges currently being faced by healthcare companies in India.
Unlike the Hospital like AIIMS being backed by government grants and backed by highly experienced Doctors, the private hospitals chains has its own set of challenges, they will not be able to offer desired affordable, quality healthcare support to patients without the financial aid in terms of duty free purchases, liberal tax on medicines and consumables and encouragement from the government. Presently, Healthcare service providers have to borne entire GST in its cost in regard to all purchases of medicines and other operational cost which otherwise can be reformed by respective authorities to bring healthcare under Nil rate or taxable category of GST regime. Secondly, ensuring data privacy and preparedness to detect and effectively respond to computer security breaches and intrusions, malware attacks, phishing attacks, theft of data and intellectual property from both outside and inside the network is pivotal for mitigation of Cybersecurity threats. Thirdly, providing skilled doctors, nurses and other necessary manpower to tier-II cities is a daunting task, as they feel
they might not be able to get as much remuneration in those places as in tier-I cities. Also, hospitals are now facing a tough task of maintaining a same pricing while providing same quality of healthcare at affordable price in both cities and village areas. This has been another major challenge for healthcare providers in India today, given the varying income levels of people across rural and urban regions.
How can healthcare organizations leverage analytics and reporting tools to gain insights and support strategic decision-making?
Data analytics enables healthcare organizations to identify patients' trends & disease patterns, gather insights from it and then make an informed decision making process. It is imperative for us to align with the data analytics and accordingly device customer acquisition strategies through suitable channels in order to retain their customer base. Increased integration of modern day technologies like robotics and data analytics by healthcare enterprises has been a true enabler and the driving force behind the growth of healthcare market in India. This becomes mandatory when a healthcare business wants to increase its profit margins and mitigate business & financial risks.
How do you ensure financial stability and profitability in a healthcare organization, considering the complexities of the industry?
Firstly, healthcare providers must maintain complete transparency with their patients pertaining to the total treatment cost. Secondly, we need to lower the costs of prescription drugs and encourage the usage of alternative medicines. Healthcare providers must inculcate the practice of suggesting alternative treatments instead of regular allopathic medicinal treatments, which will not only cut-down treatment costs for patients, but also increase their trust on the hospital and strengthen the relationship between healthcare providers and their patients. This will in turn result in having a loyal patient base and increase in repeat customers, thus accelerating the value based patient care models by healthcare providers.
Healthcare providers must inculcate the practice of suggesting alternative treatments instead of regular allopathic medicinal treatments.
What strategies do you employ to manage financial risks, such as reimbursement changes, regulatory compliance, and market fluctuations?
We heavily rely on data analytics to stay updated with the constantly changing market dynamics. We have various tools in place to keep an eye on the current consumer behaviors. Only after a clear market research we have a clear view of consumer demands & geographical pricing, which will enable us to formulate business strategies accordingly to offer the value, based patient care models to large population.
How do you approach budgeting and financial forecasting in a healthcare organization?
It is always a wise move by the organization if it involves its every employee at least to some extent in the decision making process. Thus, we interact with each of our center heads and their teams to gather more information about the market, customer requirements, local regulatory framework and the kind of specialized value-add they can deliver prior to taking any critical business decision. This way, we also get to know if there's a need for any additional budget allotment for achieving our set targets.