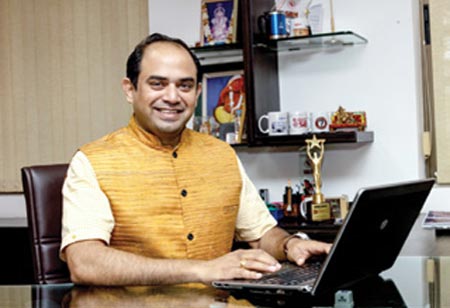 Dr. Ramakrishnan Raman, Director, Symbiosis Institute of Business Management (SIBM), Pune, 0
Passionate about working and interacting with future leaders of the corporate world, Ramakrishnan is passionate about teaching subjects like MIS, ERP Systems, and others.
If one looks at the cost of higher education, then India will be the destination that offers higher education at a meager price. Despite this, India is not the sought after destination for global students who aspire to go ahead with undergraduate or postgraduate education.
On the contrary, many students from India travel to the United States, Europe, and Australia to pursue their master's program in engineering and management. The rules and regulations that govern internationalization policy in India are very complex. Even today as per the UGC directives a joint degree cannot be offered by even those universities which are rated high by NAAC (National Assessment and Accreditation Council) - the organization that assesses and accredits higher education Institutions in India or NIRF (National Institutional Ranking Framework) ­ the methodology adopted by the Ministry of Human Resource Development, Government of India, to rank institutions of higher education in India.
The National Policy on Education was modified in 1992. In the past decade, several changes have taken place that made the current government look at the need for a revision of the National Policy on Education. The Indian Government is planning to bring a revised National Education Policy (NEP) to meet the changing dynamics of the population's requirement with regards to quality education, innovation and research, aiming to make India a knowledge superpower by equipping its students with the necessary skills and knowledge and to eliminate the shortage of manpower in science, technology, academics and industry. The policy also has a clause related to internationalization. Possibly this is the first time that the Government of India is embarking on a time-bound grassroots consultative process, which will enable them to reach out to individuals across the country through direct consultations. Many are expecting NEP to bring in some progressive changes in Indian education set up and also a welcome change that can enable higher education institutions to collaborate with foreign universities even in a better fashion.
This being the case, how are Indian higher educational institutions empowering education by collaborating with foreign universities? There are several models which are adopted, and each one of them has their own merits. One model is like that adopted by institutions like ISB - Indian School of Business which is not accredited by the All India Council for Technical Education (AICTE) and has not applied for such accreditation, offers programs by collaborating with best institutions like the Kellogg School of Management and the Wharton School, which provide expertise and academic resources. In spite of
having no approval from bodies like AICTE and UGC, their students still opt to join the program as they see value in the same. Another model is adopted by many other premier B Schools and engineering institutions, which provide an opportunity for their students to earn credits from foreign universities, which are then transferred to their own system. Such short term immersion programs are conducted for a period of one week to three months, which is approved by the regulatory authorities.
While paying in the local currency, companies can hire global managers at half the cost
Several Indian Universities have also signed MoU (Memorandum of Understanding) which enables a two-way exchange of students and faculty members and also collaborate for research and also for imparting academic knowledge. Although the teaching profession has never been a highly lucrative option in terms of salary offered, there is a huge disparity in pay structures for teaching faculty members between the United States and India. This makes it almost impossible to attract faculty members from the United States or the United King-dom. Hence several Universities engage with the faculty members by collaborating with them, by creating positions like Adjunct Professors, Chair Professor or Distinguished Professor positions. This allows the students to learn from the globally known academicians who are engaged in teaching and research in globally renowned universities.
Another question that is asked is, how will the engagement with foreign universities help?
Foreign collaborations generally help Indian students get access to global education at a much lower cost. It also helps students to develop a global personality. Those students who participate in student exchange programs learn about other cultures while still being home, and gain an enriching academic experience. Also, the exchange program attracts a targeted group of students who understand and value foreign education. This brings together a richer network of students who, in turn, become brand ambassadors for the institute and create a rich and diverse student profile.
For the faculty members, the collaboration can help in them getting exposure to the `real' international network. Such collaborations can help in imparting training programs for the faculty members who can get an opportunity to know about the global standard processes followed in academia and also about academic administration. Such collaboration also helps Indian universities to tweak their curriculum, which is in line with the global standards.
Of all parties involved, the industry acceptance and the way industry values the collaboration becomes the litmus test of foreign collaboration. Multinationals looking for local talent with a global perspective prefer students who have exposure to the foreign culture, foreign language, and at least an immersion experience in a foreign land. Foreign collaborations that facilitate student exchange generally ensure that candidates have a real-life experience living abroad. Also, companies have to pay considerably less than their global counterparts, which recruit on foreign campuses. While paying in the local currency, companies can hire global managers at half the cost.