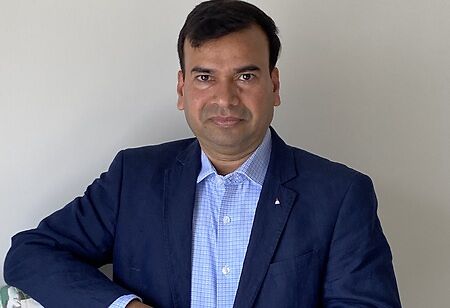 Vinod Bidwaik, Vice President- HR & CHRO, Alfa Laval (IMEA), 0
Vinod Bidwaik, Vice President- HR & CHRO, Alfa Laval (IMEA), is an adept human resource individual with a keen eye overseeing HR transformational as well as the business' wellbeing. With 20+ years down the line, Vinod creates and cocreates, while passing his intellect to the upcoming generations nurturing their growth. Upon on insightful conversation with CEO Insights, Vinod unlocks new knowledge shaping the HR management today.
In conversation with
Vinod Bidwaik, Vice President- HR & CHRO, Alfa Laval (IMEA)
Give a brief account about your professional journey and major milestones.
Somebody has said "If opportunity doesn't knock, build a door." The same philosophy I followed in my life. People assume that a successful career is climbing the ladder step by step to achieve the goal or position you attain. However successful careers take some stumbling, falling, picking up turns. I learnt a lot from those stumbling actions. My career started with the Indian company as a management trainee for recruitment and training but after six month's I had to work with my manager in handling conflicts within the union. That gave me a different perspective of the profession. I have different experiences across companies, though it is Indian or MNC. I strive to create, co create new things, practices, initiatives and that took me to a higher level intellectually. I believe that the decisions you take today will impact the future tomorrow. My professional journey from management trainee to CHRO is full of fun, ups and downs, with a great learning experience.
I got the opportunity to work on HR transformation, facilitate business and sales transformation, organizational redesign, optimizing business along with implementing professional talent management systems, leadership initiatives, digitization and helping people to grow in different organizations. Those achievements are rewarding of course.
How has COVID-19 changed the HR role today?
HR professionals played a major role during Covid19, and they should be appreciated and congratulated for their contribution. I was leading the crisis management team during this period and realized that the HR team can make wonders even during stressful situations. The role of HR has changed many fold. Employee experience, digital transformation, health, employee care and wellness etc., has to be integrated into the regular HR processes due to hybrid workplaces. HR has to support creating emotional workplace, digital workplace, social workplace and physical workplace to keep employees engaged and productive. One of the positive consequences is that HR is now getting due credit and they are considered trustworthy business partners by business leaders. This itself is a big change.
What should go into building and maintaining culture?
Culture can make or break organizations. Culture is what happens when nobody's looking. It is "the accepted way of doing things" or the "appropriate way to make things happen" in the organization. However, culture is always unique. A company creates its unique identity from the way its people think, act, and behave, that are directly influenced by its culture. You can fail despite great strategies and processes in place if your culture is not right. Organizations need to be agile, and everybody has to take accountability to create the right culture. Of course, leadership has to be clear what behavior employees need to demonstrate. Leadership has to be a role model to create the right culture within the organizations.
Culture has following imperatives,
● Creating, building, and maintaining is every employee's responsibility but accountability is with the leadership team. Leadership has to demonstrate right behaviors.
● Game Rules have to be fixed, the way an organization does business, and people interacting with each other, has to be defined.
● Values and behaviors are the foundation of culture. That has to be defined properly and employees should be trained regularly. This should be an everyday discussion. For example if you want people to follow safety, then your presentation should start speaking on safety and importance of safety with safety KPIs. Same applies for other imperatives.
Jack Welch, "This business game is all about winning; the team that wins is the team with the best players. And your job is to place such players".
How is technology influencing HR management today?
There are three reasons why technology is necessary in HR.
● Embedding the HR practices with business.
● Partnering with Business, and
● Employee Experience.
To facilitate the above, technology is necessary. Here are a few examples to understand this.
● Data driven HR and using people data for making right business decisions.
● HR Analysis (like C&B cost, productivity, competence availability, talent availability etc) but also predictive analysis (like cost projections, attrition projections, talent readiness etc.)
● Artificial intelligence for resume screening, candidate matching, talent intelligence etc.
● Gamification: For assessment centers, candidate screening, reward and recognition, employee engagement etc.
These technologies can be embedded with your regular HRMIS systems to have better employee experiences.
How would you emphasize the importance of a HR's operations in sync with an organization's main vision?
HR is a unique profession with HR professionals handling a lot of paradoxes. They not only have to enforce management philosophies, but are also expected to be employee advocates. They need to keep the balance. Sometimes this way of working keeps HR people in dilemma. Hence developing the skill of pushing people to take tough decisions is a challenge.
But when you are clear about the business needs, you need not to worry about the same. Our existence is for the business numbers. As rightly said by Jack Welch, "This business game is all about winning; the team that wins is the team with the best players. And your job is to place such players." Here comes the functional expertise and business knowledge. The HR professional who does not know his business, sales figures, company turnover, customers, products and dimensions, in which the business operates, will face failure as a HR Business Partner.
It is important to know the numbers and at the end of the day HR professionals should strategize the HR theme to support those numbers. It is crucial to play the role in change initiatives, aligning people towards strategy and vision, mission of the company and get the right input for ultimate output.
How should HR help people to find a new pathway forward?
The HR role is facilitator. HR has to be a coach, mentor and advisor for employees, managers and business leaders. To do this first HR has to reinvent by learning new skills and new ways of working. HR can help people by
● Creating right tool-sets,
● Building right mind-set,
● Developing the right skill-sets.