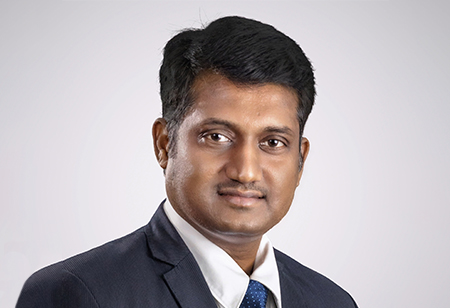 Jegapriyan Govindarajan, Managing Director (India), Garrett Motion, 0
Jegapriyan brings over 26 years of automotive industry experience to his role. As an engineer with an MBA, he has led Garrett Motion's Indian operations over the last three years, a period of fast evolution for the automotive supplier focused on emissions reductions and zero-emission technologies for both passenger and commercial vehicles. He collaborates worldwide with industry experts and emerging tech engineers, finding his role in the dynamic automotive sector both thrilling and fulfilling.

In an interaction with CEO Insights India Magazine, Jegapriyan discusses significant trends in the motor vehicle manufacturing sector and strategies for managing investments in electric vehicles. Furthermore, he provides perspectives on utilizing advanced technologies to tackle privacy and cybersecurity issues, along with insights into enhancing supply chain resilience after pandemic-related disruptions.
What trends do you predict in the motor vehicle industry in the next five years and their impact on the sector's landscape?
The past decades have brought intriguing growth and changes to the Indian market. As the energy sector evolves, India stands out as a high-growth market requiring diverse energy sources to power mobility and society at large. Amidst geopolitical shifts, the automotive industry faces key challenges, including the decarbonization of transport. Looking ahead five years, a clear shift toward reduced and zero-emissions future is discernible. Unlike more mature markets, India's path to zero emissions will take longer as we overcome economic and infrastructure hurdles. This transition, however, births numerous opportunities for automotive companies, tier 1 and tier 2 manufacturers, and even startups.
Throughout this phase, diverse technical solutions will emerge, subject to market testing. Over 10 to 15 years, convergence toward various forms of electrification seems likely. This transitional phase opens doors for various entities, not only established players but also nimble startups. Also, policies will shift to accelerate this transition, fostering a competitive landscape where multiple technologies co-exist in response to unique customer needs and market realities. We are optimistic about the vibrant trajectory that the Indian industry will experience in the coming years.
Which electrified auto technologies can significantly reduce CO2 emissions in the near future?
Today, there is an array of advanced technologies that allow combustion engines to be smaller, more fuel efficient and cleaner in terms of CO2 emissions. Among these are turbos, electric turbos that improve the performance of downsized engines and hybrid systems supported by smaller batteries, which in turn consume fewer resources. Alternative fuels such as e-fuels and hydrogen have role to play in the technology mix as well.
Zero tailpipe emissions vehicles such as battery electric vehicles (BEVs) and fuel cell electric vehicles (FCEVs) are generally positioned as the ultimate solutions. Garrett also offers technologies in this space, specifically fuel cell compressors, as well as e-propulsion and thermal management systems for BEVs. Transitioning into zero tailpipe emission vehicles requires a smart approach that fosters an ecosystem favoring greener solutions from production to consumer use, substantial infrastructure investments and major efforts to ensure broader affordability.
How can vehicle manufacturers balance investments in EV tech with developing hydrogen, ethanol, and CNG vehicles?
India thrives and consumes energy abundantly primarily from imported sources. Our massive size and growth rate, with a potential to reach around eight million in vehicle sales per year, entails huge growth and a degree of sophistication to satisfy demand across various mobility segments. So we must look at what makes sense to be more efficient and sustainably broadly and faster. Alternative fuels like CNG, E20 and even hydrogen have a role to play in India's technology mix, particularly in the commercial vehicle and off-highway applications
where the high cost, weight and range of electric batteries today limit their use on a large scale. In the interim, some of these fuel options have the potential of delivering significant reductions in CO2 emissions via fleet retrofits versus waiting for a complete fleet replacement.
How does the government support any additional initiatives or incentives for this industry?
Recent times have seen the emergence of numerous policy incentives like the PLI scheme, which aims at expediting greener technologies. The engagement between policy makers and industry bodies like CII and ACMA are encouraging. Among the range of technologies hydrogen stands as a promising solution, through the use of hydrogen fuel cell electric vehicles and hydrogen fueled combustion engines hence both can be covered under the scheme.
With advanced technologies like AI and machine learning in autos, how are privacy and cybersecurity concerns being addressed?
Automotive technologies are swiftly integrating machine learning for vehicle diagnostics and prognostics. The growth of connected vehicle technologies albeit still modest, holds promise due to the country's youthful and explorative consumer base. AI tools significantly enhance vehicle performance. However, India's cybersecurity landscape lacks maturity in regulations. Unlike the delayed implementation of the mandatory two airbags rule, cybersecurity demands proactive approach.
I would like to see young Indian entrepreneurs tackle the industry challenges that are unique thereby adding value beyond cost-competitiveness that puts India on the global automotive map with creative and sustainable solutions.
How has the motor vehicle industry coped with supply chain disruptions post-pandemic and improved resilience?
The pandemic has driven industries, including automotive, to strengthen supply chains for resilience and flexibility. Those who invested in digitization earlier could realize its advantage. The scarcity of semiconductors also sparked innovations. For global firms like ours, early digitization proved vital as we were able to visualize key data and navigate crisis. It also served for inspiration to refine processes and talent skills. Our industry has done a great job of exchanging learning's to strengthen our crisis preparedness. Change and disruption are part of our lives from every industry perspective.
What's your vision for the future of motor vehicle manufacturing in terms of innovation, market expansion, and mobility's future?
Increased connectivity is bridging the technology gap between developing markets and mature ones, accelerating the adoption of new technologies. Unlike the past, new technologies are now tested concurrently at both the markets. Skilled engineering teams in India support global development for multinational organizations, further aiding technology adoption. Domestic manufacturers' intent on earning a global presence and participating in electrification, currently are boosting investments, capabilities and their talent bench. We are observing a dynamic and exciting market environment, although not without risks. I look forward to seeing greater collaboration among traditional players and startups, as well with policy makers. Eventually, we will see some industry consolidation and gain better visibility. In the meantime, at Garrett we enjoy being in the midst of this action and inviting young Indian talent to join us in this fascinating journey.
Any advice for young entrepreneurs facing challenges in this industry?
At Garrett Motion we invest only in developing differentiated components that offer a true advantage over others. The Indian market is ripe for strongly driving innovations. I would like to see young Indian entrepreneurs tackle the industry challenges that are unique thereby adding value beyond cost-competitiveness that puts India on the global automotive map with creative and sustainable solutions. Electrification will come in many shapes and forms; our market currently is one of the largest laboratories available to explore new concepts with potential for mass scale success. Let's go for it.