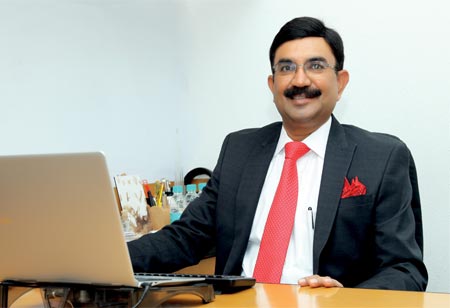 Subramanyam S, Founder, President & CEO, AscentHR, 0
Subramanyam S is an entrepreneur with immense experience in Finance, Legal and Business management. He is a corporate lawyer and a fellow member of "The Institute of Company Secretaries of India". A finance and business management specialist, it was Subramanyam's quest for bringing innovative solutions and services in the HR industry that led him to build AscentHR.His experience includes exposures in AdvaniOerlikon group, Shonk Technologies in finance, HR and corporate legal services.
With Work from home becoming the new normal, companies are rolling out new work from home policies and guidelines for providing infrastructural, work, and social support to the employees. Besides, the HR teams are trying their level best to keep employee spirits and productivity levels high during the lockdown.
Covid-19 is becoming the accelerator for one of the greatest workplace transformations of our lifetime. Adapting to the new normal, HR fraternity has responded quickly and have been at the frontline, since the lockdown began.
In the organization's response to the pandemic, the HR managers are now looking ahead and making changes to policies, structures, and practices to align with the new way of working. The implementation and development of all these changes need a close collaboration of all the stakeholders in the organization. However, the transition is not as smooth as it seems as the challenges posed by the new way of working has thrown up many questions that need to be addressed before the implementation of these policies.
Challenges Emerging From The 'New' Normal
1. With most of the staff working remotely, HR managers need to have a robust attendance model in place which has warranted changed in policies, practices and guidelines in the way work is monitored. The government should also come out with ways to aid this new normal and frame laws suiting the change.
2. The job description and role of employees need revision given the emphasis on individual contributor while accommodating new types of employment viz., part-time, flexi-time, freelancers and gig economy workers.
3. In order to monitor the productivity and efficiency of employees working remotely, new methods will need to be developed. This might completely overhaul the existing performance management system and might require the setting of new ways in which key result areas, targets, expectations, and rewards are managed
4. The revised policies and guidelines should incorporate the process of resource availability and utilization as and when need arises possibly through new automation processes.
5. Besides, to keep the culture of the organization highly spirited, HR managers will need to think innovatively and come out with ideas both for existing employees as well
as new incumbents to ensure cultural identity and efficacy.

As HR teams look to the future, they will realize that many practices right from recruitments, training to employee engagement, etc. everything will change and will redefine their roles.

1. Remote working is here to stay
According to a Gartner analysis, 48% of employees are likely to work remotely, at least after sometime post-COVID-19. A lot of industry leaders are also anticipating that remote working or work from home is here to stay in the times of COVID-19 and beyond. This would mean the transformation of brick and mortar workplaces to technology-enabled virtual workspaces and would necessitate the higher adoption of technology and digitalization.

Furthermore, keeping in mind the growing remote working culture, recruiters will look at a job applicant's digital dexterity and digital collaboration skills at the time of hiring.

One of the significant benefits that have arisen from this mode of working is that since recruitment would become location agnostic, HR managers can find suitable candidates from any part of the country or world to work for them.

2. The resurgence of the gig economy
A Gartner survey has also revealed that 32% of organizations are replacing full-time employees with contract workers intending to save costs. Utilizing contingent workers provides employers with greater flexibility in workforce management. In an intent to fill the vacant positions with contractual workers, HR managers will need to deal with challenges concerning the applicability of workplace laws upon the staff.

3. Emphasis on employee social safety
COVID-19 has clearly demonstrated the importance of human interactions and touch. It has also made us realize the importance of taking care of mental and physical health. Post COVID-19, organizations will continue their focus on employee safety and their emotional well-being. This will lead to the expansion of the involvement of HR functionaries in the lives of employees to ensure enhanced people connect.

4. Employee training
The impact of COVID-19 will majorly transform the job sector with many jobs and skills becoming irrelevant in the post-Corona times and many new jobs coming up that will demand new skill sets. HR managers will need to identify digital tools to impart training for employees, majorly revolving around the concept of working remotely. These programs will help them manage stress, build a positive outlook, and stay productive under the remote working model.

5. Use of Artificial Intelligence (AI)
There will be an increased application of artificial intelligence (AI) in the HR function in the times to come. AI will help recruiters find promising candidates from a plethora of job applications, and help organizations not only reach their diversity goals in the hiring process, but also retain top talent, and engage with employees through smart applications.

For HR managers, exciting times lie ahead, albeit with a host of challenges. This is also the time in which they can don the hat of role models and play a defining role in shaping the future of organizations. People, Policies, and Processes will be the three broad pillars on which they can build a new foundation for HR excellence.