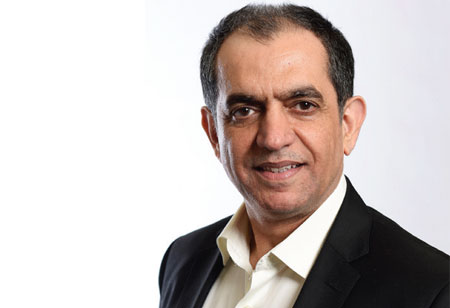 Yogesh Dhingra, Founder, MD & CEO, Smartr Logistics, 0
Could you shed light on the current scenario of the logistics sector, and which are the trends that intensified and emerged? How are digital tools adding value at each stage of the logistics journey? The Indian logistics sector is currently undergoing a period of rapid transformation and growth, which has brought in a mix of highrisk as well as opportunities for the industry players. The government's initiatives to promote digitalization have helped streamline processes and reduce paperwork. Moreover, new technologies such as IoT-enabled solutions are being adopted across the country to improve visibility, optimize operations, enhance customer experience, and ensure safety standards for goods in transit. With the rapid growth of e-commerce in India, logistics companies are increasingly focusing on providing specialized services for the e-commerce industry, such as last mile delivery and reverse logistics.
The introduction of Open Network for Digital Commerce (ONDC) and Electronic Data Interchange (EDI) is playing a key role in revolutionizing the logistics sector. Software solutions like Warehouse Management Systems(WMS), Transport Management System (TMS), Order Management System (OMS), and API integrations between stakeholders have made the process more efficient, and cost-effective, and allowed for smoother operations. Additionally, the introduction of the GST E-way bill system has supported a seamless journey within the sector in India.
"To realise the goal of becoming a global manufacturing hub, the government is now working towards building infrastructure to promote flexibility and better connectivity across the country"
What is your perception about the latest budget helping to position the industry to be on a competitive edge on the global market?
The government is taking vital steps to accommodate the rapidly growing logistics landscape in the country. In the Union Budget 2023, this was reflected in various reforms and allocation for flexible policies and better infrastructure. As a budding logistics company, we support the government's aim to reduce the overall logistics cost from a double-digit to a single-digit number. To further build upon the strategic framework, the Budget proposed a 33 Percentage hike in capital investment including provisions to construct new airports and expand railways as well as incentivizing private investments in infrastructure. This will effectively ensure better connectivity, increasing capacity, and better productivity for the system thereby reducing overall logistics costs.
How is the industry reorienting its strategies to meet the demands within and outside the country, on the same? How is it helping manage transportation costs?
In order to transform India into an attractive logistical hub, the government launched various initiatives to boost the sector digitally as well as with physical infrastructure enhancements. E.g., a portal to decentralize the e-commerce industry, Open Network for Digital Commerce (ONDC) was recently introduced to offer equal opportunities to small& medium businesses. Apart from that, the National Logistics Policy was a crucial move to streamline the sector and grow its potential. Under this policy, many reforms and roadblocks were addressed.
This years budget contributed further by accommodating provisions for the railways the highest it has ever been and developed of dedicated freight corridors. This is a welcomed move to increase overall freight capacity and allow for more efficient connectivity options. To realize the goal of becoming a global manufacturing hub, the government is now working towards building infrastructure to promote flexibility and better connectivity across the country. Eg: Rail, being one of the most efficient modes of transportation, will help in
reducing cost reduction as well as reducing greenhouse emissions by decreasing reliance on road and air connectivity only.
How has this influenced investor sentiment?
After the global lock down, the potential of logistics and last mile delivery emerged as a sunrise sector that has immense potential of becoming a lucrative industry. This led to several initiatives being implemented due to the influx of huge investments to transform and truly leverage the benefits offered by the sector.
Major institutional investors are keen to tap into this opportunity, waiting for the right, well-versed candidates to invest in to tap into this critical industry which is experiencing unprecedented growth. Currently, a major portion of the total addressable market size is with unorganized players and moving forward we expect more market share to be gained by organized players as well as huge growth in this sector with CAGRs of 25 Percentage plus for the domestic ground express market.
To truly make an impact, you must either create a product or service that no one has imagined yet or build a solution to a critical problem that no one has solved yet
In addition to key policies and technological interventions, the government introduced the Infrastructure Finance Secretariat which will provide broader access to private funds and incentivize infrastructure development benefitting all stakeholders within the manufacturing and logistics ecosystem.
Where do you see the industry heading towards the upcoming years? What are the kinds of developments that could take place in your opinion?
In the coming years, the logistics industry will continue to confront immense changes. Due to the ever-rising customer expectation of getting good, faster, more flexibility at a low or even no-delivery cost is expected to further increase the pressure on the logistics sector.However, with the help of technologies like artificial intelligence(AI), cloud, automation, robotics, blockchain, and big data, the industry is sure to adapt to these challenges and changing consumer patterns.
As the Indian government is investing extensively in logistics infrastructure development, improved connectivity and lower transportation costs are predicted. With that, we expect to see an increase in third-party logistics companies, with a strong emphasis on improving last mile delivery.
Lastly, initiatives to combat CO2 emissions will be a priority as according to studies the logistics industry is expected to become the highest CO2 emitting sector by 2050. Hence, efforts will be made by the govt as well as private players to adopt environmentally friendly practices such as using electric vehicles and optimizing delivery routes to reduce emissions.
What is your word of advice to industry leaders while hacking new opportunities?
Innovation and disruption are key to success. As industry leaders, it is important to stay ahead of the curve and anticipate changes in the market to be relevant and capitalize on emerging trends. Let's take the tablet for example, it was a product that had never been conceived by the consumer as something they might need, and it created an entirely new product category for itself.
It's also important to invest in your people, as they are often your best resource for finding innovative solutions. Embrace technology and invest in training and development to ensure that your team has the skills necessary to pursue new opportunities with confidence and success.
Yogesh Dhingra, Founder, MD & CEO, Smartr Logistics
Yogesh Dhingra has over 36 years of experience in diverse industries such as assurance, advisory, and logistics. He started his career with Price Water house Coopers (PwC) and then with a French multinational company. He also played a major role in the acquisition by DHL of Blue Dart and stabilizing and strengthening its subsidiary Blue Dart Aviation Ltd.