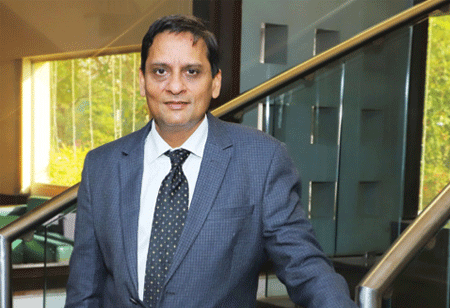 Aditya Gupta, CEO, Orientbell Ltd, 0
An Engineer MBA from IIT Bombay and IIM Bangalore with 30 years of multi-functional experience in industry.
Entrepreneurship is more like a state of mind, or let's say, an attitude which makes you want to get out of bed every morning.
I can talk about it from our company's perspective. At Orient Bell, we are determined to make the tile buying journey of our customers easier, simpler and more transparent. We understand their core need to select the right tiles for their specific environment. If one sees the usual tile buying experience, one would notice a lot of ambiguity, dependency on the aesthetics and knowledge of the retailer and a lack of under-standing of the space that the tiles must adorn. This is where we want to make a difference and change the customer experience to a more expansive, easier and meaningful one. We, as a team, then wear our entrepreneur hats and push the envelope to see how we can make that happen.
We also collaborate with several start-ups to lever-age their skills and capacities. This asks for greater agility and transparency as an organization. We try out potential solutions, are willing to learn from our failures, work with limited resources, work flexibly with people across hierarchies and functional expertise and keep going without losing sight of the customer's pain points. That's what we have set out for. And this is what, I'd say constitutes an entrepreneurial or start-up like culture in our company, even though we are backed by nearly 5 decades of experience.
For all those who feel the fire in their belly about an issue, an opportunity gap or a pain point, I'd encourage them to take the plunge. Keep working with your broad goal/theme and you will begin to grow deeper roots as you keep growing.
Current Branding And Marketing Industry
If branding and marketing were all about finding a place in the customer's heart, then we must be present where the customer is. In today's age, when social media rules our lives, buying decisions of consumers are influenced by a variety of stakeholders. Gone are the days when the customer was solely dependent on what the brand or there tailer showcases. This calls for-building authentic channels of communication digitally, where we could claim a share of their attention 24*7 and not just during advertisement breaks.
For brands to be a part of the conversation, the communication must strike a chord with what's occupying the consumers' mind space – their joy, pain points, thrills and so on... For example, during Diwali in November 2020, we launched a campaign# KaroRishtonKorenovate. The central emotion at that point in time was lockdown fatigue and a deep desire to get on with life. And we understand that renovation at home revolves around relationships – a wedding, the arrival of a baby, new needs of the elderly and so on... This campaign then resonated with our customers, giving them a hope for the new and reinstating the idea of re-investing in relationships.
The other, less-talked-about aspect of brand building is with regard to our internal stakeholders. Our employees, being the most important among them as they too could be spokespeople for the brand. Our employees watch and hear us as closely as our customers do. The senior management team makes sure that there's consistency and coherence in our messages to customers as well as to our employees. When the entire organization speaks the same language and works with the same set of values, is when the brand voice makes it-self heard to the customer. Transparency in our work culture, accessibility of the senior management team to its frontline employees, respecting the needs and preferences of our workforce are some of the things that we consider part of our brand equity. We, quite literally, walk the talk.
In a nutshell, the new age brand building asks for a dramatic shift in a marketeer's approach than, say, two decades ago.
Leverage Strategies And Lay Out A Perfect Operational Model In This Volatile Corporate Sector
The tile industry has seen the high-sides of innovation in product design and manufacturing, thanks to the advent of technology. We could only think of a 6 by 6 inches size in the 90s while a 800X2400 MM size tile is possible today with rapid evolution of new technologies.
On the market side though, things haven't shifted much. The ways in which tiles are bought and sold predominantly remain the same. A buyer has to rely on theretailer's recommendation to meet his/her functional and aesthetic needs. And this is where, we want to improve the customer experience by deploying technology. Employees, retailers and specifiers could also be empowered to help the customer make more well-in-formed and calibratedchoices.
In the post-Covid era, we have the advantage of the newfound comfort that customers have in interacting online and making buying decisions based on thoseinteractions. At Orientbell Tiles, we have leveraged visual recognition tools to enable the customer to find and select the right tile from the range of 3000 tiles that fit whatever aesthetics he may have in his mind.
They can even upload a picture of the living room on the visualiser tool on our website (httpss://www.orientbell.com/trialook) and they can try the tile before they buy. Such tools are paving the way for a new buying experience and transforming the tile market in India.
Sustainable Growth With Directive Transformation
Responsibility towards local communities and environment are no longer good-to-have elements of doing business. To my mind, this is the only way of building a long term, sustainable business which will be economically profitable, socially purposeful and ecologically-viable.
Here are a few ways in which we are trying to keep this balance: The future of the next generation starts with education of young children. When we surveyed the civil infrastructure of a few government schools to which the children from underserved communities go to, we found them in dilapidated and uninspiring conditions. The toilets in such schools, especially for girls, had inhumane conditions and renovating them using our tiles upgraded the sanitation hygiene and changed the social equation for the girl students at the school. We have renovated around 150 such schools in and around Bangalore, giving children there a reason to learn joyfully.
We also realised that teaching-learning aids were rather few at such schools. OrientbellTiles's education-al murals with academic concepts printed on them across grades, transformed the learning environment of the classroom significantly uplifting the moods of the students and teachers alike.
At our own manufacturing facilities, we also use renewable or clean forms of energy generated from solar
and natural gas. We treat 100 percent of our effluents at source and ensure ZERO waste-water gets discharged from our factories.
Thirdly, we took up the responsibility of conserving and recharging ponds in and around Secunderabad. We recently inaugurated a 2.5-hectare pond in a village, Bhora in Bulandshahr district for rejuvenation and rainwater harvesting, situated 20 kms away from the factory. Two rainwater harvesting pits are installed which will be able to charge approximately 1.5 lac cubic meter water per annum into theearth. We hope to continue contributing towards a brighter future through such initiatives and create a transformational experience for communities at large.
The company's business goals are broken down into clearly defined, smart goals for each function and each employee. These goal sheets are the only benchmark of performance assessment followed at Orientbell tiles
My Industry Experience
Doing things differently matters more than doing different things. For me, the last 30 years have been a continuous process of failing, observing, learning and growing. I have learnt to reflect on what works out well and what doesn't. Each lesson is a milestone in itself.
For example, samelook(to find tiles that look similar to a reference image, httpss://www.orientbell.com/samelook) & Trialook (the tile visualiser tool) are two different developments. But when we join these two dots, the experience of the customer dramatically changes. S/he is now able to visualize their home spaces with tiles similar to, say, the hotel lobby's marble! Moreover, s/he can walk upto the nearest store that houses such tiles, and our channel partner could per-haps demonstrate an array of options in the category. This gives customers an increasingly more seamless experience of a dream project.
Creating Positive Employee Experience And A Collaborative WorkCulture
Once we have identified a certain pain point among customers or a need for enhancement in tile features, that is set as a clear goal for all functions across the board. The sales, product design and manufacturing teams then work hand-in-glove with each other to arrive at a potential solution.
Let's say, there's a feedback from a customer or a complaint for redressal. The customer facing team is then accompanied by the manager from the manufacturing unit while interacting with the customer. This kind of collaboration bridges gaps much faster and of-ten provides fodder forinnovation.
The pandemic in 2020 offered opportunities for in-novation and enhanced customer experience, and our teams successfully lapped those up. We have designed and patented two new variants of tiles, entirely based on customers' needs.
Given the higher reliance on internet, and the need for data localisation, there is a boom in data-center construction. This required tiles that would prevent sparks and have conductive properties. This gave birth to anti-static stiles, (httpss://www.orientbell.com/anti-static-conductive-blue-dk) created with close collaboration between R&D, product marketing and enterprise sales teams.
Similarly, the crucially high need for sanitization in hospitals sowed the idea for producing antiviral tiles, which kills 99 percent of the virus in just 2 hours! Product, manufacturing & R&D teams worked in close collaboration despite lockdowns to make this a reality. Both anti-viral and anti-static tiles have applied for patents and unique in the Indian tile industry.
Positive employee and customer experiences are possible when collaboration is an integral element of the work culture.
Developing Strong First Managers And Align People With Common BusinessGoals
My first line always has as much information about the business as I have. This helps drive an alignment on desired outcomes and keeps politics away. We pride ourselves on transparency, my first Digitization initiative (called Darpan) was to give our front line sales team 24x7 information on their mobile. Today even our CP can see the factory's item wise stock!
The company's business goals are broken down into clearly defined, SMART goals for each function and each employee. These goal sheets are the only bench-mark of performance assessment followed at Orient-bell Tiles. Such goals are intermeshed & cross-matrixed increasing the possibilities of inter-functional collaboration.
We also believe in mentorship and coaching, which help unleash personal potential and maximise growth. Every employee at his/her best performance is a natural asset to the organization. We bring in external faculties and resources to facilitate coaching, if need be.
An Online portal, namely iLearn, hosts interactive, audio visual training content in an accessible manner. The content is related to the tools used within the company, product knowhow and so on. While iLearn allows self-certification, it is completely voluntary for the employees to undertake such training. However, we have realized that employees like to get themselves self-certified on iLearn. It makes them more job ready & performing better is a strong motivation!
"The future of the next generation starts with education of young children. When we surveyed the civil infrastructure of a few government schools to which the children from underserved communities go to, we found them in dilapidated and uninspiring conditions"
For our new employees, we also have an on-boarding Buddy, that makes a new employee comfortable and helps them break the ice with colleagues. Such handholding also helps strengthen the employee culture of collaboration and fosters the right values.
Our employees also appreciate that we are a very professionally managed company, with few peers in the tile industry.
Motivation
I clearly lay out my priorities for the day. A typical day consists of a set of meetings arranged at least a week back with clear agenda AND some free flowing conversations. I tend to call up customers and front line sales people quite regularly and find these inter-actions invaluable in staying focused on our vision of simplifying tile buying & selling.
I am always excited about the potential of trans-formation that technology can bring in and I keep exploring such possibilities with my team on a daily basis.
The prospect of improving the quality of living through aesthetically designed and functionally advanced tiles, keeps me motivated to push my boundaries.
I enjoy reading Devdutt Pattnaik's books on Mythology. I also enjoy localcuisine wherever I am. I am a foodie & you can bribe me quite easily with a samosa & a jalebi. Of course, then I hit the golf-course and try working it out too!