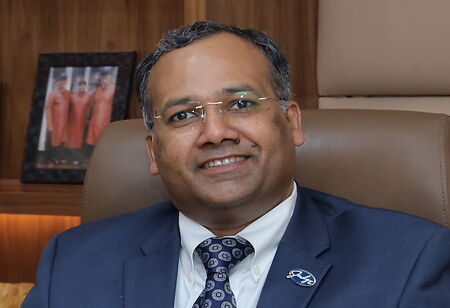 Abhishek Agarwal,President, Judge India- Global Delivery, The Judge Group, 0
New technology will be welcomed this year to meet the growing demands of customers. The growth of technology trends in the market is usually recognised in the coming year. Technology is rapidly evolving today by allowing frequent changes and progress, thereby accelerating the rate of change. From how we communicate to how we view work, a lot has changed in the previous two years.
Let's take a look at a few significant technology developments that affected the year and the outlook this year as the digitalization and virtualization of business and society continue to accelerate.
Artificial Intelligence and Machine Learning:
AI has generated a lot of hype over the last few decades, but it remains one of the hottest new technological trends because of its significant impacts on how we live and work. AI and machine learning are assisting in the automation of models that can evaluate larger, more complicated data and produce more accurate and timely answers. AI is expected to have a long-term impact on almost every business. Artificial intelligence may be found in smart devices, autos, healthcare systems and beloved apps, and it will continue to pervade many additional industries in the near future.
From medical advances in cancer research to cutting-edge climate change studies, artificial intelligence is becoming increasingly important. The value of machine learning has been recognized by most sectors with large amounts of data. AI will definitely enhance its core idea of using this technology this year and will dominate the work culture of businesses.
Blockchain:
Blockchain is data that you can only add to, not subtract from, or change because you're creating a data chain, which is how the term 'chain' was coined. The most amazing fact is that prior blocks cannot be changed, which is what makes them so secure.
Blockchain technology has the potential to provide businesses with a safe, digital alternative to banking operations that are typically bureaucratic, time-consuming, paper-intensive and costly. Financial transactions benefit greatly from blockchain since it reduces operational inefficiencies and saves money. Due to their decentralized nature and the immutability of their ledgers, they also provide higher security. It is going to be another super power for technology trends for the industry this year.
Robot Process Automation (RPA):
Robot Process Automation (RPA) is a technology, like AI and machine learning that automates jobs. RPA is the use of software to automate business operations such as application interpretation, transaction processing, and data management and even email response. RPA automates everyday tasks or duties that formerly required human intervention.
There are many different perspectives on how RPA will develop in the future. Based on the current state of the technology and recent trends in its development, we can forecast numerous ways in which robotic process automation will develop.
Cloud Computing:
The cloud is essentially a decentralized location where data may be shared via satellite networks. Every cloud application needs a host, and the hosting business is in charge of maintaining the huge data centers that offer the security, storage capacity, and processing power required to keep all of the data users transfer to the cloud safe and secure.
The most well-known cloud hosting firms are important participants like Amazon (Amazon Web Services), Microsoft (Azure), Apple (iCloud) and Google (Google Drive), but there are also a plethora of other players, large and small. If we could think of any new addition in technologies and developing trends this year, there will be a name for it 'Cloud computing,' and many other new and creative ideas of doing things through this technology will be added.
The Internet of Things (IoT):
The Internet of Things (IoT) is another exciting new technology trend. Many 'things' now include Wi-Fi connectivity, allowing them to connect to the Internet—and to one another. As a result, the Internet of Things (IoT) was born. The IoT is the new wave of the future. It has already enabled devices, home appliances, cars, and much more to connect to the Internet and exchange data.
An IoT ecosystem is made up of web-enabled smart devices that gather, send, and act on data from their surroundings using embedded systems such as CPUs, sensors, and communication hardware. By connecting to an IoT gateway or other edge device, IoT devices can share sensor data that is either routed to the cloud for analysis or examined locally.
Although individuals can engage with the devices to set them up, give them instructions or retrieve data, the gadgets do the majority of the work without human participation.
5G:
The fifth generation of mobile networks is known as 5G. It aims to provide multi-gigabit per second peak data speeds, ultra-low latency, greater dependability, huge network capacity, increased availability, and a more consistent user experience. Higher performance and efficiency enable new user experiences and industry connections.
With each passing year, we witness a surge in the use of technology to solve problems, improve customer experience, lower costs and ultimately, create a competitive advantage in an increasingly competitive market
5G will take the mobile ecosystem to new heights in the coming year with its high speeds, high dependability, and low latency. Every industry will be impacted by 5G, allowing for safer transportation, remote healthcare, precision agriculture, computerized logistics, and more.
The Rise of Technology-Enhanced Remote Work:
Organizations all throughout the world enacted work-from-home policies in response to the pandemic, and the results have been surprising. As firms throughout the world adopt a 'hybrid work culture,' remote employment is here to stay. While the world repaired pre-pandemic technology to meet their demands, technology leaders this year will innovate to ensure continuous corporate success and enhance employee productivity by employing technology created expressly for hybrid or remote work.
Every technology has its own features with different functions and ways of doing things that can easily boost your business revenue and customer engagement. While these are only a few of the technology trends we may expect this year, the actual number is rather large as businesses around the world transition to a digitally transformed operating environment. With the recent developments and conditions to which we have been subjected, technological innovations have proven to be a valuable ally and will continue to do so with their vast possibilities. With each passing year, we witness a surge in the use of technology to solve problems, improve customer experience, lower costs and ultimately, create a competitive advantage in an increasingly competitive market.