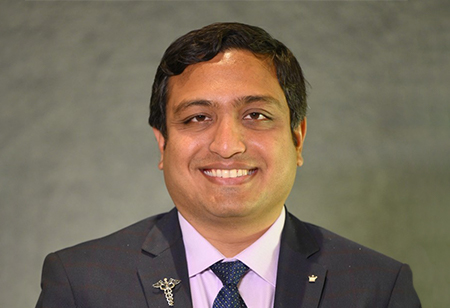 Dr. Parth Desai, COO, KD Hospital, 0
Parth Desai is a driven individual with a deep passion for developing and managing healthcare institutes. With a strong background in Business Administration, Operations, Business Development, and Strategic Planning, Parth excels in providing insightful consulting services. Having completed his Post Graduate degree in Healthcare Management from IIM Calcutta, Parth possesses a comprehensive understanding of the intricacies of the healthcare industry and is dedicated to making a positive impact in the field.

In an exclusive interview with CEO Insights Magazine, Dr. Parth Desai walks us through his professional journey along with some insights into the healthcare / hospital industry:
As the Chief Operating Officer of KD Hospital, what is your role and what accomplishments have you achieved so far?
As the Chief Operating Officer of KD Hospital, my responsibilities encompass overseeing medical and non-medical operations, finance, HR, and marketing. I have been with the hospital for over four and a half years, during which we have achieved significant milestones. When I joined the hospital, it was a greenfield project, and under my leadership, we developed standard operating procedures, recruited doctors, and added new services. Today, KD Hospital is recognized as one of the leading hospitals in Gujarat, offering a wide range of services, including complex surgeries and transplant programs. Our hospital stands out for its commitment to social consciousness through initiatives like the KD Foundation, which provides free surgeries, medical services, and support to orphanages and underserved communities. We have also actively promoted organ donation awareness and conducted health camps to reach out to the community.
In the healthcare industry, which style of leadership works best for managing organizations?
While there are various leadership styles, I believe a consensus-based leadership approach works best in the healthcare industry. Today, employees seek more than just financial compensation. They want to be involved in decision-making processes and have a sense of authority. In my experience, fostering a culture of consensus and involving the team in discussions and decision-making processes has yielded positive results. By encouraging input from all stakeholders, we ensure that diverse perspectives are considered, leading to better outcomes and a more engaged workforce.
What obstacles do hospitals in the healthcare industry face when adopting changes, and how do you approach them?
One of the significant challenges hospitals face when implementing changes is the adaptability of doctors. Convincing them of the importance and benefits of changes, such as IT infrastructure upgrades or training programs, can be a bottleneck. To overcome this, we adopt a multi-faceted approach. For instance, when implementing IT infrastructure changes, we involve a team of doctors who are passionate about the initiative. These doctors then take up the responsibility of educating and persuading their peers. Similarly, for other
changes, we designate brand ambassadors from each department to champion the cause within their teams, creating ownership and fostering acceptance. We also emphasize the 'why' behind the changes, ensuring that employees understand the positive impact on patient care and the organization's overall goals.
How can employees be encouraged to seize opportunities through relevant training and effective leadership?
Encouraging employees to seize opportunities requires a multi-dimensional approach. At KD Hospital, we focus on internal learning, external training, as well as, organizing conferences and events. Internal learning involves creating a culture of continuous development by conducting regular training sessions. To ensure the effectiveness of these sessions, we identify next-generation leaders within each department and provide them with train-the-trainer programs. These leaders then take responsibility for training their colleagues, fostering a sense of peer support and motivation. Additionally, we organize external training sessions conducted by industry experts to bring fresh perspectives to our workforce. Finally, conferences and events provide employees with opportunities to interact with external speakers, witness the progress in healthcare across the country, and broaden their horizons. These initiatives collectively promote a learning and development culture within the organization.
Fostering culture of consensus and involving the team in discussions and decision-making processes has yielded positive results.
How do you foster teamwork and collaboration within your organization?
Teamwork and collaboration are crucial for the success of any organization. At KD Hospital, we prioritize communication and team bonding. Regular meetings involving all staff members ensure that everyone is aware of departmental goals and overall vision. This also allows for open discussions and the sharing of ideas. We encourage cross-departmental collaboration by creating opportunities for teams to work together on projects and initiatives. This helps break down silos and promotes a sense of unity and shared purpose. We also organize team-building activities and events to foster camaraderie and strengthen relationships among employees. By emphasizing the importance of teamwork and collaboration, we create a supportive and collaborative work environment where everyone feels valued and motivated to work together towards common goals.
How do you ensure that patient-centric care remains a priority in the hospital?
Patient-centric care is at the core of our hospital's values and philosophy. We have implemented several strategies to ensure that it remains a priority. First and foremost, we constantly listen to the voice of the patient. We have established feedback mechanisms such as surveys and suggestion boxes to gather input from patients and their families. This feedback helps us identify areas for improvement and make necessary adjustments to enhance the patient experience. Additionally, we have implemented patient-centric processes and protocols, such as reducing waiting times, improving the quality of care, and implementing patient-friendly policies. We also focus on staff training and education to instill a patient-centric mindset among our healthcare professionals. By continuously reinforcing the importance of patient satisfaction and involving our staff in patient care improvement initiatives, we ensure that patient-centric care remains a top priority throughout the organization.