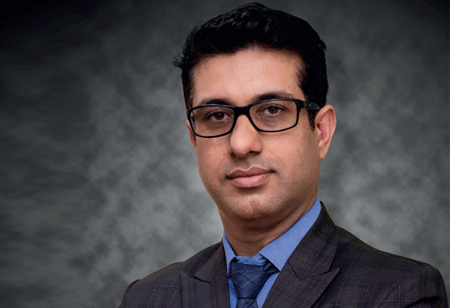 Rajiv Malik, Senior Director
If your creative soul has no bounds and craves for the right tool, it is time for you to swap your regular PC for a digital notepad or pen tablet adorned with intuitive input devices like Styluses. These innovative and highly functional products outshine not just as the marvels of technology, but as catalysts for the dreams of creative professionals to become a stunning reality. Standing as a torch bearer for this massive horde of creative people is Wacom India Pvt. Ltd., a unique technology company with a novel vision of inspiring creative people. Through its spectrum of high-end and customized products, the firm has been engraving natural and intuitive interface experiences across the lives of both professional and passionate users in the world of content creation. Unlike typical computer hardware & peripheral companies indulged in mass distribution, Wacom India demarcates as a global market leader in digital pen tablets & displays industry with a strong channel network of specialized industry partners.
Wacom India's Senior Director, Rajiv Malik, is a techno-commercial maven with rich work experiences from Sony India and Imation Singapore. Leveraging these vast experiences, Rajiv has constantly been navigating the firm in the right direction. When interacting with CEO Insights, he has articulated numerous aspects about Wacom India. Here are the excerpts!
Walk us through your company's journey so far along with the potential opportunities you foresee in the industry.
Since its inception in 2010, Wacom India has been creating a niche in the computer hardware sector of India and believes it to be the best way forward. One of the initial challenges we faced was to stay completely compliant with all the Government rules & regulations, besides challenges pertaining to distribution & after sales support. It was indeed due to the strong support from our team of experts teeming with energy & creative ideas we overcame most of those challenges. While some of them have strong background in creative content creation and sound knowledge about the industry, they all ensure to stay well-connected with creative designers to understand their needs & pain points. Moreover, our loyal business associates with extreme faith in our company's philosophies have taken it to newer heights. Altogether, it was an exciting journey!
Currently, we are witnessing excellent opportunities in the computer hardware sector of India which will not be saturating soon. More precisely, we are experiencing huge scope in the education sector wherein more students are opting mainstream education in the fields of Animation, VFX, Industrial Design, Fashion, Gaming and others. Moreover, a lot of creative content creation works were being outsourced to India during the last few years, owing to the rapid expansion of computer hardware markets. Hence to make the best out of these
opportunities, we at Wacom India are working closely
with both the creative professionals and some of the best design institutes.
Wacom India dreams of a world alive with creativity. How are you moulding these dreams into products that can empower the creative minds of today?
Our products digital pen tablets, pen displays, stylus pens, mobile accessories, and many others, are greatly loved by creative people indulged in content creation. Firstly, we learn the diverse needs and working styles of the top creative professionals by engaging in regular customer engagement programs. We infuse the best aspects of our core technology into our products, bringing the highest level of pressure sensitivity and accuracy of paper pen. Above all, an excellent user experience that gives the natural feel of pen to surface distinguishes our products. This indeed is the prime reason even the top creative artists don't look anything beyond Wacom.
We develop pens that are battery-free, cordless, small, light and rugged, imparting unmatched usability, ergonomics and the experience of true paper pen
The technology that goes behind all our products is our advanced, patented EMR(Electro Magnetic Resonance) that is largely deployed across diverse types of pen tablets. Leveraging the best of EMR, we develop pens that are battery-free, cordless, small, light and rugged, imparting unmatched usability, ergonomics and the experience of true paper pen. Also, we take pride in offering a sweep of products right from the lowest priced ­ Rs.4,000 for beginners to the highest priced ­ Rs.300,000 for professionals.
Brief us about your company's delivery and customer support services.
Our delivery system is intrinsically the fastest and safest due to our associations with strong logistic partners. To further minimize TAT and ensure fast response time, we are in process of strengthening our after sales support department. Speaking of customer support, we have a unique mechanism to pick-up defective units from customer's doorstep, and deliver functional units back in the same way. We are also setting-up dedicated inhouse call centers to address all of their queries and issues.
How are you handling the grave threat of e-Waste at Wacom India?
Strictly complying with e-Waste regulations, Wacom India takes it as a social responsibility and endeavours its best to contribute. We introduced a buy back scheme wherein our team evaluates the product and finalizes a buy back value for the customer. Moreover, we are seamlessly edifying our partners and customers on the significance of
e-Waste regulation during every workshop and event.
Are you coming-up with any innovations for the future?
Innovation is an ongoing process and in the very DNA of Wacom India. We have set a clear roadmap of developing more futuristic products & solutions with accent on AR/VR and MR. Above all, we have a clear and long term vision to build strong engagement with creative communities, besides supporting the creative industry.