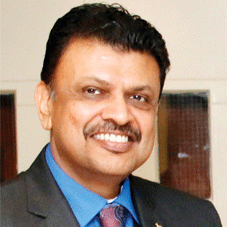 It has been proven that a more collaborative approach to software development yields better results. However, this construct doesn't always work unless a leader with a vision is at the driver's seat. Abhijit Roy, has essentially demonstrated that such a model could not only exist, but also grow exponentially. His firm, AAPNA Infotech brings together `SOFTWARE COMMANDOS' to solve some of the most complex problems for businesses. Below is an excerpt of CEO Insights' conversation with Abhijit, where he walks us through his journey and vision.
What has been your biggest achievement till date? How is AAPNA Infotech a part of it?
The establishment and the growth of my dream company, AAPNA Infotech, is my biggest achievement. Al-though I cannot let go of my other achievements that gave me strength and inspiration to build my own firm.
The journey of AAPNA started in 2007 with a small team of reliable and highly qualified people with only couple of clients to work and doing only software development. No business in the world runs smoothly, every-one has to face ups and downs, so did AAPNA. However, this did not change my focus and belief in my team, which kept increasing year on year. Now, I have a highly passionate team of 160 software commandos serving prestigious clients like The World Bank, United Nations India, Hexaware Technologies among many other, while our key focus area is serving the US mortgage industry. Our services now include Hyper Automation with RPA, BPM, Process Mapping along with various transformational digital technologies, targeted towards automation. We have a Leadership
Team which is constantly thinking and working towards the growth of AAPNA and how to take it to the next level.
Everyone at AAPNA follows highest work culture ethics and I can proudly say that with so much talent and dedication in our team, we became CMMI 3 level company. The company is also recognized as UI Path Partners, MS Gold Partner, DECI-SIONS Partner, which are ISO Certified 9001:2015 and ISO Certified 27001. Recently, AAPNA has been recognized as the Top Software Development Company by various industry evaluations.
Brief us about your professional experience prior to establishing AAPNA.
I am from Science stream and did my B.E. in Computer Science from University of Mysore and SJCE, in 1989. My professional journey prior to AAPNA was full of learning and understanding of IT business. In the initial years of my career, I got an opportunity to work with various small and large organizations in India, and the US.
Culture is the strong point of AAPNA, and I can proudly say that with so much talent and dedication in our team, we are now a CMMI level 3 company
What are the offerings that AAPNA puts forth on the table?
We have a Guerrilla team with expertise in Enterprise Software Development, Web and Mobile App Development, DevOps, QA, and Automation services, including QA Automation, RPA, and BPM/Low code development.
How have you kept the growth trajectory for AAPNA Infotech consistently higher?
It's a 14 years old company with young, talented, highly aggressive team of Commandos. I have learnt a lot throughout this journey and have accordingly brought many changes in our company policies as well. I am a manager by example. Nothing makes me happier than to hear praise about my team. I believe in awarding my team on every
achievement and find ways to relate to them. 2020 year was an unfortunate one for everyone in the world. However, my team and I utilized the year to grow and show to the world that we are unstoppable. AAPNA made a BOLD move by deciding to go completely virtual, and as a result started attracting talent which was earlier not available.

The two that are closest to my heart, are people now being able to join AAPNA from remote far off places. Such team members are now able to deliver world class software from the comforts of their home in lovely small towns across the country. The second set of people whom we are extremely proud to be serving are the young mothers, who took a break from their careers due to their maternal responsibilities, and now find it difficult to come back to the mainstream. When AAPNA gave them this opportunity, they are more passionate about customer excellence, as they feel more associated with the company's success.

Tell us about the blueprint for the future of AAPNA Infotech?
AAPNA is now a team of 160 Commandos coming from all over India. We have grown steadily over the last 10 years, and intend to continue growing at a healthy pace. We do not compete with anyone except ourselves, and it is our goal to grow steadily, instead of at a breakneck speed. We want to be a great company. Last year we received many accolades, and invested heavily in learning and development and in new technology areas. We have setup an active innovation lab. We will continue growing, and focus on building an amazing culture, where people are genuinely happy and serve customers with extreme passion. This year, we want to go for `Great Place to Work' award.

Abhijit Roy, Managing Director, Aapna Infotech
A software professional with experience in managing teams and projects on various platforms at national and international levels. He focuses in the organization's growth by leveraging technology. Passionate to development of strong collaborations, Abhijit leads life by the example of creating a positive societal impact.