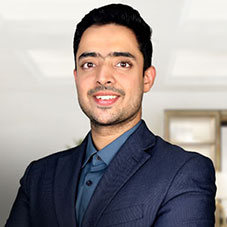 The import and export of synthetic rubber is projected to rise, owing to increase in shipment and new demand. The synthetic rubber market is expected to advance at a modest CAGR, since market players are constantly challenged with price volatility for petroleum by-products. The global synthetic rubber market size is projected to reach USD 23.2 billion by 2026, at a CAGR of 4.0% between 2021 and 2026. The automotive industry's recovery powers the synthetic rubber market during the forecast period. Aditya Bothra, Director at Globus Rubchem, is an enthusiastic, hardworking, and innovative young entrepreneur working towards the globalization of their family owned synthetic rubbers and rubber chemicals business. With the motto of, "Together We Win!", he believes in optimizing the supplychain to make sure that both counterparts benefit from it.
Aditya Bothra's education and work experience in foreign countries allowed him to be a better leader and accept all the differences and challenges that come his way for the company's successful future.
Aditya Bothra engages in a one-on-one interaction with the CEOInsights Magazine.
Tell us about your professional background and experiences. What factors influenced you to take the leadership role at Globus Rubchem?
I was raised in a family business environment and learned a lot in my early years about commerce. My father's company is into imports and distribution of Synthetic Rubbers & Rubber Chemicals. I knew that I had to bring something to the table to be worthy of joining the business. That's why I pursued my double master's degree from the National University of Singapore and two of the most renowned CEMS Universities ESADE, Barcelona, and Bocconi University, Milan. There, I learned the hard skills and, more importantly, the soft skills that are the key to any successful business. I worked with a startup in Munich,Germany Proglove GmbH which was hands down one of the best exposures I have gained. Our team had people from almost 40-45 nationalities which allowed me to work with a diverse group where I
learned how to respect and work around each other's differences. After that, I returned to my roots and contributed to my family business, by doing thorough research and analysis and finding the gap that would help us enter the South Indian market. Coming to the second part of the question, I worked directly under my father and brother when I joined. They are one of the two biggest factors that influenced me to take up a leadership position at Globus Rubchem. They believed in me when it was most important and pushed me at every juncture to better myself. The second factor being the need for growth and having a vision of success.
First, love what you do. Rest every thing will fall into the right place at the right time
Could you talk about the learnings and experiences acquired from the National University of Singapore? What impact did those experiences have on your development as a leader?
At NUS, you learn something new every day as the curriculum was designed to allow you to find your strengths, focus on them, and polish them in such a way that the shine glamours people away. With the CEMS being a part of my studies, I was exposed to students from multiple nationalities, which allowed me to understand different cultures more holistically. It also allowed me to understand and embrace differences and develop myself better. It has been a boon in my professional career where I have to interact with my principals from the USA, Europe, Russia, Korea, Japan and China on a
daily basis.
How would you define Globus Rubchem as an organization and its position in the market?
Globus Rubchem is a family owned organization. Although being a traditional business, we always had a more modern and fulfilled view. We are determined to develop our team and implement strategies and innovations to streamline our processes and operations. At Globus, we always focus on the people. We ensure our employees feel needed and create a safe and an open working environment. We have set up our office & warehouses close to the major ports in India, which allows us to establish a great supply network offering the best prices on time delivery, and superior quality. The upper management has a personal touch with every single customer, ensuring their unconditional trust. Well matched competition has helped us position ourselves as one of the market leaders by pushing us to explore and
nurture our potential and to work towards our betterment and evolution.

In our organization, reverse mentoring is something we always focus on. It is learning from each other no matter the age gap. We shared the best practices and different perspectives to develop more innovative ideas and solutions. This helped us to leave a mark in the market, and now, we are one of the pioneers in new raw material development for all manufacturers in India.

What are the challenges faced, and how did you overcome them? What has been your success mantra that constantly helps to arrive at positive outcomes?
So when I joined four years back, I was one of the youngest in the Rubber Industry, especially regarding its distribution side. Most of the people in our industry were in their 40s or 50s with a lot of experience. When I took on the responsibility to expand our business to the South India it was truly a challenge to convince customers as they would still see me as a young entrant. But to my surprise, it never made me feel left out. I always saw it as a stepping stone. I knew I could bring new ideologies and strategies and have the edge over traditional business houses. To my surprise, now that I think that is exactly what the manufacturers in the South were looking for and I am glad we delivered.

Two success mantras that constantly helps me to arrive at positive outcomes are:
•Think. Focus. Enjoy. Reflect. Repeat.
•"All work and no play makes Jack a dull boy" – You need to make sure that you are having a proper work life balance. Work is important but so are family, friends, health & well-being.

Aditya Bothra, Director, Globus Rubchem Group
Being in the business for several years now, Aditya Bothra has an in-depth knowledge of the requirements of the company's customers. He rapidly works towards improving the source's ability to benefit its customers. He wishes to create a transparent platform for both the suppliers & the factories to benefit from.

Quick Facts:
Hobbies: Playing squash, basketball & Cooking
Favorite Cuisine: Italian
Favorite Book: The Book of Joy by 14th Dalai Lama, Desmond Tutu, and Douglas Abrams
Favorite Travel Destination: Austria during Christmas & Croatia during New Year