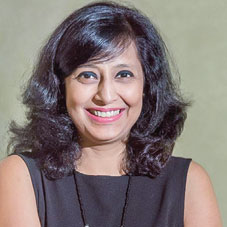 An adherent educational enthusiast, Alka left her astounding corporate career in finance to pursue her dream of being a newage global leader functioning for students' development and upliftment. Witnessing the gaps residing in the educational domain which compel the children of NRIs settled across South-East Asia to secure admission into private colleges in India via management quotas rather than clearing the IIT JEE or NEET through merit, she established Ascentria. Recognized for its exemplary standards of teaching, Ascentria has been in collaboration with the largest school chains in the UAE for the last six years. Offering training to secondary students desirous of applying to leading Indian engineering and medical colleges in collaboration with IIT-ian's PACE, Ascentria holds the sterling record of UAE toppers in JEE Advanced and Main, NEET, ISC, ICSE and CBSE boards. It has received the prestigious Shiksha Bharati Award, as well as awards for the Training Centre of the Year in 2020, the MEA Award for the Best Test-Prep Centre in the UAE in 2019, and for the top ranks achieved by its faculty in the 2018 CENTA Teaching Professionals Olympiad in 2018.
Engaging in an exclusive interaction with CEO Insights, Alka Malik (Managing Director, Ascentria) elaborates the uniqueness of her organization in moulding the future leaders of tomorrow.
Give us brief details about your educational and professional background before Ascentria. How do you leverage those learning to lead your organization?
Before establishing Ascentria, I was working at the Associate Director level in the Transactions & Restructuring vertical of KPMG's advisory services, specializing in valuations of businesses. I joined KPMG from PKF, where I headed the Business Advisory Services division of PKF, UAE. From 1995 to 1997, I worked with Fremantle India Television Productions (FITP), Delhi, India, as their Finance Manager. I started my career with Sriram Industrial Enterprises Ltd (SIEL), Delhi, India, first as a Management Trainee and then handled the longterm liabilities as an Assistant Manager in their corporate finance department.
Having worked previously in extremely well managed international firms that have been following best practices right from the outset, has commendably
influenced me over the last eight years. Extreme professionalism at every front, from inculcating a customer centric approach to establishing fair HR practices a sound financial system to all aspects of an extremely well-managed center, has been my approach from the onset. Following a very high moral code and ethics, I can state that this is not about the business, but about the journey of every single student reaches their goal, whether it is in India or universities abroad.
Not being from an educational background, I managed to set up and establish a brand which is now synonymous with quality yielding prolific results now
What strategies do you follow to meet the students'requirements while ascertaining the maximum output of your training programme?
Right from day one, we have understood that the needs of each student is different. So, we ensure a personalized approach and keep our class sizes small. As every teacher is aware of the students' strengths, weaknesses and areas of improvement we work continuously to build on those. The entire team of Ascentria meets at least once a week to discuss any possible problem faced by the students and address them swiftly. We also regularly keep in touch with parents giving them feedback. We also recognise that the path to be followed, to raise the students to the required level, has to be very different from what it is in India.
There is a huge amount of emphasis on the quality of our teachers, and every single teacher is highly qualified, experienced and handpicked.So, keeping professionalism right at the forefront along with high ethics, is the underlying foundation of running this institute. The goals and aspirations of our students are what we set out to achieve every single time.
What are the major challenges faced by you in your professional journey so far and how did overcome those to evolve as a global leader?
Not being from an educational background, I managed to set-up and establish a brand which is now synonymous with quality yielding prolific results now.
The journey has been interesting, as well as extremely challenging. With a steadfast focus on quality, we have emerged to be the only institute that has associations with all the top schools of Dubai, despite there being other brands available in the country functioning over 10 years before we started. Several schools across different regions are now reaching out to us and we're establishing an association with
them as we are undoubtedly known as the most reliable brands in JEE and NEET preparation. Growing exponentially since our establishment, we have always considered qualified professionals as our teachers who join us with the right mindset and evolve into our vision and mission. Finding the right resources who can deliver impeccable results has always been a challenging job.

Financing this rapidly thriving institution has been another prime challenge as I have invested the principal amount of my savings in it. But, again, at no point was there any thought of compromise, as I deliberately did not want a partner in this business. There might be a future rift that can lead to the dissolution of the company due to conflict in ideologies. Even if financing arises as a limiting factor in this journey, I am not ready to compromise the quality and standard of this premium institution.

Operating withing the limitations of the tight government regulations is another factor. Many institutes bed rules and provide more profitable services they are not licenced for. That has never even been an option that we have considered.

How do you align your organization with your vision and mission to bring value to the company?
An organization is all about people as it is people who build an organization, not the other way around. It is easy to have the whole team aligned to a particular goal if all team members think the same and that is purely a function of selecting the right people to join your team. We have been fortunate to onboard teachers and other team members with the similar mindset. There have been occasions when the goals are not aligned and we have had to make corrections in staffing. Overall however, our vision of making Ascentria the leading test prep centre in every sphere that we operate has been relatively easy as every team member is committed and competitive to be the better version of themselves. This not only pragmatically benefits our students but also makes the journey a lot easier for us.

Alka Malik, Managing Director, Ascentria
Founder and Managing Director of Ascentria a multi award winning KHDA licenced educational institute in the UAE, Alka has been awarded the Shiksha Bharati award by the Indian Achievers Forum in 2020 for her outstanding contribution to the educational pursuits of students abroad. She is also a jury member of Education World Global School Rankings 2020-21, rating the Indian schools located in the GCC. Apart from being a certified valuation analyst, Trainer and Case Reviewer from the IACVA, Canada, Alka is also an associate member of the institutes of Management Accountants, US, Certified Management Accountants, Australia & Cost and Management Accountants of India with several years of finance experience.