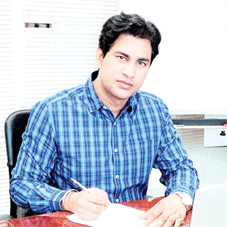 TecnicaServ has been one of the leading service providers for Engineering Services, Procurement Management, Quality control inspections at various sites to name a few. TecnicaServ has a highly experienced team who can help in providing or getting the budgetary proposal for EPC bids considering vendor lists from end users like Saudi Aramco, Tatweer, etc. This team is led by Mr. Amit Kumar Mishra, Director & CEO, TecnicaServ Company WLL. His excellent leadership skills in combination with his well-developed communication even with the bottom level of the team have allowed the company to thrive. Following are some of the excerpts of an interview conducted with Amit where he answers several questions about his education, career, and achievements. Also he gives the credits to his entire family and admires his father, uncle and wife who stood strongly behind him.
Give us a brief detail about your educational and professional background prior to TecnicaServ Company WLL. Also, tell us about your skill sets and strengths.
I hold B. Tech in Mechanical Engineering and MBA in Project management. I am registered with Saudi Council of Engineers with many international certifications like PMP Certified from Project Management Institute (PMI, USA), CICCM – Certified Commercial Contracts Manager from IPSCMI (USA), API 510 & 570 from American Petroleum Institute, USA. In terms of professional background, I worked for Multinational companies like Saudi Aramco, SGS, DNVGL, ESSAR, SNC LAVALIN etc. I was responsible for initiation, planning, execution, monitoring and control of quality operations and services on the EPC unconventional gas project, aiming to its long-term success. My skill set includes Project Management, Engineering Management, procurement management, contract management, Quality Management, Construction Management etc.
What were the initial challenges that taught you the basic lessons of
managing diversified functions of the organizations? Also, how did you manage to achieve the success that you had in the later phase?
Initial challenges taught me that everyone is equally important when it comes to teamwork. One needs to be updated with the latest information and never stop learning in your journey and source of learning can be anything. Also many times I came across getting the acceptance from the team whenever they are promoted and get additional responsibility while it becomes difficult to lead and get immediate acceptance when you are new to the organization. I believe the major factor to achieve success is trust. When you trust yourself others/team will automatically start trusting you. Success is a mindset and it is up to the individual whether they compete with themselves or not and only then they are successful every time or otherwise even ViratKohli is younger than me.
Strategies/methods are defining the key matrices in line with company mission and vision like quantitative indicators, qualitative indicators and people in terface internally as well as externally.
As a business leader what are the strategies/methods you put forward to align your organization with your vision and mission and how do you generate great value to your organization?
Strategies/methods are defining the key matrices in line with company mission and vision like quantitative indicators, qualitative indicators and people interface internally as well as externally. Ensuring that matrices are well communicated to all stakeholders including the bottom level of the team to ensure we are all aligned on what we need to deliver and generate value to the organizations and as an organization.
In your professional journey so far, which are the milestones that bestowed you utmost satisfaction - both as an individual and as a business leader?
I worked for Saudi Aramco and I got good recognition in Saudi Arabia and later on Worked as Assistant Project Manager for SGS and Technical Assurance Manager with DNGVL. I have worked as the Deputy General Manager Quality with Essar Project Saudi Company Ltd. I have
been in Germany and the Netherlands as an Essar Management representative. I joined SNC Lavalin which is one of the most reputed and globally recognized EPC Company in the oil & gas sector worldwide. I was a part of the biggest project for lavalin Saudi Arabia being in the Project Management leadership team for Engineering, Procurement & Construction. During the SNC Project Management for Unconventional Project, the company trusted and send me to US many times to secure Saudi Aramco approvals for SNC Facility in Sealy Houston for manufacturing skids (Gas compressor skids & TEG units) and I managed to get Saudi Aramco approval successfully including local skid manufacturing in Jubail Saudi Arabia facility. I have worked at Quality & HSE Director with WoodServ and set up the company systems for all the functions aiming to the long-term success of business.

Please mention the awards and recognition you have received in your journey till date.
CEO Insight India recognized and shortlisted my name and profile as Business Leader 2021. I was bestowed with appreciation from Saudi Aramco for yearly performance for 2016 & 2017.Also I was appreciated by SNC Project director and received special 'thank you' note from EVP for getting SKID manufacturing facility approvals.

How has been the company's growth and what is the future roadmap set ahead?
TecnicaServ is a startup and all the management behind TecnicaServ is from big EPC companies and we have also started to generate some RFQ's in this global slowdown. Further TecnicaServ roadmap is collaboration and networking with professionals and local companies in the Middle East to increase the footprint and create business opportunities.

Amit Kumar Mishra Director & CEO of TecnicaServ Company WLL
Amit Kumar Mishra He is experienced in development & implementation of policies, processes, systems, procedures, testing, inspections and controls covering a wide range of Projects & company operations. He is also equipped in result oriented professional with hands on experience of Quality management, Project Management, Supply chain Management, Operation Management, QA/QC, Inspection, Vendor audit, Third party Inspection, welding, NDT, piping, pressure vessel, static equipment's.
Location: Saudi Arabia