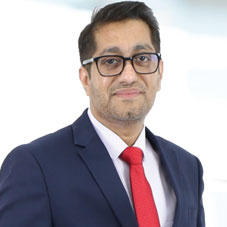 In the healthcare industry, entrepreneurs should give paramount importance to business ethics due to the sensitive nature of the sector. Upholding ethical standards ensures patient safety, trust, and reputation. One such healthcare industry leader who places a higher priority on maintaining ethics in business is Asharaf KP. With his visionary leadership and determination to integrity, he has set a remarkable example for others to follow, fostering a culture of compassion, transparency, and excellence within the Wellcare Group.
With 32 years of dedicated service in the healthcare sector, Asharaf KP has not only established himself as a highly accomplished pharmacist but has also pioneered a business domain that provides a comprehensive one stop solution for healthcare essentials. Below is an excerpt of Asharaf KP's exclusive interaction with CEO Insights magazine.
What factors influenced you to take on the role of an entrepreneur, and could you share the inception story of the Wellcare Group?
My journey in the field of pharmacy commenced in 1990 when I took my initial steps as a retail pharmacist in my home town. Never theless, the rock-solid foundation for my career was undeniably laid during my time at the Pharmacy Department of St. John's Medical College in Bangalore. The invaluable training and education I received there have served as the bedrock of my pharmacy practice ever since. Also, coming from a family with a rich history of entrepreneurship, I developed a strong passion for ethical entrepreneurship early on. This early exposure not only fueled my ambitions but also provided me with the courage and determination needed to embark on my entrepreneurial journey later in life.
The decision to relocate to Qatar was profoundly influenced by my father's aspirations for me to expand beyond the management of our family's retail business in Bangalore. The initial months in Qatar presented formidable challenges as I struggled to secure stable employment. I took on various odd jobs, including shifts at restaurants, just to make ends meet. However, fate had different plans for me when I received a life-changing call to interview with a newly established pharmacy in Qatar, where I became their inaugural employee.
My role in Qatar commenced as a pharmacist with the monumental task of establishing a retail pharmacy and a trading company specializing in dental materials and consumables. The trust and confidence my first CEO vested in me drove me to excel in promoting and developing these businesses. His leadership approach, characterized by humility, an open-door policy, and the equitable treatment of all employees, profoundly influenced me and has since become the guiding principle of my entrepreneurial journey.
Fast forward to the year 2000, armed with over three decades of family entrepreneurial history and seven years of Qatar-based experience, I, in conjunction with like-minded partners who shared my vision, ventured into the realm of retail pharmacy. Today, we stand proudly with 90 branches and a thriving distribution business representing over 100 esteemed global healthcare brands. Our journey has been one of unity, as we have spoken with one voice, shared one soul, and pursued one singular
goal. This remarkable journey underscores the transformative power of entrepreneurship, trust, and unwavering dedication.
Could you define Wellcare Group as an organization and its position in the market?
The term 'Wellcare' inherently signifies the provision of the highest level of care. When coupled with the word 'Well,' it epitomizes the essence of care and trust, which consistently serves as the foundational pillar of our business and endeavors.
From our modest origins to our current position as a prominent figure in the provision of care and trust within the community, we have consistently stepped up to meet the demands of the moment. This has been achieved by ensuring that quality and affordable services are readily accessible through all our business undertakings.
My leadership style revolves around coaching and transformation, enabling individuals and the organization to reach their full potential
As we entered the new century, marked by Qatar's burgeoning opportunities and growth, we established a business venture guided by the principle of "the care you can trust." Our mission has been to streamline healthcare services, and we proudly hold a remarkable market share in Qatar.
As the MD, what are the factors you take into account when developing effective corporate growth strategies?
At the heart of our business lie the pillars of ethical practice, quality, and people. We firmly believe that the intersection of these values has been the driving force behind our relentless pursuit of customer satisfaction and our continuous growth.
Technology has played a pivotal role, in shaping our operations to be cohesive and aligned with the ever-evolving retail landscape. Our focus remains on delivering exceptional customer service through a technologically advanced and people-centric approach. This has led us to introduce innovative services such as a ground breaking loyalty program integrated with a chronic medication reminder system. AI integration empowers us to efficiently control product movements, monitor availability across all branches, and provide personalized experiences to our customers.
Our journey is a witness to the cumulative effort of providing ethical and quality service, supported by technological innovation. We take immense pride in maintaining the industry's lowest attrition rates, a testament to the unwavering dedication and passion that fuels our corporate endeavors.
How do you foster a learning culture in your team? How do you guide them to draw insights from the market to help Wellcare Group stay informed of the latest trends and market fluctuations?
Continuous development represents a fundamental aspect of our core value, which places people at the forefront of our priorities. We have fostered a culture within our team that encourages continuous learning and the refinement of skills, enabling them to achieve results that far surpass expectations. This culture of growth is not limited to a specific level within the organization; rather, it permeates from top executives down to every rank.
The essence of any business's existence lies in its ability to remain responsive to market trends, embrace discoveries, and adopt innovative approaches to conducting business. This understanding has been gleaned from my extensive travels
worldwide, which have included attendance at health and business conferences, partnership meetings, symposiums, and direct interactions with fellow business owners from across the globe. Additionally, we are acutely aware of the dynamic pressures exerted by the market, and our success hinges on our ability to comprehend market demands, predict market trends, and adapt our business strategies to meet the evolving needs of our customers.

Tell us about your leadership approach. What are the guidelines or methodologies you follow to lead your team?
To foster growth and success, I embrace the philosophy of being an integral part of the team, understanding their needs, guiding them, and steering them in the right direction. My leadership style revolves around coaching and transformation, enabling individuals and the organization to reach their full potential. Through open discussions, brainstorming, and policy formation, we have cultivated a culture of inclusivity at all levels. Personal accountability acts as a cornerstone, ensuring adherence to policies and facilitating change when necessary. The ongoing development of our company exemplifies the strength derived from collaborative efforts, a sense of responsibility, and adaptability.

Where do you see yourself headed in the upcoming years? What is your future roadmap?
We aspire to serve as a comprehensive healthcare solution provider, delivering top-notch healthcare products and services to Qatar's community. This includes our future expansion into Medical Centers and Hospitals, along with the introduction of proven innovative services tailored to Qatar's residents.

Personally, my dream is to establish a research center dedicated to enhancing the quality of life through natural resources, ultimately leading to increased bioavailability for improved well-being.

My philanthropic endeavors have led to the creation of NIARC, the Nest International Academy and Research Center. NIARC is committed to addressing the unmet requirements of differently abled children through a multidisciplinary evaluation and treatment approach rooted in evidence-based practices. We provide comprehensive rehabilitation services, including community-based rehabilitation, with the primary goal of delivering the highest quality pediatric rehabilitation care. Our approach is customized to meet the unique physical, developmental, social, psychosocial, and educational needs of each child and their family.

What would be your advice to budding industry leaders?
Dedication and authenticity have been the fundamental elements that propelled me on my entrepreneurial journey and shaped the foundations of my business. My advice to aspiring leaders is to remain true to themselves, whole heartedly commit to their ventures, and envision future possibilities through meticulous forecasting. Starting as an employee offers invaluable insights into the challenges and opportunities within the industry, enabling a deep understanding of the landscape. Armed with this knowledge and fueled by the passion ignited during that initial experience, one can embark on their entrepreneurial path with a sense of purpose and determination. Let dedication and authenticity be the driving forces behind your entrepreneurial pursuits.

Asharaf KP, Managing Director, Wellcare Group
Asharaf KP is a highly accomplished healthcare professional with a background in pharmacy. With 32 years of industry experience, he has successfully established Wellcare Pharmacy, Allevia Medical Center, and a wholesale distribution network for pharmaceutical and healthcare brands in Qatar.