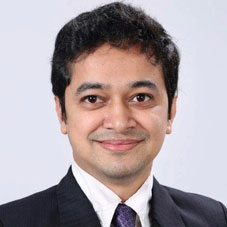 Helping organizations implement digital information and modern technologies to create business value, Digital officers have become quintessential assets in the present digital epoch for conglomerates gearing up to plunge into the future. As the Head of Digital at Colgate Palmolive, Bhargab Dutta thrives passionately to build a legacy to leave behind for others to follow or advance. Acknowledged for demonstrating an optimistic mindset across his working style, Bhargab's style of leadership is phenomenal and unique which makes them stand apart as a new-age leader. "The unique flavor that I try to bring into the table is to have me and my team's role seen as perfect enabling partners to domain experts rather than creating a sense of competition or questioning their expertise," avers Bhargab when asked about his prolific leadership expertise as a top-notch executive. Creating new value through the smart use of digital tools, platforms, technologies, services, and processes as the CDO of the enterprise, Bhargab is driving growth and ensuring strategic renewal at Colgate Palmolive by enhancing the pace of its digital transformation. Bhargab engages in an exclusive interaction with CEO Insights.
What inspired you to take up a profession in the digital and analytics domain? Highlight your initial days within the industry.
In simple terms, it was fate that brought me into this domain just after passing my engineering in Mechanical stream. I worked across industry sectors of Marine, Oil & Gas, Aerospace, FMCG/CPG/Retail , Manufacturing, and more, cutting across the globe. During the early stages of my career, I also got a great chance to work with International Government bodies like the European Union, International Maritime Organisation. These have given me great visibility across Indian corporate sectors which has resulted in giving me the chance to create 3 Digital and Data Analytics groups as a new function/capability in prestigious organizations like General Mills, Aditya Birla Group, and currently Colgate Palmolive India. Now if I standard look back today, I associate my inspiration with three things my fate, my work, and the difference I could make in organizations' P&L, and people's culture.
Reflect on your current roles at Colgate Palmolive India and the impact you have been making through it.
In my recent roles, I have been successful in making an impact in 3 important areas comprising of- Creating a data foundation, Driving value through Digital and Analytics,and DnA Cultural transformation. Though a majority of traditional organizations wish to adopt new technologies and tools to leverage data-led transformation, they are not aware of the importance of a robust data foundation as a fundamental need for getting the benefits out of these new technologies. This has been, I believe, one of my major impacts in recent few roles, and I could see the benefits organizations have started getting through this. There has been an inherent sceptical view in board meetings about the measurement of ROIs through the initiatives under DnA domain.
Many times, a majority of DnA initiatives do not show their intended results despite the initial small-scale success in the POC/Pilot phase because of the fundamental issues within the organisation related to Data Foundation and People's conviction. Even though I struggled in my early stages, in my last 2 stints itself, my groups have been successful in unlocking millions of dollars in P&L either in top-line growth and/or bottom-line savings. DnA Cultural transformation has been the toughest ask for any Digital and Analytics leader in an organization and is more of a tough territory to manage in traditionally strong and large enterprises, than the young ones. Thankfully, I am learning the optimal recipe combination needed for these cultural transformations- but it is still a learning process.
Going forward, my immediate goal is to bring my current organisation's digital and analytics maturity to a world class standardlook
Reflect on some of the major challenges you have experienced in your journey so far? How did you overcome them and what did you learn from them?
In the Digital and Analytics domain, all challenges can be clubbed into two areas, Data and Technology related and Solution Adoption related. Data and Technology related challenges are primarily due to a mismatch between the management team's expectations and the reality of the organization's current data and technology maturity. I try to overcome this by connecting the dots between this mismatch, and how realistically we can meet the expectation in clear
timeline sight along with the needed investment/sponsorship ask.

Solution Adoption related challenges are primarily due to the fear of using some thing unknown or not understood properly as against tried and tested traditional knowledge. And since I have to play a big role in creating an ecosystem for adopting DnA solutions, I follow a small-scale POC/Pilot work to show the initial success. Once the smell or taste of success is felt, remaining buy-in for adopting the new solution becomes easy.

In your professional journey so far, which are the milestones that have bestowed you with utmost satisfaction?
I would rate two milestones as significant ones. First one- creating advanced analytics capability in manufacturing and supply chain functions at General Mills, bringing 1st of its kind tools and solution approach at looking at solving some interesting problems. 2ndly, by being chosen as one of the founding leaders for the Corporate Data Analytics Group of Aditya Birla Group where I was instrumental in bringing some really interesting solutions to India's largest cement manufacturing company. Both these milestones are unique as these have given me a complete experience of setting Digital and Analytics in two culturally diverse working groups one for western industrial cultures and another one from the Indian industrial context.

Going forward, what are the goals that you wish to invest in and how do you plan to take them further?
Going forward, my immediate goal is to bring my current organization's digital and analytics maturity to a world-class standard. This will be my prime focus where I am going to invest all my experience and learnings. My future plan involves 5 aspects of strategic pillars and these are- Technology, Data, Analytics, Processes/Systems, and People.

Bhargab Dutta, Head of Digital & Analytics Colgate Palmolive
A mechanical engineer by education and data analytics enthusiast by profession, Bhargab has about 17 years of experience across various industries such as Marine, Oil and Gas, aerospace, FMCG, Retail, CPG and Manufacturing sectors. Currently married and a pet parent, Bharbagab has unconditional love for dogs.

•Favourite Travel Destination: Hawaii and Lisbon
•book: The Fountainhead
•Hobbies: Road Drives and traveling
•Awards & Recognition:Gen-next Analytics Leader at India Logistics and Supply Supply Chain awards (ILSC 2019) Industry Leader in Supply Chain
•2020- 3AI Pinnacle Award 2020
•India's largest forum for AI and Analytics professionals