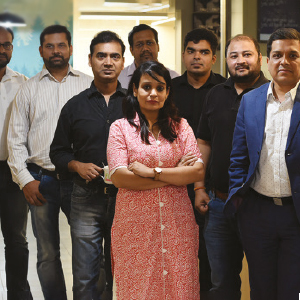 The renewable energy industry is rapidly evolving with robust technological advancements, which makes it a great place with tremendous opportunities not just in the areas of designing new installations, but also modernizing existing sites. Making hay leveraging the increasingly brightening wattage of this industry is DIN Engineering Services. This Noida-based company offers Multi-Discipline & Multi-Platform Engineering Design and Drawing Services covering end-to-end in CAD and GIS to clients across more than 20 countries. Incepted in 1999, DIN over the past decade, has perfected a scalable, cost effective and predictable delivery process, through which its services are delivered seamlessly. With high customer acquisition rate and streamlined business operations management, Anuj Gupta(CEO) drives DIN's growth. The Company is in a high growth phase and has gained substantial market share in the US residential solar design services market segment.
Anuj, who along with his brother Pankaj have had many feathers to their caps, including management positions in DIN Engineering Services, Arkadin Confer India, RCMC Share Registry. Pankaj has led the formation of most of these businesses, with the latest being VCloudX Inc. Though Anuj had his share of challenges, he vanquished them all with his doer attitude, which facilitated him to finally find his niche in engineering design services. Today standing strong as a stable business with constant growth, DIN is successfully adding value towards its clients, employees, and stakeholders. The following excerpts of an exclusive conversation with Anuj delineate DIN's services & well-drafted delivery processes that set it apart.
Kindly tell us about your flagship offerings and how do you translate your decade-long experience to add edge to clients while delivering those services?
We serve to niche industry verticals like renewable energy and telecommunications worldwide. DIN's forte lies in domains like Solar PV design & permitting, wired & wireless communication network planning & designing, and under floor heating & cooling CAD design services. Our designs are inline with region specific standards and guideline. We partner with installers, manufacturers, contractors, and design firms to bring in energy efficiency on design and engineering.
Our easy and smooth adaptability to the change allows us to create quality drawings in multiple design environments and on any 3rd party tool
Our global exposure and matured processes keep us up-to-date with the best CAD drafting and designs practices, and the industry trends. Consequently, our clients achieve the competitive advantages of lower cost of production, higher rates of innovation, fast scaling for access to new markets & opportunities, and lower cost & risk in expansion, which eventually provides clients with higher revenue and profits.
Innovation being the only way to stay ahead of competition, what kind of R&D is currently happening in DIN Engineering Services? And how do you maintain the quality of deliverables while moving forward?
Renewable energy still has to reach its peak and with the world fast moving towards this sector, it shows a lot of promise in the years to come. DIN is excited to be at the forefront working with the leading companies. To further strengthen our position in the industry and to live up to the challenges, we have developed matured processes that are in sync with client's expectations. We are constantly evolving with our processes, and adapting new tools and technologies to stay ahead of the competition.
Our easy and smooth adaptability to the change allows us to create quality drawings in multiple design environments and on any 3rd party tool. Our SLA performance is calculated on a balanced scorecard approach – factoring in quality and ontime delivery. We are an ISO 9001: 2008 Quality certified and a STPI registered company, who regularly share the Quality scorecard that includes Pareto Analysis, Trendlines & Heatmaps, to ensure continuous improvement. Furthermore, our dedicated and skilled workforce of 400+ Design engineers ensures that we can deliver the projects with a 24/7 working environment.

How are you updating yourself with the latest technologies & industry trends in order to make DIN Engineering Services reach its future goals?
DIN has a strong approach on building a dynamic environment towards employee development. We believe if we have to build the business, we need to first build our people. Our motivated employees align with the customer's goals and deliver exactly what is required. We're always keen to expand into other related verticals, while simultaneously strengthening the existing services. To enable our workforce embrace the new technologies, best practices & methodologies, we have set up a process that facilitates seamless knowledge transfer among the team members, all the while providing training at regular intervals. This helps our employees to stay competitive knowledge-wise. Our leadership also keeps participating in global events to stay abreast of the latest trends in the industry.

Key Management
Anuj Gupta, CEO
An IT professional with over 15 years of experience, Anuj holds strong management skills that promote creativity, openness and superior culture in DIN. He has completed his Masters in Computer Applications from IMT Ghaziabad – one of the premiere educational institutes in India.

Offices: Noida (Headquarter) and representative offices in US and Europe

Offerings: Engineering Drawings Services, Geographic Information Services, and Staff Augmentation